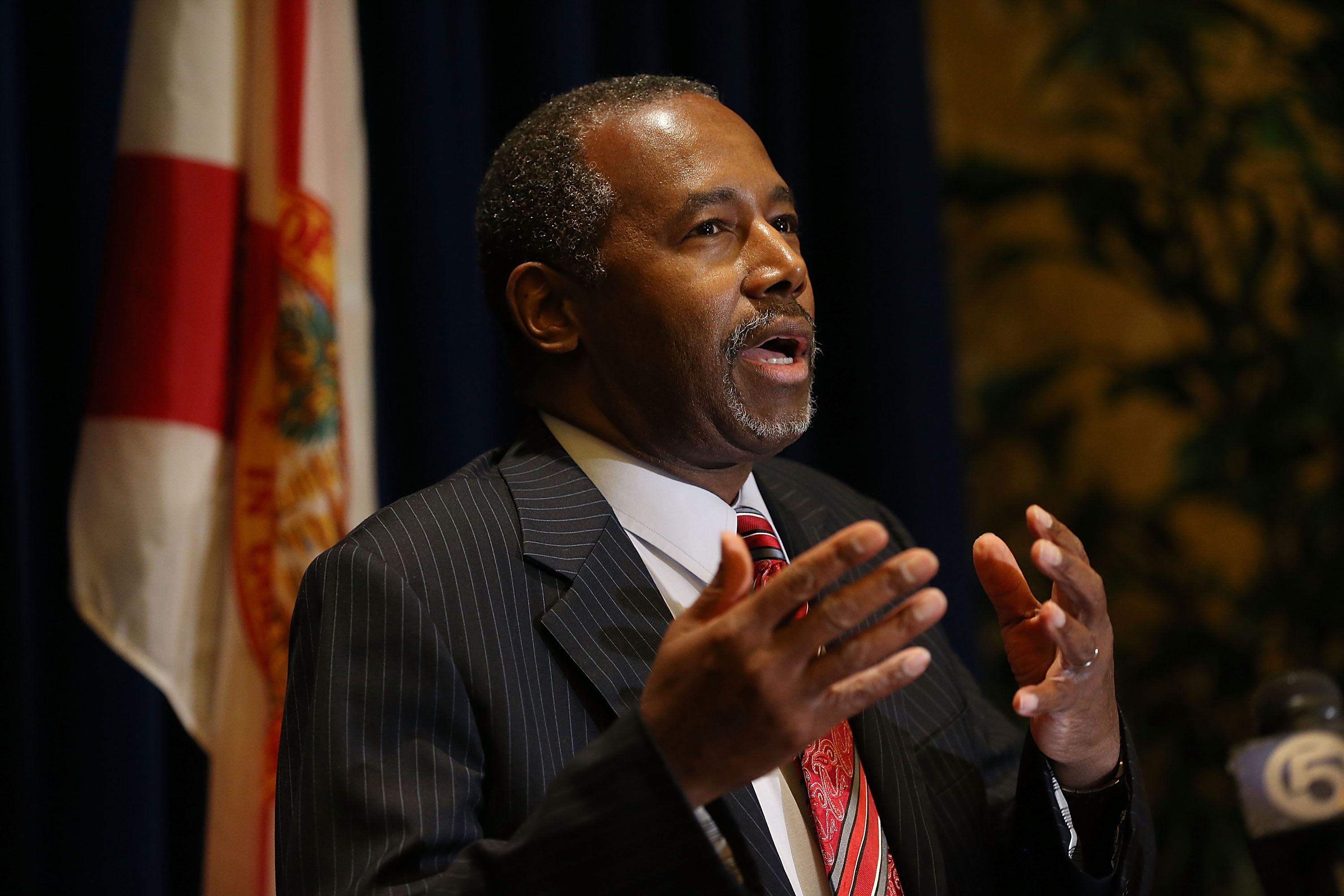 So Donald Trump recently announced that he wants to appoint Ben Carson, renowned neurosurgeon and former challenger for the 2016 Republican presidential nomination, as the new guy to lead the Department of Housing and Urban Development (HUD).
As MSNBC commentator Rachel Maddow has already pointed out in an earlier post, Carson is "spectacularly unqualified" for the position. Maddow renders this assessment based largely on the fact that Carson knows next to nothing about housing and/or urban development which, well, are kinda part of the job description.
Then again, to say that Trump is spectacularly unqualified for the presidency is to be overly generous.  Sooooo…Hey! Why not?
But didn't Trump characterize Carson as "pathological" during the primaries? And it wasn't quite a month ago when Trump was reportedly considering appointing Carson to lead the Department of Health and Human Services, a department leadership position for which Carson might actually have some credentials, that Carson reportedly said he wasn't quite sure he was qualified to serve in a cabinet position. As a matter of fact, Armstrong Williams, who is Carson's business manager and advisor, was quoted as saying the following:
"[Carson] has no interest in a cabinet position, or any position in the administration."
"Dr. Carson was never offered a specific position, but everything was open to him," Williams said in a statement to The Hill. "Dr. Carson feels he has no government experience, he's never run a federal agency. The last thing he would want to do was take a position that could cripple the presidency."
Which would suggest of course, that it must be much easier to be President of the United States and leader of the Most Powerful Nation On Earth than it is to run a cabinet position.
Anyway, this was part of Trump's statement announcing Carson's appointment:
"Ben Carson has a brilliant mind and is passionate about strengthening communities and families within those communities. …We have talked at length about my urban renewal agenda and our message of economic revival, very much including our inner cities. Ben shares my optimism about the future of our country and is part of ensuring that this is a Presidency representing all Americans."
Yeah. Except that Trump doesn't have an urban renewal agenda, except to say that it's gonna be really, really great and we're all gonna be so proud.
Etc.
This could actually be riotously funny, you know, about appointing someone who knows nothing about urban policy and who has never run any department or anything else remotely comparable to the size and scope of HUD to actually run HUD. Except that HUD is one of the most important agencies in Washington.
I decided to check out HUD's website and went to the 'About HUD' tab. When I clicked on that tab, there is an option to click on another tab listing the 'Programs of HUD'. That takes you to a PDF file that is exactly 146 pages long. In short, there are a ton of HUD programs designed to help tons of American citizens, and to help American cities help American citizens. Just a few of the programs listed in the index include Community Development Block Grants (In 2013, nearly 28,000 Americans found new permanent jobs or were able to retain their jobs at businesses that benefited from CDBG economic development activities, according to Next City), Historically Black Colleges and Universities Program, Housing Opportunities for Persons with AIDS, Rural Housing Stability Assistance Program, Single Family Housing Programs, Multi-Family Housing programs, Homeless assistance programs, and the list goes on and on.
Consider this from Next City:
"In almost any U.S. city, you can find thousands of prospective first-time homebuyers receiving counseling every year to make informed decisions and improve their credit scores in order to obtain affordable, responsible mortgages.
"Add in 4.5 million low-income families receiving rental assistance including public housing, and you're just starting to get a sense of what the Department of Housing and Urban Development (HUD) does with its nearly $50 billion annual budget and 8,500 staff across the country. Former Republican presidential candidate and neurosurgeon Ben Carson will now have to wrap his mind around all the above and more after President-elect Donald Trump yesterday announced his nomination as the next HUD secretary."
In other words, this is an extremely large, extremely complex department that deals with extremely important and complex issues affecting millions of Americans and hundreds of American cities from coast to coast. At the very least it deserves the leadership of someone willing to take these issues seriously, and who is qualified enough to do so. But instead, we get Ben Carson.
Some jokes just seem to write themselves. Others get selected to run huge national agencies just for kicks.