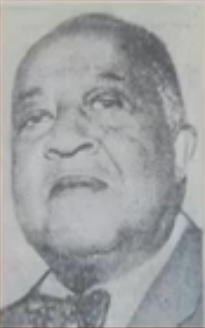 The roots of our nation's formal method of electing an U.S. president are firmly planted in the toxic soil of reprehensible racism and disgusting distrust of direct democracy.
But on at least one occasion, however, the controversial process was a source of pride for black Michigan residents as well as others across the nation.
In 1936, Harold E. Bledsoe, a prominent Detroit attorney, was the only African American to cast an electoral college vote for Franklin Delano Roosevelt.
ELECTORAL COLLEGE: THE HISTORY
In 1787, founding fathers like Alexander Hamilton advocated through the U.S. Constitution for the Electoral College, a process of having representatives cast votes on behalf of actual voters.
In Hamilton's words: "(The) immediate election (of the President should) be made by men most capable of analyzing the qualities adapted to the station." He went on to write: "small number of persons, selected by their fellow-citizens from the general mass, will be most likely to possess the information and discernment requisite to such complicated investigations."
21st century translation: Common people are stupid.
Hamilton became our nation's first treasury secretary, serving from 1789 to 1795 during George Washington's administration. His colleague, James Madison, a slave owner and considered the "father of the Constitution" was even more out cold. He stated that "Negroes" in the South presented a "difficulty … of a serious nature." He proposed the infamous compromise in the Constitution whereby black slaves would be counted at three-fifths of a human being—not a whole. Madison later served two terms as president, from 1809 to 1817.
BLEDSOE: DEMOCRATIC "CHIEFTAN"
The Pittsburgh Courier, one of the nation's leading black newspapers described the 1936 historic first in its December 26th news story subtitled: "Paging Ridley."
"Believe it or not! Attorney Harold E. Bledsoe, National Democratic chieftain, is the only Negro in the nation who actually voted for the re-election of President Roosevelt… Bledsoe, of course, was a member of the State Electoral College. The only race man so signally honored."
A Democratic Party wave had swept through the country. In terms of electoral votes, it was the most lopsided presidential contest in American history. Roosevelt carried 46 of 48 states over Kansas Governor Alfred Landon. Frank Murphy, a liberal with strong ties to organized labor, was elected Michigan governor.
Michigan was allotted 19 electoral votes and the group looked like present day Livonia. Other than Bledsoe, there were 15 white men and three white women. They met in Lansing on December 14 in the Senate Chamber of the state Capitol Building.
Justice George Bushnell of the Michigan Supreme Court called members to order at 2 p.m. John Cahalan of Wyandotte was elected chairman; Adelaide Williams of Detroit was elected secretary. The electors wrote Roosevelt's name on slips of paper and dropped them into a hat.
THE GREAT MIGRATION
In pursuit of a better way of life, blacks and southern white flocked to cities like Detroit. In fact, the city's black population soared from about 5,700 in 1910 to 120,000 in 1930.
Bledsoe, along with funeral home owner Charles C. Diggs, Sr.; Joseph Craigen also an attorney; and Joseph Coles, led the way during the early 1930s to encourage Michigan blacks to vote for Democratic Party candidates. The men formed the Michigan Federated Democratic Club in 1932 as Roosevelt's initial run for the U.S. presidency was gaining steam like a Grand Trunk Western Railroad locomotive. In 1934, Bledsoe became the first African American to serve as a state attorney general, an appointed position. Diggs, who operated a funeral home on St. Aubin Street in the Black Bottom community, was elected to the Michigan Senate in 1936.
"We were independent then…not obligated to any party and we weren't out begging nor were we satisfied with crumbs," Bledsoe recalled many years later in a September 28, 1963 Michigan Chronicle feature. "Those who were active in politics then had to be willing to help pay the freight for the race's political emancipation. No other organizations were willing to underwrite our movement, which I think was one of the midwives that gave birth to the Negro's hopes in organized labor."
Bledsoe was born in Marshall, Texas August 29, 1896. He earned a bachelor degree at Howard University and law degree from Detroit College of Law. He, like thousands of others, migrated to Detroit, an industrial juggernaut and the nation's fourth largest city by 1930. He arrived in Detroit in 1917 and served his country during World War I.
During those days, several black lawyers were on the scene and providing leadership to a small but growing like gangbusters African-American community. They included: Benjamin Franklin Lester and Robert J. Willis, both who earned law degrees from the University of Michigan in 1893; and Charles Mahoney, who earned a law degree in 1911 from the Ann Arbor-based school. Cecil Rowlette and Charles A. Roxborough were also prominent lawyers at that time.
As a young member of the Paradise Valley-based law firm Lewis and Rowlette, Bledsoe was one of the attorneys who participated early in the defense of Dr. Ossian Sweet and his family during their seminal first trial in 1925. Sweet was a doctor was harassed by hostile Garland Street white neighbors. After his home was rushed by the white group, one of the attackers was killed and the Sweet family and friends in the home should trial on various counts. They were cleared the following year during a second trial.
Two of Bledsoe's three children became judges: William, like his father served as a state assistant attorney general. He later became a 30th District Court judge in Highland Park. In 1966 Geraldine became the first black woman elected to a judgeship in Michigan history when voters sent her to Detroit Recorder's Court. Harold and his wife, Mamie Geraldine, had a third child, Cornelia, a nursery school worker and caretaker who at one time worked for the Detroit Urban League. One of their grandchildren, Deborah, was re-elected to 36th District Court on November 8. Harold died at age 78 on March 26, 1974.
On December 19, electors from across the country will cast official ballots for U.S. president. It is likely that Donald J. Trump will be the winner in spite of the fact that 92 percent of black America, according to a CNN exit poll, did not vote for the self-proclaimed billionaire—neither did the majority of Americans for that matter.
Nonetheless, I'm reminded of the first time the Electoral College worked for us: December 14, 1936.
That's the day Harold E. Bledsoe, a black man from Detroit's North End, cast a ballot for the leader of the free world.
Ken Coleman is an author and a former Michigan Democratic Party communications director. He writes frequently about African-American life in Detroit.