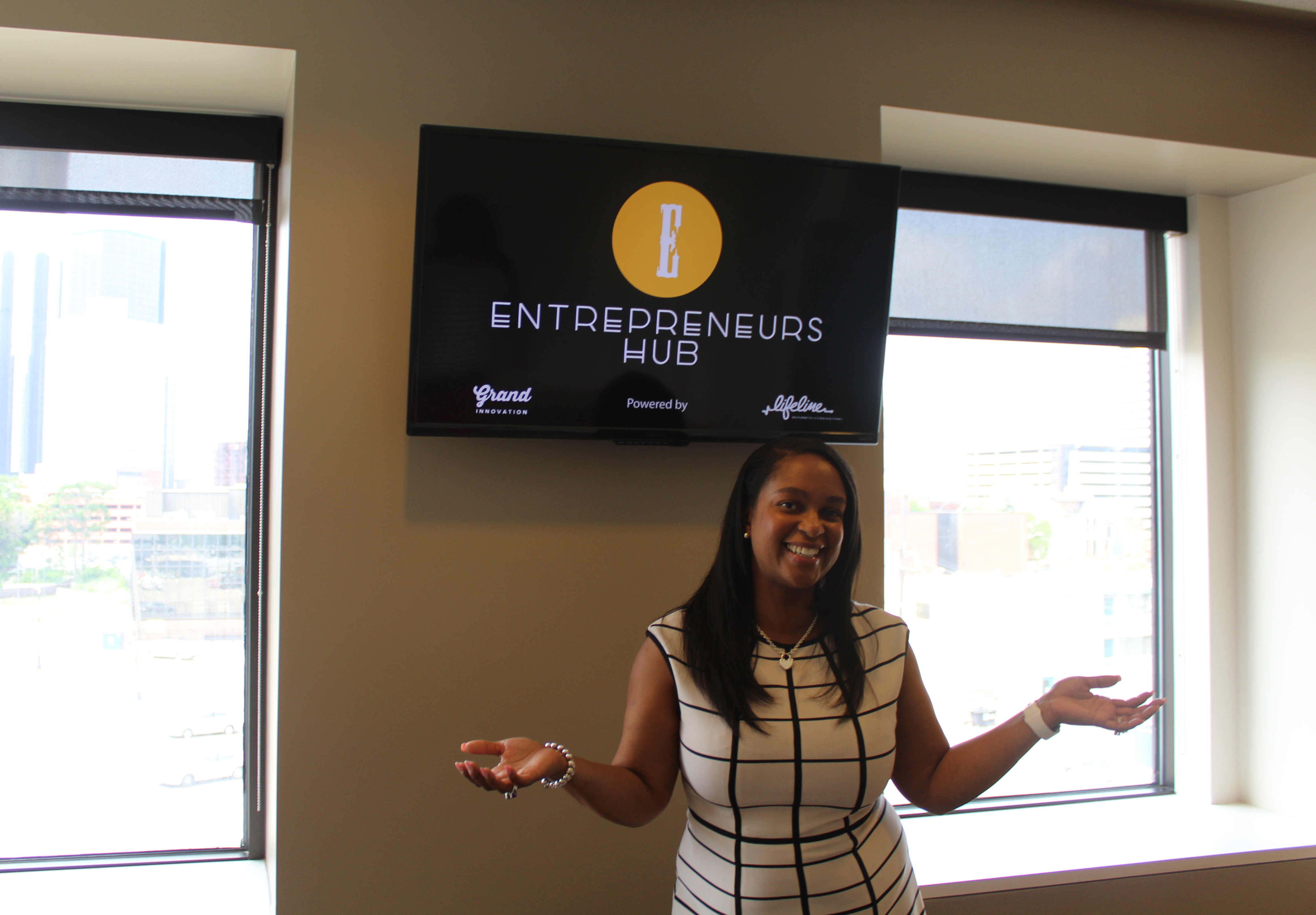 "I always tried to align myself with strategic partners, friends, and information to help me with the things that I did not know, and ultimately, I made it." – Daymond John

We live in an economy where entrepreneurship is king, especially in the resurgance of Detroit. Forming a start-up with no prior knowledge of where to begin can be difficult to research for many and discouraging to most.


"A lot of people have never seen what this [entrepreneurship] looks like, they don't have it in their family and they're not associated with friends who are entrepreneurs," said Dr. Nicole Farmer, CEO of Lifeline Business Consulting Services.

Lifeline provides business-consulting services to inspire minority men and women in every stage of entrepreneurship. Recently they launched the Entrepreneur Hub in partnership with Grand Innovations.

Entrepreneur Hub is a co- working and small business space looking over the scenic Riverfront of downtown Detroit, located at 1400 Woodbridge Street. Business owners are able to come out of the coffee houses and cafés to offer clients a professional and private meeting space. In addition, classes will be held onsite beginning in August this year.

Dr. Nicole Farmer faced many adversities early on in her career, which makes it easier for her to relate to her clients, not only on how to give the perfect pitch, but also from a holistic angle. Services provided by Lifeline includes:
1 on 1 Coaching
Cultivate business plans
Understanding financial plans
Pitch/ Communication assistance
Identifying consumer base


Through recent partnership with Detroit- Micro- Loan Collaboration, composed of The Women's Foundation and The Detroit Development Fund, Lifeline is able to get individuals loan ready, even those who have felonies. " We're (Detroiters) not loan ready, but we're here to help you through the process, holding your hand through loops, up and downs," said Farmer.

Lifeline has provided over 50 entrepreneurs with the tools and resources necessary in securing funds for their business. Among those include Breathe Beauty Bar Founder and Owner, Monica Lynn Brown, who celebrated her grand opening Saturday. "We helped her for the past year understand and cultivate her business plan and being able to pitch properly to be able to get the loan dollars for her to do this huge business," said Farmer.

Dr. Famers holistic approach helps when it comes to obtaining funding by coaching the do's and don't of a pitch.

"If things are going bad, sometimes your household isn't right, let's talk about it, so when we are in front of the funders you know what to say and how to say it," said Farmer.

Farmer's suggestion for entrepreneurs who have the gift or curse of gab, "look at your watch before you get started and say, I am going to speak for the next 60 seconds about my business or the next minute and a half about my business… give them 3 points right at the beginning and a business card if they ask, you've downloaded an image of your brand, they will remember your name know what you do," said Farmer.
Lifeline and Grand Innovation has created the perfect melting pot for aspiring entrepreneurs and current entrepreneurs who have started, but need help taking the next step.

"Being in a place with like minded individuals, who are also dreaming, passionate and going after something people are typically telling you, you can't do… Lifeline allows you to have a safe place where you can cultivate this dream," said Farmer.

Application process and affordable rates for aspiring business owners are available and can be found at www.entrepreneurshub.space.

For more information please contact T. Marie Media Group at 248.716.0240 or via email at tmariepr.com.