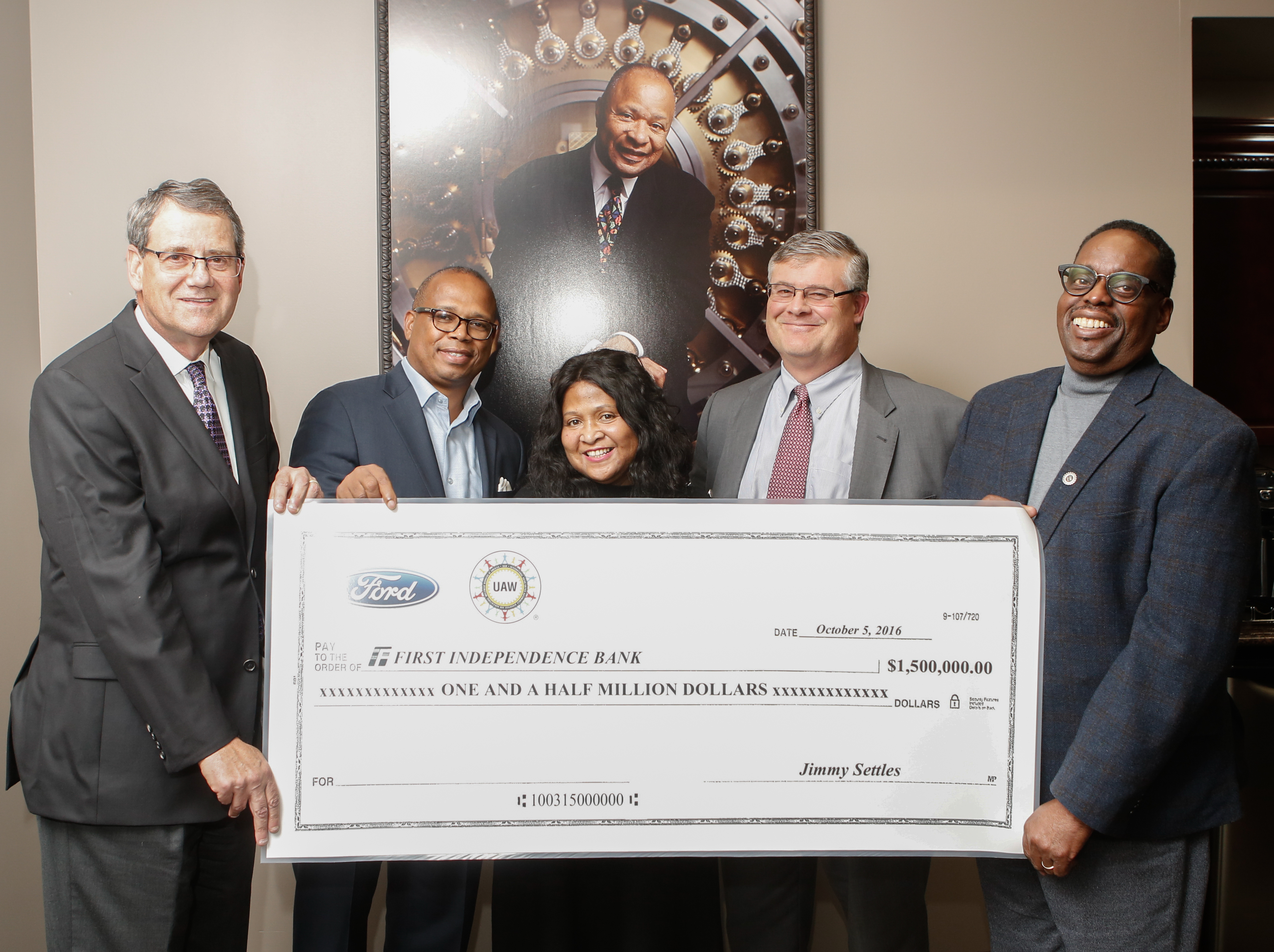 With a smile on his face, Jimmy Settles, vice president of UAW-Ford, presented a $1.5 million check for deposit recently to First Independence Bank. The presentation was held at First Independence's new corporate headquarters on Woodward Ave. at E. Grand Blvd in Detroit's Midtown area. Settles was ecstatic for the storied UAW-Ford, which is celebrating its 75th anniversary, to become a new customer of black-owned First Independence.
"It makes me feel great to present this check to First Independence Bank," said Settles, a native Detroiter. "I remember when this bank started in 1970, and to see how far it has come over the past 46 years is amazing. Therefore, on behalf of UAW-Ford, it's my honor to make this $1.5 million deposit. As our finances get better, we will deposit more." On hand to receive the check from Settles were First Independence top executives Barry Clay, chairman and CEO; Richard Zamojski, president and COO; and Jeffery Sugg, vice president, CFO.
"We are the ones honored to receive this very substantial check for $1.5 million from UAW-Ford," Clay said. "This just demonstrates the commitment UAW-Ford has, not only to First Independence, but to this city, metro Detroit, and so many communities. This deposit will allow us to continue our campaign and commitment of investing heavily in Detroit and the community." How this unprecedented deposit unfolded is interesting. Clay said he had been talking and meeting with UAW-Ford for the better part of a year. At one meeting, Settles learned the truth about UAW-Ford's history as customers with First Independence.
"I was embarrassed when I learned the truth, because UAW-Ford does a lot in this city and for communities," said Settles. "When Barry and I were talking about the UAW-Ford's relationship with First Independence, I said, 'What's wrong, we aren't doing enough?" Barry said, 'Worse than that, UAW-Ford doesn't have a dime in our bank.'" UAW-Ford's $1.5 million deposit comes at a time when there's a national campaign for individuals, businesses and organizations to deposit money and/or open accounts at black banks, as well as use these institutions for other banking and financial services and products.
"There's been a movement across the nation called 'Bank Black,' Clay said. "It's been a dramatic experience, where a black underground movement has been created that says, 'We want to put our money in black banks.' Because of this movement, First Independence opened more accounts in one week than we did in an entire year." The "Bank Black" movement originated earlier this year, when during Black History Month (February), singer Usher, producer Jermaine Dupri, rapper Killer Mike and other Atlanta recording artists opened bank accounts at black-owned Citizen Trust Bank in Atlanta. Their actions sparked a national movement for other black people and organizations to do the same with the approximately 20 black banks across the country. The movement continues.
"What we're trying to do here at First Independence is continue to build on the 'Bank Black' movement," Clay said. "That's why what UAW-Ford has done with its investment deposit of $1.5 million is huge. So, our message at First Independence is, 'If UAW-Ford is putting its money here, why won't you?'" Settles agreed. "I consider this $1.5 million a challenge to other organizations, businesses and individuals, both in the city and outside the city, to become customers of First Independence," Settles said. "I challenge others to match or exceed our deposit."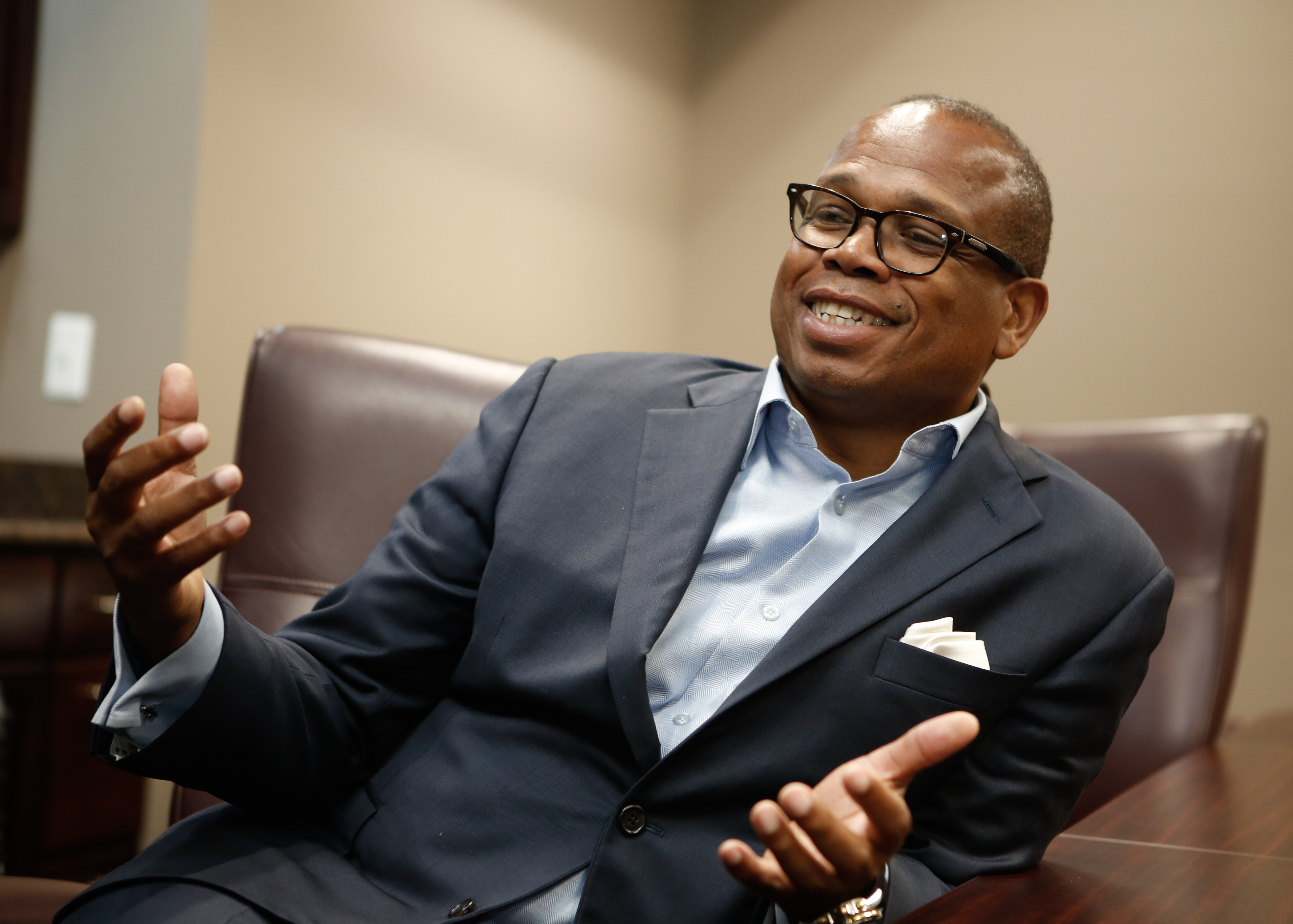 UAW-Ford's history-making deposit also comes on the heels of the National Bankers Association (NBA) 89th annual conference, held Oct. 4 at the Westin Book Cadillac Hotel. The convention drew banking and financial and regulation professionals from across America. The convention's theme was "Detroit: Leading the Nation's Urban Renaissance."
Detroit was chosen by the 90-year-old NBA as the model city in which to demonstrate that economic opportunities are possible when municipalities create public and private partnerships that work for mutual interests. "We wanted to bring bankers from around the country, including regulators, because we wanted to highlight all the great things that First Independence is doing to energize the redevelopment that's taking place in Detroit," said Clay. "And we think we did show just how far Detroit has risen out of its financial ashes, and the significant role First Independence has played."
Founded in 1970, First Independence Bank is a community development financial institution dedicated to making dreams become realities for its community, citizens and businesses. The bank expanded exponentially in 1981, when Don Davis bought First Independence and ultimately became chairman and CEO. Davis passed in 2014. Today, because of Davis' vision and leadership, First Independence continues to grow. It is the 11th largest black-owned bank in the United States and now has three locations locally.
To contact First Independence Bank, call 313.256.8400. To learn more about services and products available, log on to www.firstindependence.com.
About Post Author