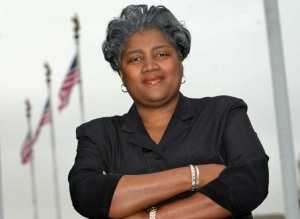 From The Griot:
"Following an email release by Wikileaks that showed DNC chair Donna Brazile sharing questions with the Hillary Clinton campaign, CNN has severed ties with her.
"On October 14th, CNN accepted Donna Brazile's resignation as a CNN contributor. (Her deal had previously been suspended in July when she became the interim head of the DNC.) CNN never gave Brazile access to any questions, prep material, attendee list, background information or meetings in advance of a town hall or debate. We are completely uncomfortable with what we have learned about her interactions with the Clinton campaign while she was a CNN contributor," CNN spokeswoman Lauren Pratapas said in a statement.
Perhaps more will come out later that will clean things up a bit, but as of now pretty much all can be said is that this is a damned shame. And for a number of reasons.
Reason Number One: I seriously doubt Hillary Clinton needed a cheat sheet to gain extra credit in the debate.
Reason Number Two: Donna Brazile is so, so much better than this. Throwing Brazile and all her experience under the bus for an admittedly stupid and unnecessary mistake would be a mistake.
Reason Number Three: It shouldn't go unnoticed that this information was obtained courtesy of illegally hacked emails delivered with assistance from the Russian government in an attempt to influence the election. Just sayin.