Improving the trust and cooperation between the public and members of law enforcement is the goal of a new executive directive signed earlier this month by Gov. Rick Snyder.
"We can all do our part to ensure that those risking their lives in law enforcement and the public they are serving can return home safely every night," said Snyder. "Given recent national events that have strained relationships, it is more important than ever to focus on the people's trust of public safety officers in our state and their cooperation with law enforcement. We must take steps to build and promote faith in law enforcement in Michigan."
But it wasn't just the highly-publicized incidents of unrest nationwide that prompted the governor to take action, said Harvey Hollins, director of Michigan's Office of Urban and Metropolitan Initiatives.
"When the governor took office, four cities in Michigan were listed on the FBI's Top 10 most violent crime cities in the country. Detroit, Flint, Saginaw and Pontiac. And we have 8 in the Top 100" when you add Kalamazoo, Grand Rapids, Jackson and Lansing.
Executive Directive 2016-2 tasks the Michigan Commission on Law Enforcement Standards (MCOLES) to produce a public report addressing the topic of fostering public trust in law enforcement.
MCOLES is responsible for promoting public safety in Michigan by setting standards for selection, employment, licensing, and funding in law enforcement and criminal justice, for the public and private sectors.
"Public safety is so critical. I don't care how much money you can pour into non-profits and charitable organizations," said Hollins.
As part of the Executive Directive, the Governor has directed MCOLES to:
Consider the status of community relationships and what factors can impact the public's trust;
Consider law enforcement training requirements that can help improve community relationships, including implicit bias training, training on de-escalation techniques, and training on police interactions with those who have mental health issues;
Address how law enforcement agencies can improve communications with the public; and
Recommend additional improvements that can be considered by the state Legislature.
MCOLES must complete its study and produce a report within 120 days, which would be by May 1, 2017.
In addition to the Executive Directive, Snyder signed a 17-bill package updating requirements for law enforcement in Michigan and responsibilities related to the Michigan Commission on Law Enforcement Standards.
Senate Bills 92-94, sponsored by state Sen. Tonya Schuitmaker:
Clarify that law enforcement officers require licenses instead of certificates,
Add a representative of the deputy sheriffs to MCOLES,
Modernizes specifications related to the Michigan Justice Training Fund, and
Provides MCOLES access to controlled substance records in appropriate circumstances.
The bills are now Public Acts 289-305 of 2016.
"We're trying to get ahead of this thing," said Hollins. "When you talk about training of officers and neighborhood relationships with law enforcement types, this is how you actually get at it."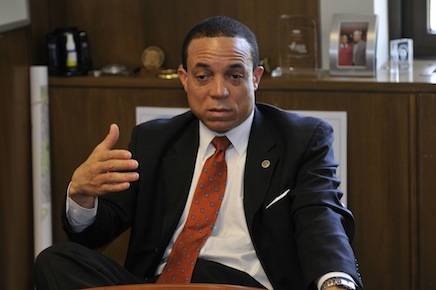 Hollins said it is a good thing that there has been no unrest so far in Michigan anywhere near comparable to what has happened in cities such as Baltimore, Ferguson, or Charlotte, however the Governor does not want to take such good fortune for granted. In Detroit, Hollins gave a lot of credit to Police Chief James Craig and the Detroit Police Department for managing to maintain at least a semblance of peace in a city that, by most any measure, would seem ripe for open displays of unrest.
"Detroit is a different animal from New York, or Baltimore, or Chicago. You still have a lot of folks who reflect the community still serving on the force in Detroit. The question is, if it happens, what's in place to maintain public trust?" said Hollins. "Detroit is the largest city in Michigan, and I think Chief Craig is doing a great job. I think the issue that I'm more concerned about is not the incident that happens in Detroit, it's the incident that happens to a Detroiter who happens to be driving through another community, and whether or not that individual would have their best interests adhered to by that officer. And whether that individual would have that officer's best interest in mind too. That's the issue. It's the same thing in Flint.
"For example, let's say that you started on the force in Petoskey, hypothetically. And you got out there, and you decided to come to a market like Detroit. And you got hired. You're gonna carry certain biases into that whole thing. The question is, what needs to occur in terms of the certification process that begins to normalize those biases for the community that you're serving? That is how I see it [the package of bills] benefiting the City of Detroit."
And the community has a very important role to play in all this, namely participating. It's not just about what the police are doing, but what the community itself is doing, said Hollins.
"You can have police training, but with the best police training if there's no community engagement, civic engagement, then we're still stuck in trying to really create an environment where people will talk if there's a crime because they trust their police, and the police will feel that their relationships [in the neighborhood] need to be protected."
From the police perspective, "This is a serious game out there. There are bad people out there, and they put their lives on the line all the time. My dad was the first AA officer in South Haven MI. When he came on the force in the late '60s, there were issues inside the force that he had to deal with as an AA, let alone going out and dealing with folks who are not AA and their response was "Who are you? I don't have to listen to you even though you have a badge and a gun. His life was constantly on the line. So I get that. So at the end of the day when they take off their badge, they're still people."