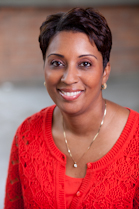 The Detroit Area Pre-College Engineering Program (DAPCEP) is pleased to announce the appointment of Michelle L. Reaves to the role of executive director. Since 2011, Reaves served as the deputy director of DAPCEP.
Over the last five years, Reaves led a number of successful DAPCEP initiatives, including the popular Explorer Program (serving Pre-K – 3rd grade), Saturday Series: Pathfinders (serving 4th – 12th grade), STEM+M Day at the Michigan Science Center, GEAR-UP student programming, and the bi-annual DAPCEP Student Showcase.
"Michelle is the ideal candidate to lead DAPCEP's efforts to make future programming more focused on students, and creating experiences vital to Michigan's career and entrepreneurship opportunities," said Stephen C. Lewis of Ford Motor Company and DAPCEP's current board chair.
DAPCEP is currently beginning fall programs and celebrating its 40th anniversary. DAPCEP seeks to provide opportunities for students to explore new environments and provides high-quality, STEM-immersive programs to the students of metro Detroit. More than 4,000 students are served through DAPCEP's programs each year.
"It is truly an honor to take on this role, and work with the innovative staff, who are so committed to delivering the highest level of STEM programs to Detroit's next generation of engineers, scientists, doctors, lawyers and explorers," said Reaves. "I look forward to being able to expand our programs while continuing to build long-term partnerships with those committed to the development of our youth's interest in STEM and vital STEM careers. Our team is a firm believer that our state's future successes will be determined by the investments we make in our students and their families."
DAPCEP is a 501(c)3 nonprofit organization that provides historically underrepresented youth with innovative educational programming in science, technology, engineering, mathematics, and medicine. For more information visit www.dapcep.org or call 313.831.3050 (Ext.227).