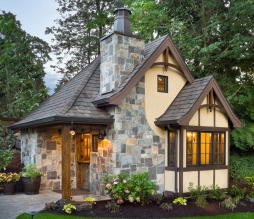 Cass Community Social Services and Ford Motor Company will showcase the first completed tiny home at an open house today at 10 a.m. as part of a unique, first-ever tiny home community in Detroit.
In addition to assisting renters to become homeowners, the 25-home community project will address the city's neighborhood revitalization needs by bringing a diversity of ages, life-experiences, races and cultures to a new, vibrant setting.
New Tiny Home community – Cass Community Social Service Campus at 1564 Elmhurst between the Lodge freeway at Woodrow Wilson, north side of Elmhurst. Parking available at Scott Building gated lot enter off of Woodrow Wilson south of Elmhurst.
Rev. Faith Fowler, executive director Cass Community Social Services, Jim Vella, president, Ford Motor Company Fund, Thomas Lewand, City of Detroit and Richard Lord, treasurer, RNR Foundation participated in the announcement and celebration.
Cass Community Social Services is developing a neighborhood of 25 tiny homes to provide safe, clean, affordable housing for low-income individuals or couples.
Ford will outline its lead investment and Ford Volunteer Corps involvement in the project dedicated to providing housing for low-income residents, as part of the company's increased commitment to revitalizing Detroit and southeast Michigan.