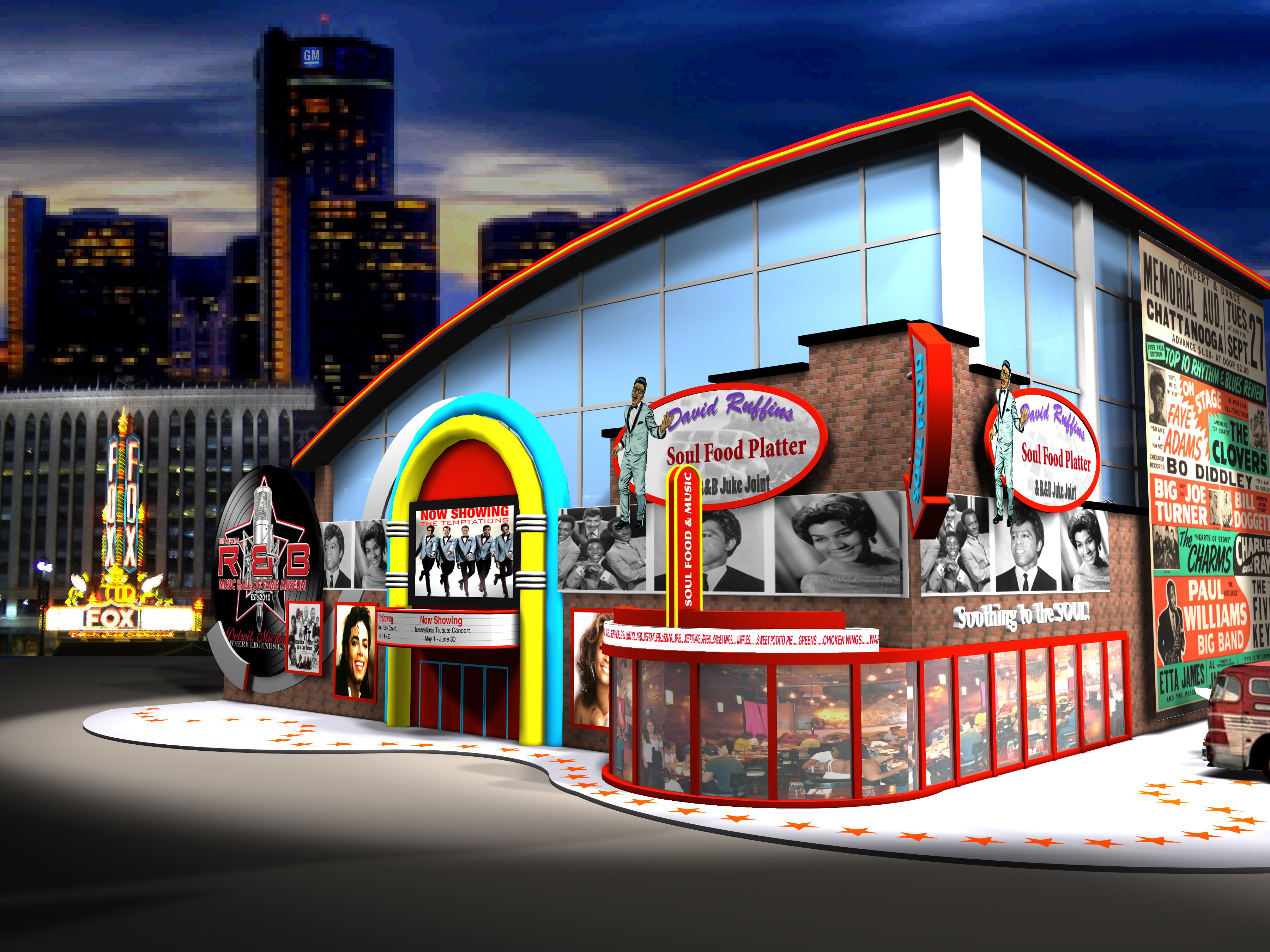 Despite major support from city leaders and others, Lamont Robinson still can't attract investment to build Rhythm and Blues Music Hall of Fame
Yes, Lamont Robinson is on a mission, but understand that Lamont Robinson takes his mission a bit more seriously than most. Understand that Robinson is the sort who simply will not accept the word 'no' for an answer, not when it comes to his longtime dream of building a Rhythm and Blues Music Hall of Fame in Detroit.
And Robinson has been encountering more than his fair share of 'no' when seeking partners willing to invest in the development of his proposal. Which is strange, considering the strong vocal support Robinson has received in recent years — in writing — from a number of local civic heavyweights, including Congressman John Conyers, Mayor Mike Duggan, former Deputy Mayor Ike McKinnon, Michael Morris of Cana Development, and former Councilwoman and Motown recording star Martha Reeves. To name a few. All of them have been willing to offer strong support and to congratulate Robinson's desire to locate the facility in Detroit, emphasizing how much they believe that such a project could benefit the city's redevelopment efforts.
In a letter dated January 9, 2015, Mayor Duggan writes:
"A place such as the R&B Music Hall of Fame would provide a great platform to express our appreciation to those that helped to shape an entire genre of music. As the proud home of various art museums and institutions, this would be an awesome addition to our great city."
A little over one year later, on April 5 of this year, Deputy Mayor Ike McKinnon wrote: "I am writing in support of the proposed development of The Official Rhythm and Blues Music Hall of Fame Museum project coming to the City of Detroit. … We are also happy that the Rhythm and Blues Music Hall of Fame Induction Ceremony will be an annual event that will be held in the City of Detroit."
On November 1, 2014, Congressman John Conyers writes: "I write in support of the proposed development of The Official Rhythm and Blues Music Hall of Fame Museum Project in Detroit, Michigan. …I am excited about the opportunity to enrich the City of Detroit and all residents in Southeast Michigan."
On July 10, 2014, Martha Reeves said: "I am proud and delighted to know that you will locate the official Rhythm and Blues Music Hall of Fame in the historical City of Detroit, Michigan, the home of Motown Artists. We need your Hall of Fame to properly define the lives of the many famous artists who have gone on to Heaven, and report the ones who carry on the traditional beats and sounds of our ancestors who excelled and survived with God's gift of music."
And, finally, Michael Morris from Cana Development wrote this on October 14, 2014: "As you know, the Ilitch Family and their companies have made a significant long-term investment and commitment to Detroit. We are in the midst of an urban renaissance, which will connect key entertainment and sports facilities in Detroit, while acting (as) an anchor for the revitalization of (the) city. We are in complete agreement that The Official Rhythm and Blues Music Hall of Fame Museum belongs in Detroit. The history of R&B and its direct connection to both Motown (Hitsville, USA), and Detroit is vitally important to the fabric of music in the United States today."
But despite all this support, something always seems to mysteriously get in the way of any final deal. Although Robinson cannot say for certain, he believes strongly — and has been told on more than one occasion — that no one wants to invest in something that could potentially steal the light from Motown's glory. Robinson said he doesn't understand why there can't be room enough for both. Neither does Mary Wilson (yes, that Mary Wilson), former member of Motown super group The Supremes.
"It's two different things. The rhythm and blues encompasses all artists. All labels. The Motown Museum is just the Motown Museum," said Wilson, who was quick to add that she obviously is supportive of Motown where she has her musical roots. But Wilson's support of Motown does not conflict with her support of a facility dedicated to Rhythm and Blues because it "encompasses all the record companies", not just Motown.
Not only is Robinson convinced that "if you build it, they will come" (to lift an overused popular phrase from the hit movie "Field of Dreams), but he is equally convinced that Detroit is the only sensible, logical location for such a museum. Although Robinson says he has entertained enthusiastic offers from a number of other places, including Philadelphia and Mississippi, it is Detroit that is known around the world as the music capital. Motown is certainly a big reason for that, but Detroit is also the home of innumerable jazz and blues greats, gospel greats, rock and roll greats, and the home of techno.
"That they want to do it in Detroit Michigan is really quite a tribute, because Detroit has always been a musical town. I mean, I grew up in the 50s and 60s, and music was everywhere," said Wilson.
"We had the Flame Show Bar, we had Hastings Street, Baker's. Every major black artist, they all came here. Then we come up to Motown. Detroit has always been a big contribution to Rhythm and Blues and I think it's very fitting. In Cleveland, you have the Rock and Roll Music Hall of Fame, which is cool. Now in Detroit, Motown, you have the Rhythm and Blues. I think it's a perfect fit."
So that's why Detroit. And to do the deal, Robinson estimates the cost to be somewhere in the neighborhood of $15 million, a bit more than one-tenth the cost of the Rock and Roll Music Hall of Fame, which was built for $100 million. As for space, Robinson is looking for a location that would cover about 30,000 feet. The Rock and Roll Hall is about 150,000 square feet.
"The African Americans here are asking, 'Are we gonna have something downtown?' We know the arena is coming. We know that a lot of new things are coming, and we applaud all that, but why can't we get this piece here? This Rhythm and Blues Hall of Fame? We don't want it to go to Philly. We don't want it to go to Memphis. We don't want it to go to Atlanta. We want it to go right here in Detroit.
"This museum is gonna tell the story of the chitlin circuit, the Apollo Theater, the Howard Theater, the Uptown Theater. We're gonna tell the complete story. … To be able to see more than just the Motown artists, where you can see a James Brown, a Prince, Jerry Butler, Gene Chandler, all the stuff from Stax."
The first induction ceremony was held in Robinson's hometown of Cleveland in 2013. Since then, he has held a ceremony every year, including two in 2015. Robinson moved with his wife to Detroit eight months ago. This year's ceremony will be held on Sunday, August 21, at Dearborn's Michael A. Guido Theater.
"Our tickets are $25 to $100 because I want the everyday person to be able to come," he said, adding that he originally wanted the ceremony to be held in Detroit, but for various reasons was not able to make that happen. Remarkably, the event still has no sponsors.
"Some of the people we induct would never get inducted into the Rock and Roll Hall of Fame. The Delfonics aren't in there. The Dramatics are not in there. The Chi-Lites are not in there. We can go on and on. The Stylistics. Barbara Mason. All of these people will probably never be inducted. And then when you talk about people like the Mad Lads, Sly, Slick and Wicked, they probably would never get in.
"This is not about hit records, it's not about notoriety. It's about the time you put into the fabric of rhythm and blues music. If you put 30, 40 years in, you need to be considered in being inducted. That's the difference between us and the Rock and Roll Hall of Fame.
"Mary Wells. If I don't induct her, she's not gonna get inducted into the Rock and Roll Hall of Fame. Listen, the Marvelettes were on the list for the past 10 years. Heavy promotion to get inducted. For each year, in December before Christmas, we found out they're not getting in. We inducted them in the class of 2013, the inaugural class. Edwin Starr, he died a (disappointed) man because he did not get into the Hall of Fame. Thank God Bobby Womack did see it. Got in the last three or four years of his life.
"It hurts me so bad to see some of these people who have number one hits, and sewage is backed up in their house, or don't have teeth in their mouth. There was a group eating out of garbage cans up there in Philadelphia had number one hits. Some of these people are living horrible lives, but have big hits. And known all around the world. But for them not to be able to have a Hall of Fame where they can't show their accomplishments? That's what we want to do. And it should be in Detroit."