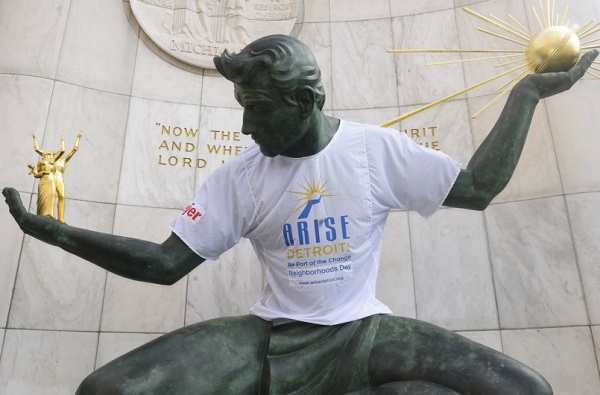 ARISE Detroit! will honor five community leaders on
Saturday, August 13
at the organization's "Thank You Detroit Festival" at Campus Martius Park in downtown Detroit.
The free Thank You Detroit Festival is being held as an expression of gratitude to thousands of Detroiters who have been part of ARISE Detroit! Neighborhoods Day over the past 10 years. This year's Neighborhoods Day was held on August 6 and featured hundreds of organizations and thousands of volunteers engaged in community service projects in neighborhoods all over the city.
The ARISE Detroit! Angelo Henderson Community Service awards will be given posthumously to Ron Scott, the director of the Detroit Coalition Against Police Brutality, and Charlotte Kish, a Detroit activist and neighborhood organizer who was killed this year in a hit-and-run accident.
Awards also will be given to Derek Blackmon of Black Family Development, who has organized dozens of peace and anti-crime marches in Detroit; Amy Good, executive director of Alternatives For Girls, which provides alternatives to street lifestyles for young women and girls; and Karen Knox of Eden Gardens, who has spent years devoted to beautification efforts in her east side Detroit neighborhood.
The community service award is named for the late Detroit News reporter and radio talk show host Angelo Henderson, who also was very active on community issues.
"Each of the honorees represent the best of what making the city better is all about," said Luther Keith, executive director of ARISE Detroit. "They are people who have made or are making a difference in the city and the lives of others. They are most deserving."
The awards ceremony will be held at 1 p.m. at Campus Martius Park. ARISE Detroit! will also recognize a number of community groups, sponsors and individuals who have supported ARISE Detroit! and Neighborhoods Day, including Detroit Free Press Columnist Rochelle Riley.
The festival will feature entertainment from 11 a.m. to 7 p.m. Performers include the Second Ebenezer gospel choir, Mosaic Youth Theatre of Detroit, Thornetta Davis and the New Fantastic Four.
ARISE Detroit! is partnering with Starr Commonwealth's Art of Resilience Summer Youth Festival, which will be held simultaneously at Campus Martius Park and will include more than 500 young people performing or exhibiting in music, dance, theater, spoken word, short film, and visual art.
"We call it the Thank You Detroit Festival because that's how much we appreciate all the support so many have given ARISE Detroit! over the years," Keith said. "We have some great performers and we hope everyone comes out to enjoy the festival."