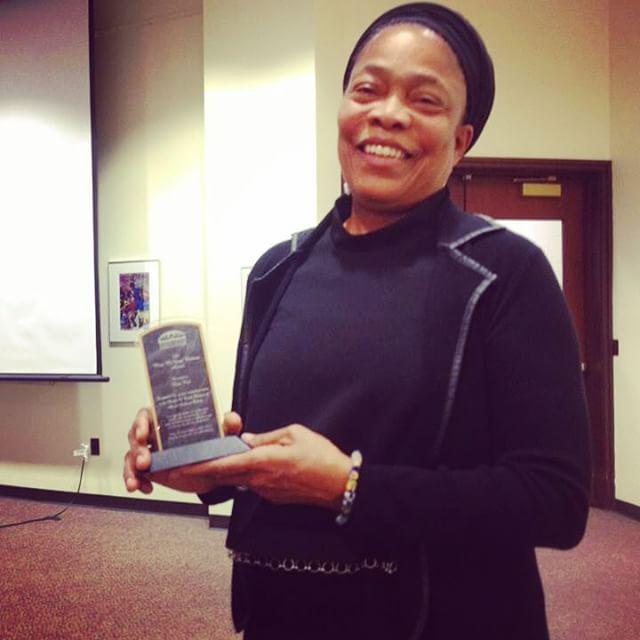 If you've been having fun anywhere near downtown Detroit this summer, you should probably thank Njia Kai. Because as the Program and Special Events Director overseeing the more than 500 free events that have been taking place throughout the summer at downtown's five area parks, Kai has pretty much assumed the role of Goodtime Overlord.
As an earlier profile of Kai pointed out in the Detroit Metro Times, Kai has been promoting her native city essentially ever since she has been able to spell the word 'promote'. It won't be long before her picture will be what you see next to the definition of the term, Detroit Booster.
And fortunately for all Detroiters, old and new, Kai's infectious enthusiasm for Detroit has translated into a tremendous offering of activities that spans a ridiculously wide range of things to do. Whether you like to play basketball or chess, whether your favorite music is P-Funk or acoustic folk, whether you like…
Whatever. The point is, if you're near downtown, don't even try to say you can't find anything to do.
"We've produced a summer series which runs June through August. And we operate activities and programs all seven days in the various parks. It has really expanded in the 12 years of the parks' existence," said Kai. "It started off as just Campus Martius Park. Now the programming has expanded to four other park areas downtown. That includes Cadillac Square, adjacent to and part of the Campus Martius district, then Grand Circus Park, Capitol Park, and Paradise Valley Park. Because of the generosity of the current sponsorship, we have been able to add considerably to the programs being offered.
"As each of the areas are further developed as far as residents coming in and retail businesses coming in, and creating the audience and the demand for more activities, then those activities are planning to grow. Especially, for instance, in Capitol Park, which is currently experiencing a lot of expansion and construction. So as that develops we'll be able to add more programming in that area."
"Campus Martius started out as a concept, an idea, to create a new center, a new focus for downtown Detroit, and to begin to encourage and develop the retail, the residence, and the amenities downtown. And begin to again have a very active and vital city center. And that has happened. In these 12 years we have really seen the numbers of persons who work, live and play downtown just expand. …Campus Martius was created as a beautifully landscaped green space in the heart of downtown. But it was also created to support entertainment presentations."
One of the favorite entertainment offerings in Campus Martius is the monthly Fourth Fridays in the Park, which features four bands beginning at noon and stretching out to 10:30 pm, closing out with a headline act. Closing out the series this summer on Aug. 26 will be hometown George Clinton and Parliament Funkadelic, a major Detroit favorite. Weekly, during lunchtime, Campus Martius features the Meridian Midday Music Series, showcasing nothing but local talent. Because no other city anywhere at any time can ever boast the sheer depth and breadth of local music talent. Thursdays and Fridays it's the Mix and Mingle, and then the Beach Party, respectively. Saturday evenings it's movie night, complete with popcorn and drinks for sale.
"You can come bring your blanket and stretch out, or use the park chairs, open for everybody.
These activities draw hundreds of folks to this sandy beach in the middle of the city," she said.
Nearby, in Cadillac Park, Quicken Loans has created the Sports Zone on Cadillac Square, open Monday through Saturday, complete with four half-court basketball courts, a sand volleyball court and, new this summer, a putt putt golf course.
"That encourages a lot of folks to come downtown and just have a good time," said Kai.
Meanwhile, in Grand Circus Park, Thursdays play host to the Rhythm and Stage program, opening with an acoustic set at 7 pm, followed by an on stage presentation, which can be theater, dance, or even a musical.
Capitol Park is humming too, filling up Saturdays and Sundays with entertainment for the taste buds. On Saturdays it's Summer Saturday Nights with a series of food samplings and drink samplings from 7-11 pm. Each one is a themed activity. Tacos and Tequila, for example. Summer Saturdays is  one of the (very) few ticketed activities in the parks that is not free.
On Sundays at Capital Park there is a Sunday Brunch from 11 am-3 pm. There's live acoustic music, as well as a visual artist. Food is provided by a variety of caterers and food trucks.
"We've been really pleased with the diversity of the crowds coming from across our city and nearby suburbs."
For more information on all you can do in the parks downtown check out: downtowndetroitparks.com or campusmartiuspark.org