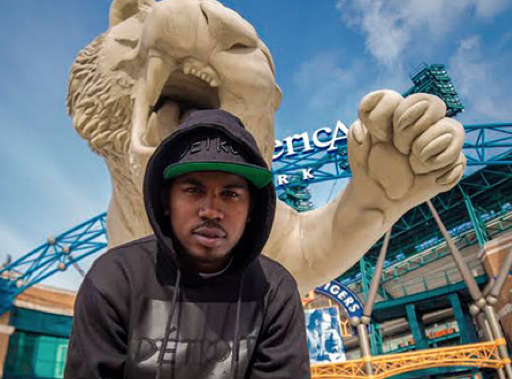 Detroit, MI – Starting his DJ career at the early age of 17, Brian Jackson, known as "DJBJ3525" of Hot 107.5 quickly emerged as one of the Detroit's hottest DJ's. Jackson continues to go full steam ahead with the launch of his nonprofit 3525 World a 501c3 to support metro Detroit youth, in an effort to garner the change that the city has been anticipating. As a bonus, supporters can stay in touch with Jackson through his mobile app.
At the height of his career, Jackson wants to develop an organization that will create a promising future for the youth. "I've come across young people that's been through a lot that could leave a long term effect," said Jackson. " Knowing that we are not able to solve problems overnight, our leaders will serve as better role models for our future generations," he continued.
With the support of his own role models, his parents, Jackson, spent a lot of his time working in nightclubs, working as a disc jockey at local parties and eventually working as a Detroit personality at HOT 107.5 Detroit. From his own experiences, Jackson was able to see that our youth needed emotional support, and he believed that his love for music could do just that.
As part of his growing brand, Jackson is dedicated to being accessible to all of his supporters with the launch of his mobile app 3525 World available on all mobile devices.  On the app users are able to connect with Jackson through direct messaging, virtual chat rooms and his new clothing line, the "Detroit Collection".
Join the 3525 World Inc. launch week at one of the following events:
Imported From The D Talent Show (August 3): During this event special guest will perform for five minutes each at St. Andrew's Hall located at 431 E Congress St, Detroit, MI, following a judging in which the winner will receive $500. This event begins at 8:00pm and admission is $10.
DJBJ3525 Birthday Celebration, Nonprofit Unveiled, Mobile App Released (August 4)– DJBJ3525 will host a dinner in celebration of his 28th birthday and will announce the 3525 World Inc. official 501 C3 and also the 3525 World Inc. mobile application, which will be available on all platforms. This event will take place at the Horatio Williams Foundation located at 1010 Antietam Avenue in Detroit, MI. This event begins promptly at 6:00pm. The cost is $25, which will benefit as a donation to the new 3525 World Inc. nonprofit.
Post Bar Celebration (August 5)– There will be a gathering at the Post Bar located at 22065 Michigan Avenue in Dearborn, MI with a $15 entry fee.
Neighborhood Cleanup/PBL Basketball Tournament/DJBJ3525 Celebrity Basketball Tournament (August 6)-Neighborhood cleanup catered toward youth in collaboration with AriseDetroit.org, located at Gratiot and Vernor, beginning at 8:30 a.m. Additionally, DJBJ3525 will host a basketball tournament in partnership with the Premier Basketball League. The basketball game will consist of All-stars & Rookies beginning at 1:00pm within the same location. At 6:00 p.m. DJBJ3525 will host a celebrity basketball classic with a chance to win a $1,000 shopping spree at Mr. Alan's Elite, following a block party at Epitome Lounge located at 205 W. Congress St., in downtown Detroit , beginning at 10:00 pm until 2:00 a.m. The cost is $10.00. To register for this event, logon to djbj3535.com for more details.
Grand Finale Celebration (August 7) – Celebration of a week long commitment to the community at 29th & Park located at 43155 Main St #208 in Novi, MI, which will start at 10:00 p.m. until 2:00 a.m. The cost of this event is $20 and is also open to the public.
To participate in the following events send all inquiries to streethypedetroit@gmail.com. Stay connected with Jackson by visiting or following him socially @DJBJ3525 on Instagram and Twitter.