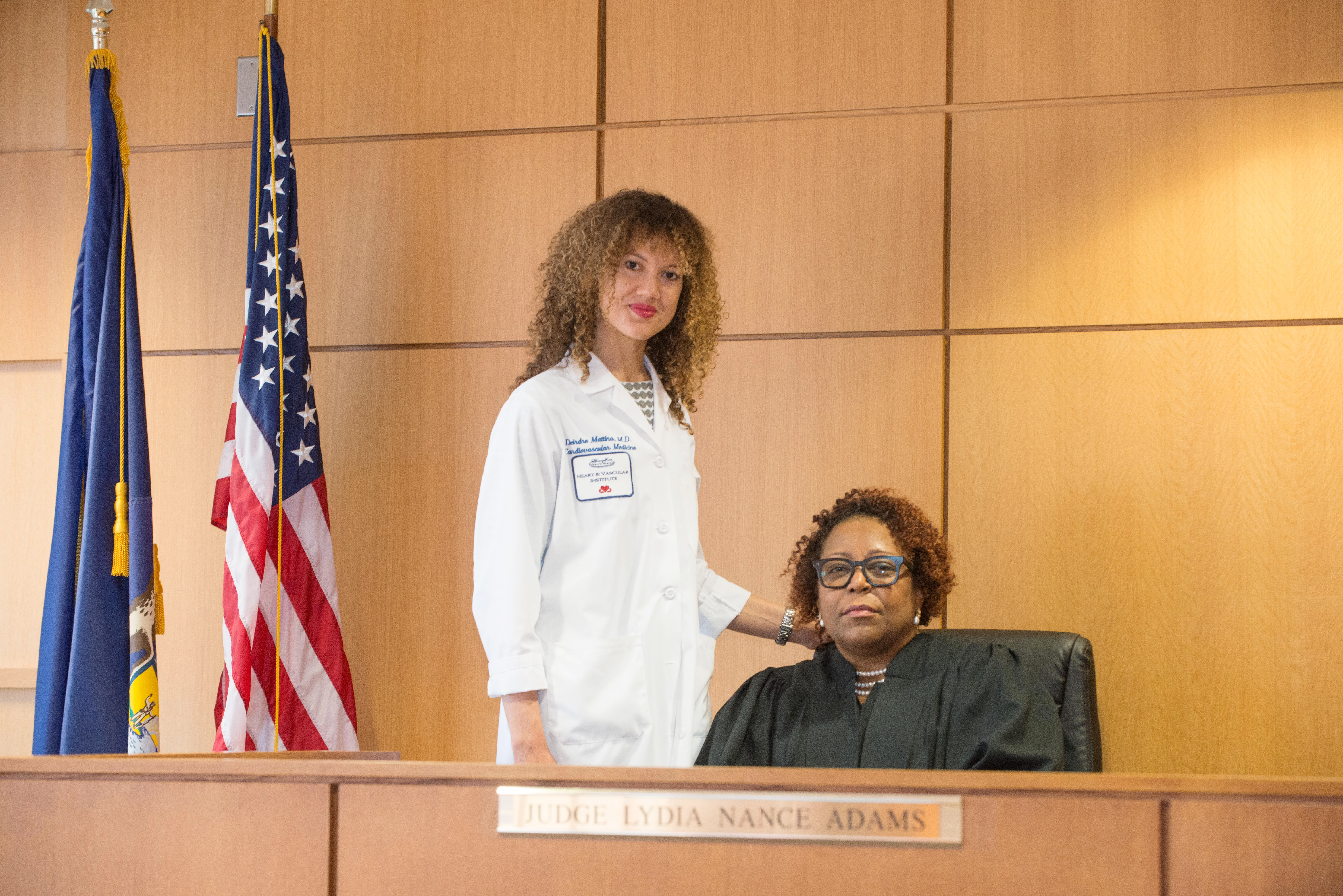 Although Heart disease is the number one killer of women in the U.S., women in the Detroit community have the opportunity to beat heart disease thanks to cardiologist and director of The Henry Ford Women's Heart Center Dr. Deidra Mattina's free heart program.
The Heart Clinic serves underprivileged women, helping them to improve their heart health. The program is covered by most insurance plans.
"I think it's just really hard to get women to consider their heart health. We have to find the space to care for our health," said Mattina.
Mattina teamed up with WomenHeart Champions, Phyllis Jackson and Jacqueline McNeal, coordinators of the WomenHeart Support Network in Detroit, which gives women the space to care for their own heart health.
To help promote a healthier lifestyle and educate women on heart disease signs and prevention, the WomenHeart Support Network has monthly group meetings. In these meetings, women living with heart disease, or other cardiac risks, get to connect with and help support each other, discussing their own experiences in healthier lifestyle changes.
"I don't think people understand all the lifestyle changes women go through, especially the changes black women go through," said Judge Lydia Adams.
Adams had the signs of heart disease, high blood pressure, and cholesterol.
"My blood pressure was staying high on a normal basis," said Adams. Worried over her high blood pressure she finally decided to make her health a priority.
"I happened to be watching television and I saw Dr. Mattina," she said.
The judge saw Mattina on Fox 2 News discussing the opening of the new Women's Heart Clinic at Henry Ford Hospital. From there the judge joined the Prevent Program offered by the Women's Heart Center.
"This program incorporates everything," said Adams. Adams did the Lifestyle Enhancement Visit offered by the clinic, where she underwent a two-hour health evaluation.
All clients of the Women's Heart Clinic undergo the Lifestyle Enhancement Visit, which includes a cardiovascular exam and a discussion with Dr. Mattina, a "Bod Pod" evaluation with clinical exercise physiologist Dr. Dennis Kerigan, a fitness assessment and exercise prescription, nutrition counseling, and an overview of individual health findings.
Thelma Rudolph, a Detroiter who is also a patient of Dr.Mattina, said coming to the Women's Heart Clinic was the best thing she could have ever done.
Rudolph recalled her first heart attack, mentioning the common symptoms women face when having a heart attack.
"On a Saturday morning I had heaviness and shortness of breath."
She asked a neighbor to take her to the hospital.
"They immediately took blood, and that's how they tell you that you had a heart attack," said Rudolph.
The doctor determined Rudolph had a heart attack by analyzing her blood's enzymes, discovering damage to her heart. She was diagnosed with heart failure.
They did more tests and found a blockage in all three of her arteries. They unblocked two.
About a month later, Rudolph suffered her second heart attack.
"I've been here at the rehab for about three months," she said. Rudolph is a firm believer that the Women's Heart Clinic saved her life. She now watches what she eats by reading food labels and consuming less salt.
Both Mattina and Jackson said that many women ignore the signs of heart disease until it's too late.
"We really want to practice health care, not sick care," said Mattina.
One of the biggest reasons Women's Heart Clinic program exists is to create a primary prevention plan designed to treat heart problems early in women. So it's important that women get their cholesterol, blood sugar, and blood pressure checked because blood pressure, diabetes, and cholesterol are closely related to heart disease.
But there is another factor that causes heart disease in women, which is stress. It is a fact that in women, mental and emotional stress causes a decrease of blood flow to the heart.
"I've seen this in quite a few patients, we see something called 'broken heart syndrome', which actually you can have heart failure from severe emotional stress," says Kerigan.
"As a judge you hear about murders, robberies, we just see this day in and day out," said Adams. "The big thing for me is managing my stress."
Adams said she meditates every morning, and tries her best to maintain a balance of peace, a healthy diet, and exercise to combat heart disease.
This healthier lifestyle affects Adams' job. Sometimes she has to wear her workout clothes under her robe, but she says her health is worth it.
"I think what I'm learning here is that you have to advocate for your own health. I'm hoping when people see a change in me it will inspire other people to get their heart checked."
The WomenHeart Support Network held their last meeting of the quarter last week and will resume with the monthly meetings in September.
" The big thing for me is managing my stress," said Adams. "I was just holding it in, eating it.
About Post Author