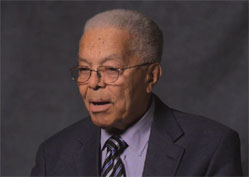 The late Nicholas Hood Sr. was dedicated to creating a city where racial unity was possible. His historic 1965 election to the Detroit Common Council was as magical as it was masterful. Hood died on Sunday. He was 91.
Within months of arriving in the Motor City in 1958, Mayor Louis Miriani appointed him to the Commission on Community Relations, a panel created to help strengthen relations between blacks and whites after the 1943 race riot. "I had established a pretty good base in the general community," Hood told me last fall. "My elections had never been based in the 13th district." He was referring to the enclave on Detroit's lower east called Black Bottom, an African-American section of town named for its fertile soil.
Hood, a Terre Haute, Indiana native, hit the ground running like a shiny Ford Mustang. As pastor of Plymouth Congregational Church, he began visiting fellow Methodist churches throughout the city's northwest and northeast sides, which in those days were lily white.  "During the campaign, I and some of the white ministers in my denomination worked out a system of coffee hours," recalled the Purdue and Yale-educated man who had helped to form the civil rights era's beacon institution, Southern Christian Leadership Conference, during his days in New Orleans. "Beginning at nine in the morning, we would go into homes of their members and those members would call their neighbors. I would just talk to the folk."
Hood had run unsuccessfully for the council seat the previous year but wasn't deterred. He built a coalition of supporters that included blacks, whites and Jerry Cavanagh, the city's popular mayor. He was also endorsed by The Detroit News, Detroit Free Press as well as Michigan Chronicle, the black weekly newspaper.
"Nicholas Hood, a Negro minister elected by white churches and a biracial vote, will go to Common Council in January as the candidate of a city's conscience," a Detroit Free Press analysis of the campaign stated at the time.
Now, the only black member on the nine-person legislative body, Hood sought to score a victory for his people. City government had announced that 450 acres of land, including the Garfield Street parcel where his church sat, would be cleared for the expansion of the Detroit Medical Center footprint. Hundreds of black residents were destined to be displaced. In response, Hood organized the Fellowship of Urban Renewal Churches and demanded that the congregations be allowed to either remain or relocate in the area. The Rev. Albert B. Cleage, Jr., who later founded the Black Nationalist-oriented Shrine of the Black Madonna, declared in intransigent fashion that medical center expansion and the construction of the Chrysler Freeway was systemic Negro removal. Hood agreed. He, however, lobbied federal and local officials and made sweet lemonade out of lemons:
"Yes, urban renewal is Negro removal," he recalled 50 years later. "but we're going to make it work for us."
Hood's church nonprofit, armed with federal funds, built affordable housing and a facility to assist developmentally disabled adults called Cyprian Center in honor of his daughter, Sarah, one of his four children.
"I was trying to save a part of the city for black folk," Hood concluded with a modest grin. "That's what these 50 acres represent."
Ken Coleman is a local writer and historian who has written several books on black experience in Detroit.