Imagine attending a game night with dinner and drinks at one of your favorite friends fabulous home. Chic attire, amazing people, great conversation and a little bit of drama. Sounds fun, right? But there's a twist, they know you, but you don't know them. Can you say, dinner party twist? That's what happens when you Show:UP!
We Break For "Creative" Business with Show:UP! Creative Directors, William Bryant Miles and Nickolas Vaughan, Creative Director:
AJ Williams, Michigan Chronicle: What is Show:UP!?
William Bryant Miles: Show:UP! is an interactive, immersive pop-up dinner party. That means Show:UP! takes place in an actual home, taken over by Show:UP! for the night. Guests buy tickets and engage with a unique theatrical experience. We say interactive because guests have to participate – they don't just they don't just sit back and watch someone perform, but it's not "murder mystery" and they don't have to assume a character. It's immersive because the environment is completely authentic to a dinner party experience.
AJW: What inspired the concept for this type of event?:
WBM: Nickolas, my co-creator, and I were having drinks one, day while discussing what frustrated us with the traditional theater experience. We wanted to create something that spoke to how people consume work now, you know how we really exist in the 21st-century. So we decided to do something that was fun and engaging, which also allowed you to have a cocktails, food, meet people with engagement throughout the whole experience.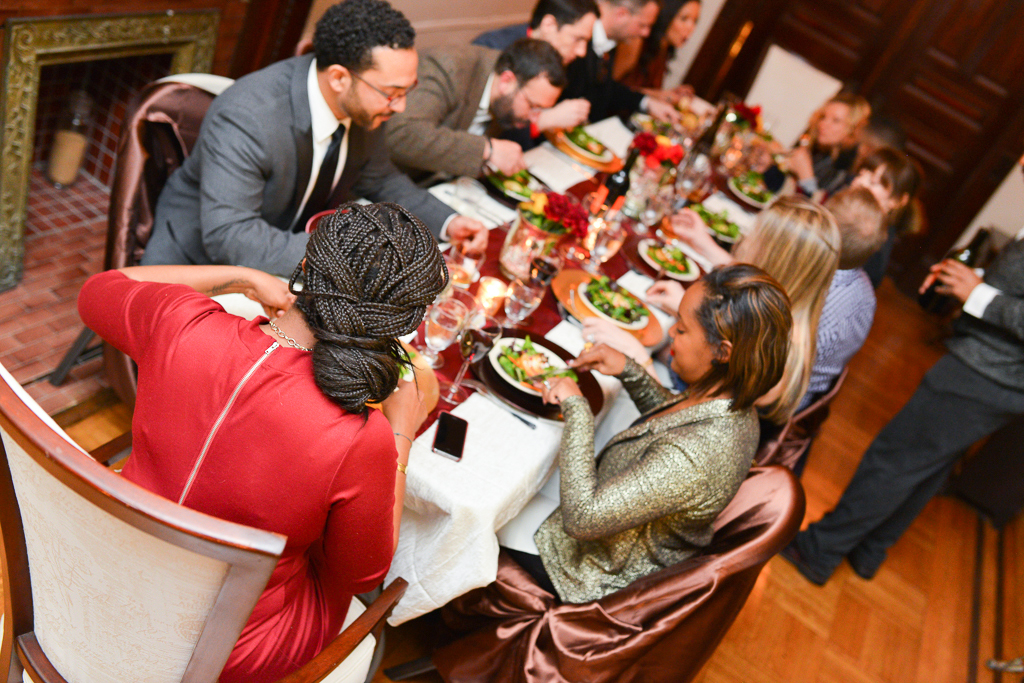 In my experience, you would go to a show by yourself, and you have this great cathartic experience but you wouldn't have any relationship to the people around you. You're in a dark theater with thousands of strangers,  you come as a stranger, and you leave as a stranger even though you have so much in common at that very moment. We wanted to create something to disrupted that, allowing you to engage with those having the same experience. You come as strangers, and you leave as so much more all while, you enjoying a fabulous artistic experience with dinner and cocktails! . 
AJW: What makes Show:Up! different from other pop-up dinners?: 
WBM: Show:UP! is different from other pop-up experiences because we have the theatrical element so there's not just going to be the food. Of course the food is going to be amazing but that's not the only star! It's also different because we really encourage guests to engage with each other and we really want to disrupt people just coming with their friends and leaving with the same friends. It's really about making new connections and challenging the conventions of what performance is and what a pop-up dinner is. And, Show:UP! is created entirely by a black creative team. I don't think we are the only black pop-up dinner, but I do know this is a space in which there are not as many people of color creating opportunities as there could be. 
AJW: Why Detroit? What can attendees expect?
Nickolas Vaughan: Detroit has an emerging arts scene, and there are so many cool people looking for something different to do in the city. We thought it was a no-brainer, given the diverse atmosphere and vibrant energy. Attendees can expect a one of a kind experience that they will be talking about for the rest of the year. 
Tell me about the team, Creative and Culinary: 
NV: The team consists of two childhood friends from Brooklyn and an Alabama born New Yorker. Chef Shellie Porter is the amazing brain behind all of the good eats at Show:UP! She works with William and me to come up with a menu that goes best with the decor and world of each party. William and I work closely together to nail down each element that the guest will encounter from the silverware to clothing articles. We also have amazing Creative Collaborators who lend their improv skills and imaginations to the table.  It's a true team effort.
What's next for Show:UP!? 
NV: Show:UP! will be everywhere this year. Popping up in Atlanta and LA. We also have tons of New York parties popping-up this summer! A few other things in the works, but just like the experiences themselves, it's top secret!
Show:UP! runs approximately 2 hours and 30 minutes, with seatings at 12:30PM (brunch) and 6:30PM (dinner) on Saturday April 16, 2016 and 12:30PM (brunch) on Sunday April 17, 2016 at a secret location in Detroit; confirmed guests will be notified of the exact location 24 hours before the event. Seating is extremely limited and capped at 12 guests per experience; dietary restrictions and food allergies can be accommodated. Tickets are $75, and include a multi-course professionally catered meal and signature alcoholic and nonalcoholic beverages; all guests must be 21+. Tickets are available online at showup.ticketleap.com
For additional information visit: bestdinnerpartyever.com
[ione_embed src=https://www.youtube.com/embed/niTJPJXc2VA service=youtube width=560 height=315 type=iframe]