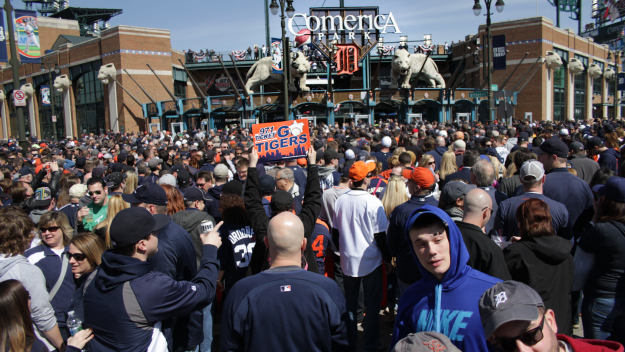 As the 2016 Detroit Tigers season gets underway, beginning Friday, April 8, the Detroit Tigers would like to make all fans attending Friday's game and all games following aware of construction and potential traffic impact.
·        We anticipate parking to be at a premium and most lots surrounding the ball park to fill early.
·        Many spaces will be reserved for guests with season parking passes and guests with disabilities.
·        We encourage all guests to plan ahead, arrive early and expect delays. We also recommend that guests utilize the various shuttles that many local bars, restaurants and casinos offer.
·        A number of surface parking lots north of the I-75 Service Drive and west of Woodward Avenue will no longer be available due to the construction of the new Detroit Events Center.
The Detroit Police Department have designated that both north and southbound curb lanes of John R. and Brush St. as "no parking." Any vehicles parked in these areas could be ticketed and towed.
As part of the M-1 Rail project, Woodward Avenue will be restricted to one lane north, one lane south and a turn lane from Adams to Grand Blvd.
Additionally, due to the M-1 Rail project, the I-75 (Fisher) Service Drive, east of Woodward, will be closed to vehicle traffic from Woodward to John R. Signage and cones will indicate closed areas and proper detours.
To navigate the Fisher Service Drive closure:
Eastbound Fisher approaching Woodward (to access lots east of Woodward including Tiger Garage, Lot 4 and 5):
        Take Fisher Service Drive to Woodward Ave. Turn Left:
        Turn Right onto Winder
        Turn Right on to John R.
        Turn Left onto eastbound Fisher Service Drive
Guests can access Lots 1 and 2 using the following:
        Take Fisher Service Drive to Park Ave. Turn Right
        Turn Left onto Elizabeth
        Cross Woodward and continue straight to Lots 1 and 2
        Fans on Woodward will be able to turn left/right onto Montcalm or Elizabeth from Woodward Ave.
Leaving Comerica Park:
Vehicles on Woodward will not be able to turn left/right on to the Eastbound Service Drive
We encourage those fans parked east of Woodward to take John R. and Brush St. north to Mack Ave. Turn right to access I-75 North and South and connect to all other major freeways from there.
The Madison Avenue ramp will also be open for those fans parked south of Comerica Park.
Fans parked west of Woodward Avenue are encouraged to take the following:
Cass and Clifford north to I-75 (Fisher) Service Drive, turn Right to get to I-75 North and I-94
Take Grand River North to the Lodge Freeway (M-10) to reach I-94 and I-75
Take the I-75 Service Drive West to access I-75 South, I-96 and I-94
We recommend that fans avoid Woodward Avenue as much as possible due to lane restrictions from
M-1 Rail