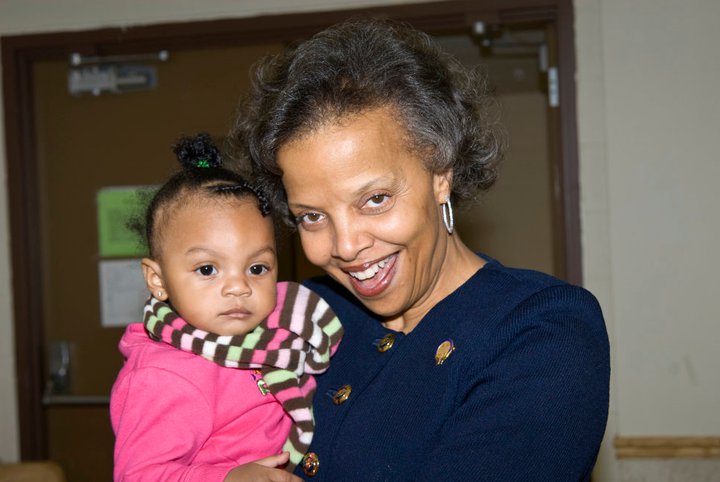 Whose problem is it that more than 59 percent of Detroit children live in poverty? Or that countless Detroit infants have to leave the hospital without any guarantee that their basic needs will be met at home?
Twenty-five years ago, Barbara Patton decided the problem was hers.
"I have no biological children of my own," said Patton, 62. "But I still have a responsibility to the children of this city."
For years, the long-time Detroiter and professional fundraiser, met that responsibility at the Detroit Medical Center's Hutzel Women's Hospital.
"I used to volunteer with the Cradle Care Program," said Patton. "After you get certified, you can go in any time and hold or feed the preemies in the Special Care Nursery. You just love them and rock them. The extra touch helped them thrive and gain weight more quickly."
In 1991, Patton had another idea. She was a member of the National Association of Negro Business and Professional Women's Clubs, Detroit Club. The 81-year-old organization has a mandate for each local chapter to do a health initiative. "I thought it would be great to do a community baby shower for new mothers who need assistance," Patton said. "At our first shower, we were shocked when the people started filing in with buckets and buckets of stuff."
The idea of a community baby shower is a quintessentially Detroit one. Individually, we may not have much, but together, we have enough. I've attended the showers over the years, and the exuberance of the donors and the lavish display of new car seats, play pens, blankets and layettes have the positive energy of a church revival. In fact, New Hope Missionary Baptist Church has participated for each of the past 24 years. Other groups have pitched in for more than a decade, including chapters of Delta Sigma Theta and Alpha Kappa Alpha, and one group of Canadian women who spend the year knitting preemie caps especially for the event.
Babies who were beneficiaries of the program in the past sometimes come back for the event highlight: a baby fashion show. Patton wanted the event to avoid judgments about circumstances or who is more "deserving," so hospital social workers decide how the gifts are dispersed. Nearly 200 people attend each year, and Patton estimates that the Community Baby Shower has raised more than $300,000 in resources for needy infants. Most of those donors are ordinary individuals and community service organizations.
The shower began at Hutzel, but for the past four years, it's been at Henry Ford Hospital in Detroit.
"The shower helps us support many more patients beyond medical care," said Meagan Pitts Dunn, Direct of Community Outreach and Partnerships at Henry Ford Hospital. "We send families home with many items that they wouldn't have otherwise, but that are key for the healthy development in the first few months of life."
The circumstances of many of the families can be far from celebratory—from a mother who passed away after childbirth, to a mother of five who suffered from liver failure, to an African political refugee who was seeking asylum in the United States. The shower is a way to wrap every birth in a blanket of hope.
The road hasn't always been easy for Patton, but it's never easy to create the change you want to see in the world. "Sometimes you're met with obstacles from naysayers," said Patton. "You just have to put on the blinders and step forward."
Whose problem is it that so many of Detroit's children are born into poverty? It's certainly not the responsibility of smallest and most vulnerable among us. I agree with Patton – the responsibility is ours.
# # #
The 25th Annual Community Baby Shower will be held at Henry Ford Hospital's Buerki Auditorium, 2779 Grand Blvd, Detroit on April 7 from 5:30 p.m. to 7:30 p.m. Free valet parking is available at the East Entrance. Please bring new, unwrapped gifts, including infant car seats, umbrella strollers, snowsuits, diapers and portable cribs. If you cannot come to the event, you may send monetary donations to "Detroit Club-NANBPWC", P.O. Box 02855, Detroit, MI 48202.