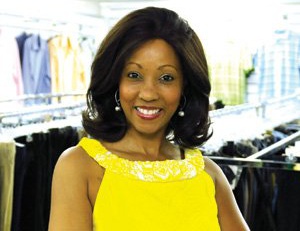 Social Entrepreneur celebrated for global business; uses platform to inspire youth

March is National Women's History month and women worldwide are being celebrated for their perseverance, hard work and commitment to excellence. On March 14, Detroit native and Jackets for Jobs CEO, Alison Vaughn was recognized by Linwick and Associates (LWA) at the 2016 Career Mastered Women's History Month Awards Program Gala in Detroit. Vaughn and 24 other women will share their success stories and be recognized for becoming strong leaders, mastering their careers, and providing expansive vision about women's success.
Winners of this prestigious award are believed to be trailblazing their own lanes, creating their
own futures and reshaping value systems in business. Vaughn established Jackets for Jobs Inc. –
a non-profit organization that provides career skills training, employment etiquette and
professional clothing to job seekers– 16 years ago in a small church utility closet. She has since
expanded the enterprise to include two locations in Detroit as well as a location in Botswana,
Africa. Vaughn has also had the opportunity to speak on several international business panels,
most recently in Dubai.
"Today's women leaders are Game Changers. They take charge of their careers and take charge
of their futures. These women have made their mark in business and are exceptionally strong
role models of what a woman can do. Giving recognition to these deserving women will also
inspire future generations," said Dr. Lisa Lindsay Wicker, president & CEO, LWA and founder of
the Career Mastered Women's History Month Recognition Program.
"I've always been a dreamer but never did I imagine that my passion for fashion and love for
humanity would impact so many lives. I absolutely love the work that I do and I am truly
humbled and grateful to be receiving such high honors with so many other amazing women,"
commented Vaughn.