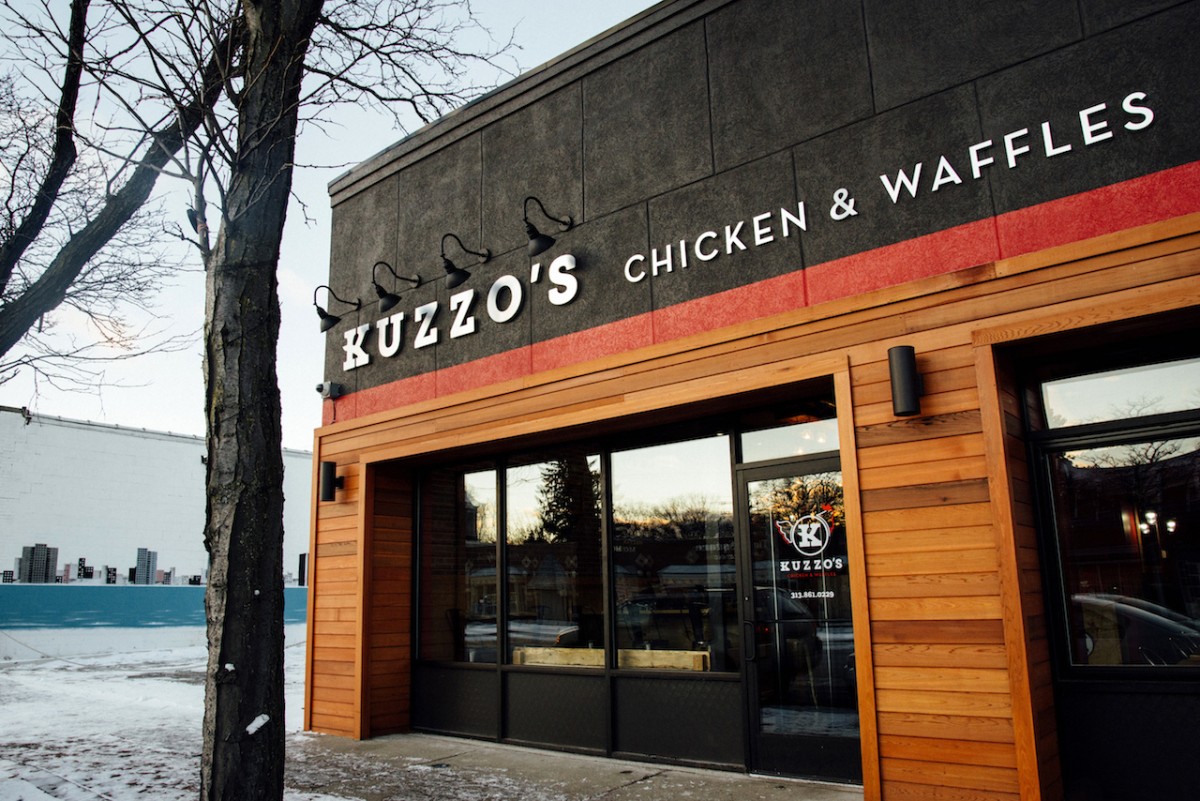 Add another restaurant to the Livernois corridor win column. Unlike the pro- football team its owner plays for (the Detroit Lions), Kuzzo's Chicken and Waffles enjoys scores of fans and foodies flocking to the spot for its signature dishes, like rich creamy mac and cheese. Detroit Lion Ron Bartell opened the popular eatery at 19345 Livernois Ave. and has local foodies, friends and family flooding the restaurant daily.
"Kuzzos was Detroit slang," Bartell explained. "We always called each other kuzzos — you know, friends and family. I thought it would fit with the neighborhood and that it would be welcoming."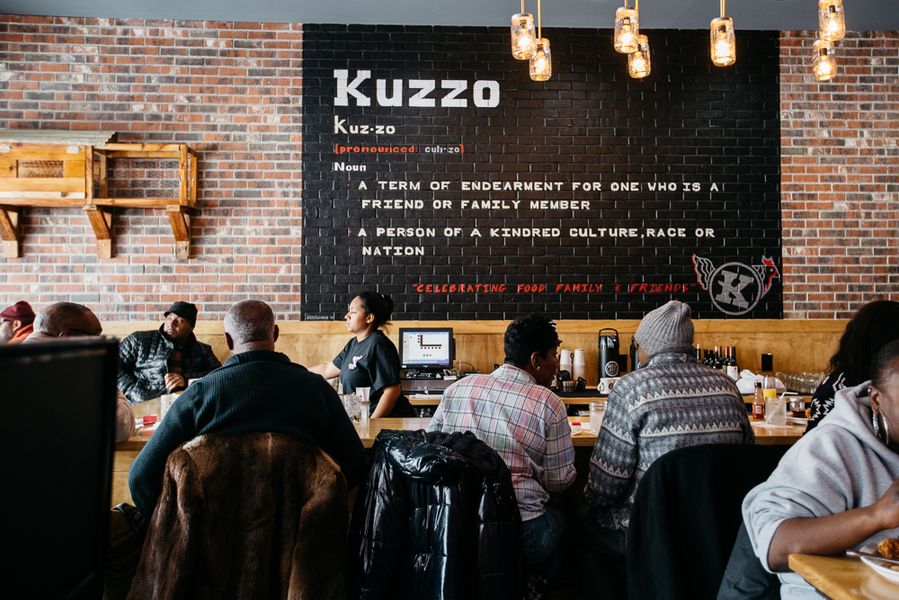 Everybody is a friend, family, said Bartell, who is part of a mini-dynasty on the Avenue of Fashion. The pro football player-turned–entrepreneur's uncle, Rufus Bartell, owns Simply Casual, an upscale clothing retailer, and Algernon Bartell opened Times Square Men's Clothing.
Downtown and Midtown feel vibrant with people walking around, boutiques, restaurants. Livernois could have the same type of feel.
From the photo of Barack Obama enjoying a smoke mounted on the multi-colored red and brown brick dining area wall to the artwork inside of the latest restaurant to make the Avenue of Fashion is most alluring.  The Marilyn Monroe portrait indeed makes a sight for sore eyes and compliments the state-of-the-art gorgeous lofty surroundings.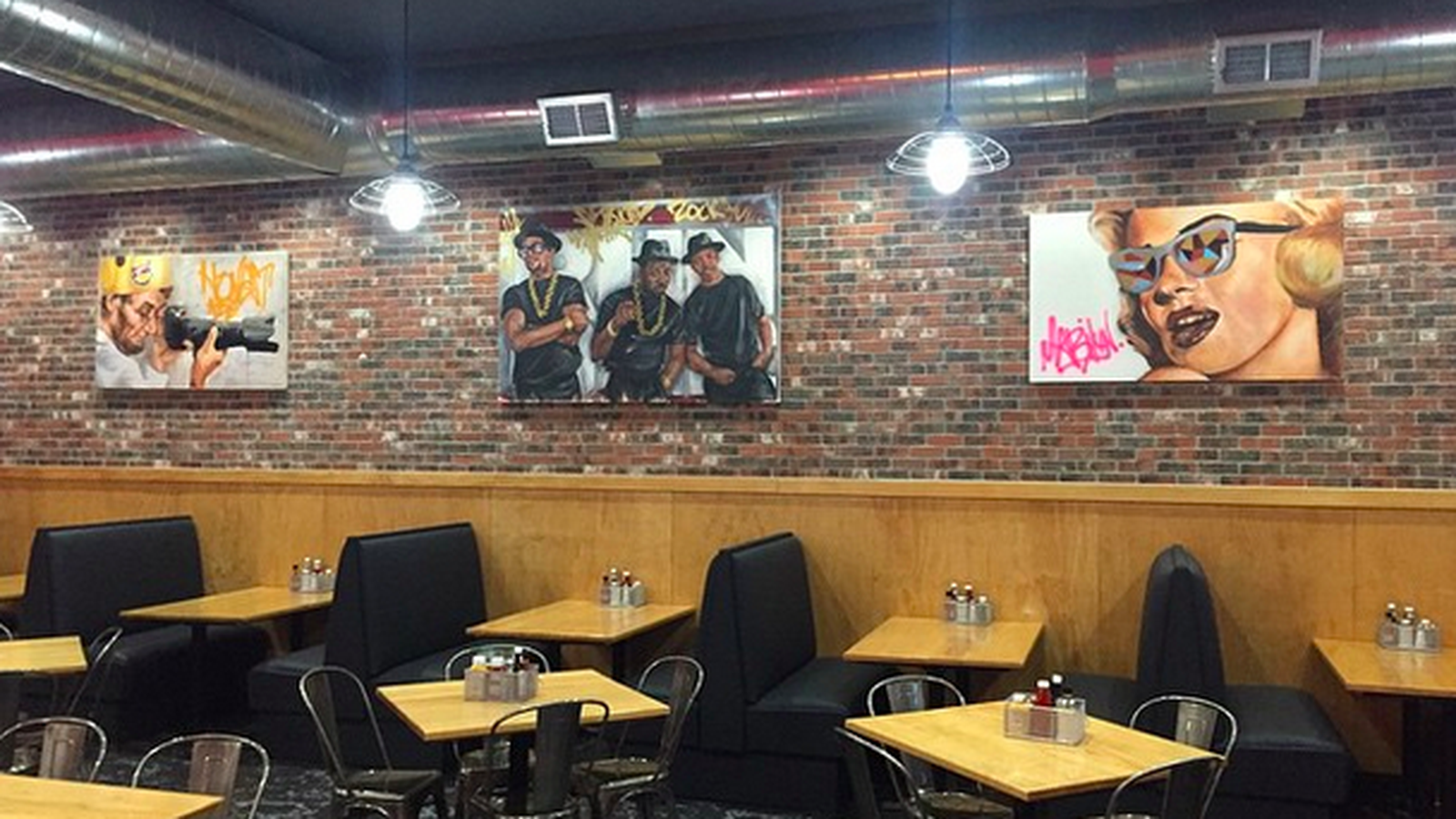 Anticipating the arrival of our final party member, we were squired to our table by our host and menus were provided with glasses of ice water by our server.  Making up our minds up about what to order was a challenge due to the ongoing stares and pauses made at the "Waffle Combos" and "Southern Comforts" selections passing us back and forth to other dining room guests.  Members of our party decided on the "Bam-Bam" consisting of a fried drumstick, thigh, with waffle choice included, the "Shrimp and Grits" made with scallions and bacon served over cheese grits, and the "Belle Isle Basket" which includes the choice of fried shrimp or catfish filets with a basket of chips. Finally, it was my turn to order and I decided on the red velvet waffle, three wings, and cheese eggs as my side item.  Known as the "Big Red," this breakfast dish fits true to its title.  I was most pleased with the portions provided.
The chicken was piping hot, delicious and seasoned to perfection. The red velvet waffle was so rich and sweet that I devoured the majority of it without any syrup.   My eggs were fluffy, moist, and flavorsome.  I was thoroughly satisfied with my meal.  People, if you haven't given the latest southern breakfast cuisine spot to hit the block of Livernois, it's a must you give them a try.  You'll need to exercise some patience and prepare to wait. However, I guarantee it'll be worth your time.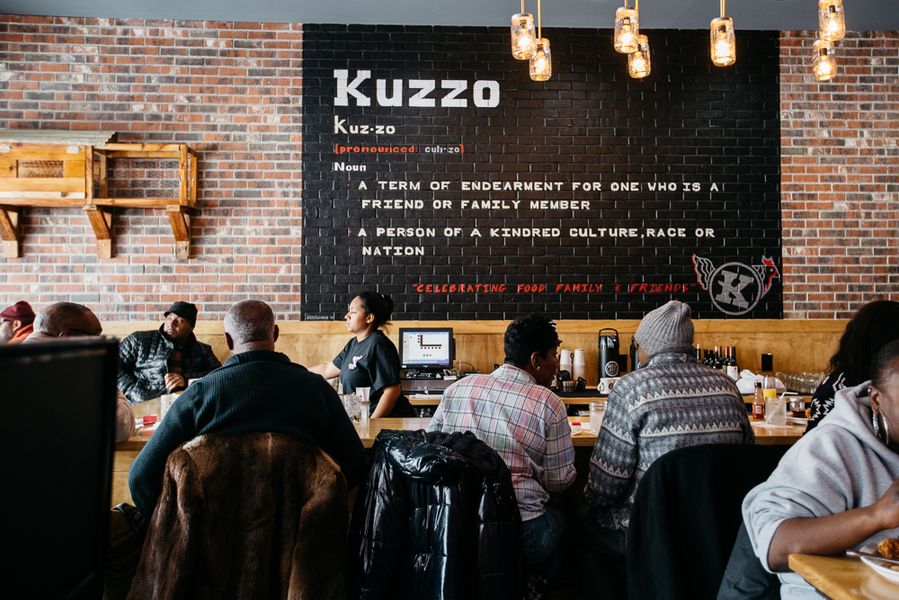 www.prestigejazzontheriverwalk.com