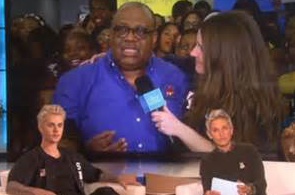 Ellen DeGeneres' compassion and generosity may quite possibly know no limits. The beloved comedienne announced on her show that she was giving her "biggest, most generous gift yet," and the recipient would be the embattled Detroit Public Schools' Spain Elementary Middle School. She and Lowe's gave $500,000 to the school at 3700 Beaubien St, is recognized for providing quality education to low-income children despite crumbling conditions.
DeGeneres' substantial gift comes at a critical time for the beleaguered school system, which has been shrouded in accusations of grosse negligence and endangering the well being of students and teachers. As is the case in too many schools, the administration can't afford books, so teachers as well as students make copies. But even that can get expensive, so they rely on parents to make copies on a volunteer basis. And even though they're a performing arts school, they don't have money to hire full-time arts, music, or dance teachers. The students, many of whom are underprivileged and homeless, have to wear coats because it isn't warm enough in the classrooms. Their roof is falling apart, and their gym is completely shut down. They have one computer in each classroom, and nearly all of them don't work.
[ione_embed src=//widgets.ellentube.com/videos/0_ac6hdhop/ service=ellentube.com width=575 height=324 type=iframe]
 But DeGeneres had a surprise for the school that could help turn it around. Lowe's gave every teacher and staff member a $100 Visa gift card, plus they gave the school $50,000 in technology and $200,000 in materials and labor for repairs. After an additional $250,000 donation, that's a whopping total of $500,000. Then, surprise guest Justin Bieber announced he is giving $1 from every concert ticket in Michigan sold to the school.
"I couldn't breathe," principal Ronald Alexander told WDIV-TV. "I started crying. I didn't know what to do."
If you want to help out the school, the show set up a GoFundMe account to raise even more money for the struggling school and its hard-working teachers. In just hours, they have raised thousands of dollars, including $15,000 from the GoFundMe team itself.