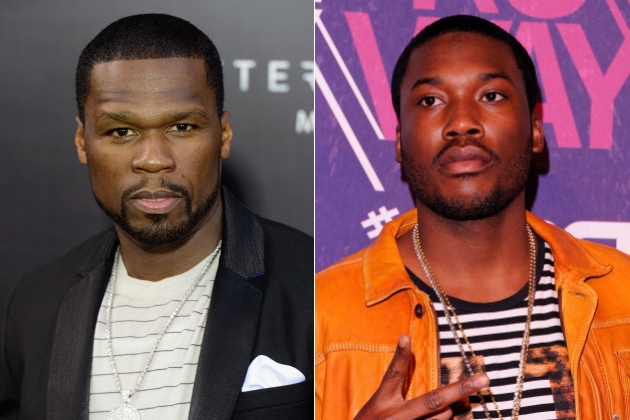 Just when you thought the dust had cleared and it was safe for Meek Mill to go for headlines again, the Philly wrapper took it upon himself to call out Drake last summer on Twitter over unfounded shots claiming the Toronto native not only doesn't write his own lyrics but also that Drake refused to show him love on Twitter and the like once Meek discovered this. Now anyone who's even vaguely following modern radio friendly rap/hip hop/r&b any of that is well aware that not only did Drake deny these allegiations but also proceeded to fire shots of his own in numerous tracks such as the "Back to Back" freestyle and "Charged Up". To say Drake won that battle of bars is a massive understatement and on top of which the level he roasted Meek was pretty much unamiously unexpected.
Now let's fast forward to 2016 where is seems Meek Mill is making all the same mistakes again, having just dropped the "4/4" EP Meek included a sneak diss aimed at 50 Cent, who in still in the midst of an ongoing heated beef with rapper Rick Ross, a friend of Meek Mill as well as business associate as Mill is signed to Ross' Maybach Music Group record label and has appeared on a number of singles with Ross. Sunday night however when rapper 50 Cent replied by launching off a vicious diss campaign on Instagram and even weighed in on the ongoing beef as Meek Mill tried to gain lost ground in it yet again. Well let's just 50 Cent has no chill, none at all, over the course of the day 50 dropped images and video clips bombarding Meek Mill with raw insult after raw insult that set sites like Instagram on fire with almost all of said burns reaching over 100k people on the 'Gram alone! With insults ranging from posting pictures of Meek's face imposed on highly embarrassing images like poop or Apollo Creed when he got killed by the Russian in Rocky 4 to adding captions such as "Your career is over already you better focus on getting Nikki pregnant so you can at least get child support girl." to calling him "Meeka". 50 is holding nothing back in clowning on Meek Mill and as frivalous as the modern rap beefs can be, one would be hard pressed to admit they aren't highly comedic and at least momentarily entertaining as you go about your day.
Now from Meek's camp, not much noise is being heard currently while he did fire back also via Instagram with a picture of himself holding a stack a money nearly bigger than himself along with the following rant:
"U pop s*** on social media 24/7 … U never in the places everybody b at…. The whole queens say you a rat…. Ross baby mom hit you for that check you sick …. Ross finished you "career over? How dare you speak on that? …. All your artist that came under you broke" ya son hate you smfh! Ya swag on below "0" lol hold up….. U always hating on puff and Hov other go getters from ya city…… U going broke and you miserable …. U really miserable bro…. You like 40 on the internet all day ???? Mayweather ain't got tickets for you nomore …. Ya liquor is piss… U really miserable and don't really have friends … You scared to play the mixes everybody b at! U never played with me in person because u know how we rocking lol I'm done wit you … This my last insta-fingers post for a min lol," he typed.
Meek even took some time to send shots Norm Kelly's way. The full-time Drake supporter and Toronto Councillor posted a picture of an L directed at the Philly rapper shortly after the release of his Drake diss. And Meek didn't let him slid either. "Norm Kelly hold up…… Young black dude that came from nothing vs old white racist man from Toronto…. I got more money than you already? You took the real "L" in life champ! Oh fif all y'all dudes do is talk about Nicki … This just my real life my fault for snapping on y'all weirdos! Hov gave you a half of bar bro ski… I bet any amount of money queens would trade me for you! You the one made it cool to b a hater I'm out."
The rapper also showed that he has a sense of humor as he signed off "Sincerely -instafingers"
It seems Meek isn't holding back either when he does speak up regardless of not making much noise otherwise but the feud is still fresh and only time will tell if Meek is about to take another massive L just as 2016 is jumping off or if this time he will emerge victorious with his remaining cred in tact.