Real Times Media is slated to unveil DRIVEN VI: A Tribute to Multicultural Achievement in the Automotive Industry this evening, Jan. 13, at the Garden Theater in Midtown Detroit.
Including C-level executives as well as civic, business and community leaders who use the publication as an information and resource guide. The magazine, a compilation of stories and profiles, provides exclusive and in-depth interviews with many of those who are, arguably, the "invisibles" of the industry, but who are the industry's life force.
DRIVEN IV features interesting personalities, such as specially invited U.S. Secretary of Transportation Anthony Foxx; former NFL players Antonio Pierce and Jeffery Armstead, All Pro Nissan; and Van Nguyen, Executive Director of the Asian Pacific American Chamber of Commerce, among other automotive trailblazers who continue to drive the culture of the automotive industry.
With all eyes focused on the Motor City, as the International North American Auto Show comes center stage featuring cutting edge and state-of-the-art technology for the best possible driving experience, DRIVEN is a prime opportunity to be up close with the movers and shakers in the automotive world.
You can read the fascinating stories of some of these personalities below.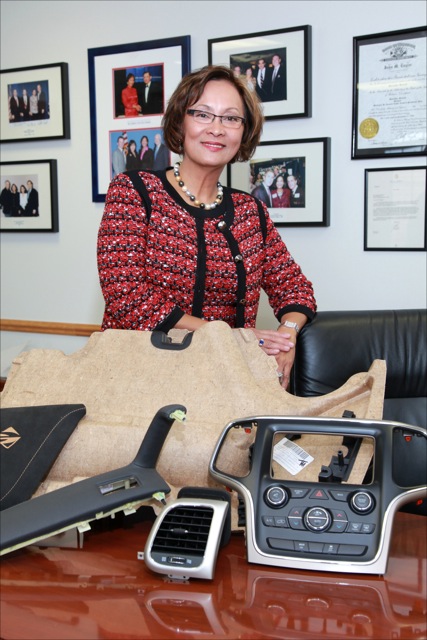 Top auto exec empowers women and minorities in business

An hour-long conversation with Faye Caballero reveals that she's passionate, focused and busy. Very busy.
"To tell you the truth, I just cannot stand being retired. I'm so used to being an entrepreneur." That entrepreneurial spirit comes from her mother, who was the first woman superintendent in the largest school district in the Philippines. Her father also had a successful career as an attorney. Their financial stability took a hit though, after a business venture failed and the family relocated. Caballero needed to help earn money. "I didn't have time to do the things other kids did like play sports or take piano lessons." Instead, she made money delivering eggs to neighbors. When growing demand prompted her to recruit friends to help make deliveries, she received 20% of their profits. That stint as a budding CEO was a precursor to her future as an influential executive in the Detroit area.
Caballero immigrated to the U.S. in 1973, after earning a bachelor's degree in nursing. Travelling alone, she had only $8.30 and two friends in the entire state of Michigan. For five years she worked as an emergency room and neurological nurse. Later, she joined the automotive industry as an occupational health nurse for Ford. Her career path shifted in the mid 1990s when, after nearly 20 years as a nurse supervisor at the plant, she began advocating for tort reform in Washington, DC. That experience sparked her transition from skilled healthcare professional to automotive industry authority. In 2000 Caballero purchased a small molder, Black River Plastics, in Port Huron, MI, with $3 million in sales and grew the business exponentially. The business closed in 2009 during the height of the financial crisis.
Today she is the President and CEO of Diversity Enterprise Solutions, LLC (DES). The Sterling Heights based certified woman minority owned business specializes in manufacturing, engineering, design and program management in the automotive, military and consumer goods industries. DES has a joint venture partnership with tier-one supplier Mayco International. "95% of JV partnerships fail," Caballero said. "But ours should be the benchmark." Strong leadership and a genuine focus on mentoring minority employees have contributed to the partnership's success. Currently, 90% of DES managers and 60% of all DES employees are women or minorities. The company invests in its employees by picking up the tab for workshops and professional development opportunities.
At its core, DES is a company committed to facilitating professional growth and excellence while maintaining a familial atmosphere. "Building on past success and experience in owning businesses related to the automotive, consumer goods and defense industries, DES provides the opportunity to work with exceptional people with drive, ideas and focus. The truest drive comes from doing what we love," she said.
This exceptional leadership and dedication has not gone unnoticed. A defining moment for Caballero came when she was named by the Crain's Automotive News as one of the Top 100 Leading Women in the Automotive Industry. Though she has received numerous awards, she said that her children and grandchildren are her greatest accomplishments. "They grew up to become responsible, god-fearing citizens. That's what I call success."
With all of her achievements, Caballero still isn't planning to slow down. Her next project is tackling the piano lessons that she missed all those years ago as a young CEO in the Philippines.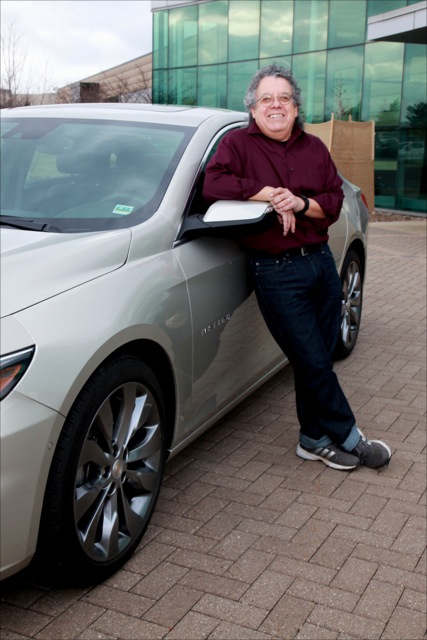 Jesse Ortega: A Team Leader with Passion and Purpose
As a brother to 10 siblings and a father to nine children, Jesse Ortega is the ultimate expert on working with big groups. That expertise comes in handy at his job as Chief Engineer of the 2016 Chevrolet Malibu. He gladly gives credit to each of his colleagues for their collective effort. "I'm the front person for thousands who worked on the car. A lot of people put time into it and I'm just representing that team. This is team ball, no one works alone."
A genuine passion for new technology and innovation has fueled Ortega's 35 year career in the auto industry. "I love my job. I like that it's difficult and can only be accomplished through teamwork," he said. In addition to the day-to-day challenge of building and creating new things, he also loves the people and international travel that comes with the job. He's visited places like Paris, China, Korea—seemingly a world away from his childhood home in Central California.
Ortega's family immigrated to Stockton, CA from San Luis Potosi, Mexico when he was 6 years old. At a new school in a new country; he struggled to speak English, but excelled in Math. Experiencing great technological milestones like Neil Armstrong's landing on the moon ignited his love of math and science and later prompted him to receive a Bachelor of Science in Mechanical Engineering from the University of California, Berkeley.
In 1981, Ortega began his tenure at General Motors and worked in multiple divisions within the company including Product Engineer, Product Manager and Director responsible for interior, electrical, and chassis systems. He later transitioned to the Saturn Corporation as one of their first engineers, ultimately becoming a chief engineer for the Saturn VUE. After 16 years with Saturn, Ortega returned to GM and has lead teams responsible for full size trucks and midsize passenger vehicles.
His greatest accomplishment —and the most challenging period in his career—was being a part of the GM's resurgence after going bankrupt in 2009. The company sold its' Pontiac, Saturn, Hummer and Saab brands; cutting thousands of jobs in the process. "It was hard to keep people focused on the job while they're scared of lay-offs," he said. "But the engineer has to be the optimist." His faith and family kept him going during those times. "My Mom joked that if I can survive on beans and tortillas, then I can get through anything." And he did.
After over three decades in the auto industry, Ortega said he doesn't plan to retire in the next five years. "As long as they keep challenging me, I'll keep working." Once he does decide to retire he plans to spend more time hiking, snowshoeing and travelling with Barb – his wife of 35 years. Together they plan to devote a lot of time attending their grandchildren's activities.
Jessie Armstead, Antonio Pierce, and Mike Saporito: Creators of "Super Bowl Winning" Dealerships
Jessie Armstead and Antonio Pierce are both former NFL linebackers who really know what fierce competition is all about. Both men enjoyed football careers that were built on team work, dedication to hard work, passion, and sacrifice, which ultimately garnered them a 2007 Super Bowl Championship (XLII) with the New York Giants.
These days, Armstead and Pierce are very much involved with a different type of professional team, as both retired players co-own multiple automobile dealerships. In partnership with Mike Saporito, an automotive veteran who never played in the NFL, Armstead and Pierce own eight automobile dealerships, three of which are currently operational; five more will open in 2016. The operational dealerships are Hamilton Honda in Hamilton, New Jersey; Englewood Cliffs Cadillac in Englewood Cliff, New Jersey; and All Pro Nissan of Dearborn in metro Detroit.
"I was fortunate that when I played in the NFL, I was able to play with older guys who were business smart and savvy enough to think about business opportunities outside the game of football; Jessie was one of those guys," said Pierce, a five-time Pro Bowl player who suited up for the Washington Redskins and New York Giants. "He and I formed a bond and friendship in football that have carried over to the business world."
"I met Antonio when I played for Washington in 2002," said Armstead, a nine-time Pro Bowl player who played for the New York Giants, Washington Redskins and Carolina Panthers.
"I talked with him about business opportunities in the car business. At first he didn't understand what I was telling him about the business opportunities. However, he listened to me after seeing some things in business with his own eyes."
Now, Armstead and Pierce have brought their "Super Bowl" winning ways to their dealerships. "In business, just like in sports, you want people around you who are strong and doing things that will make the team better," said Armstead, a Dallas, Texas native, who played college football at the University of Miami. "It's important that all employees feel that they are making the team stronger, and they have a sense of pride in the dealerships."
Giving back to the community is also a vital element of a champion, according to Armstead and Antonio. "What made us successful athletes, and make us great businessmen, are that we understand the importance of giving back to empower communities that are less fortunate," said Antonio, who was raised in Compton, California and played college football at the University of Arizona. "It's important to us that we just don't ask people to buy our cars without fully being invested in giving back to local communities and charitable organizations. We are not just owners of car dealerships who write and send checks to charitable organizations; we write the checks and show up and get involved."
In addition to their business and community commitments, both men are active in other ways. Pierce is an NFL analyst for ESPN, while Armstead is a consultant with the New York Giants. Both are married and consider family a very important element of their success story.
"Our family is everything to us," said Pierce and Armstead, both of whom are married and have children. "We couldn't do what we do without the support of our families."
Peter Wong: An Executive's Executive
Peter Wong, president and CEO of Roy Smith Company (RSC), is a strong believer in the "Win, Win, Win" theory of doing business, which means the customers win, the suppliers win, and RSC wins. This three-prong philosophy has allowed RSC to grow exponentially since 1999 when Wong became its president and CEO.
Founded in 1924, Wong describes RSC as a value added distributor that provides such industrial products/services as bulk gas systems, packaged gases, technical welding services, equipment, and supplies. Customers include, but are not limited to FCA, General Motors and Ford Motor Company. Additionally, RSC serves Tier I companies such as Johnson Controls, Eaton, Federal Mogul, and Lear. The company also has customers in the defense and utilities industry. In addition to Detroit, RSC has a facility in Laredo, Texas serving their customers in Mexico.
"We have survived," he said with a laugh. "We are a small, family-owned company, although there's no family members working here now. Yet, it's still the type of culture that Mr. Roy Smith created when he started the company in 1924. So we continue the culture of working together and providing more and better solutions for our customers which go beyond just selling gas and welding equipment."
A native of Hong Kong, Wong came to the United States in the 1970s to study electrical engineering at Wisconsin State University. He eventually moved to Michigan where he graduated from Wayne State University with a bachelor's degree in accounting.
Wong worked as a CPA for a Big 8 accounting firm before joining RSC in 1979, the first of two employment stints with the company. He left RSC after eight years to pursue other professional opportunities as a CPA, which included Art Van Furniture. In 1999, the grandson of RSC's founder asked Wong to come back, which ultimately led Wong to take over as president/CEO.
In addition to his executive responsibilities at Roy Smith Company, Wong sits on the advisory board of the Asian Pacific American Chamber of Commerce (APACC). "I and three other business leaders founded APACC in 2000 for the purpose of helping Asian Pacific American businesses build relationships with American-based companies," said Wong.
Wong is also an active member of other business associations and committees, which include the Advisory Council of CAPA (Coalition of Asian Pacific American) and MMSDC (Michigan Minority Supplier Development Council).
Over his professional career, Wong has received awards for his accomplishments as an executive, inclusive of Michigan's Governor Volunteer Award and Corp! Magazine's Diversity Business Leader Award.
For Wong, integrity is important in both personal and professional endeavors. "I like reading Chinese fiction, especially martial arts stories where there's always a hero; someone who's trustworthy, helps friends and keeps his word," said Wong, who along with his wife, Shirley of 39 years, have three adult children. "That's who I am; someone who keeps his word, whatever it is."
DTE Energy is a customer of RSC and has worked with Wong over the years.
"…"The technical competency and professionalism of Mr. Peter Wong and his staff have been the key to his company's continued growth and success at DTE Energy," said Norm S. Littles, former director of supplier diversity at DTE "I commend Mr. Wong for his company's accomplishments…"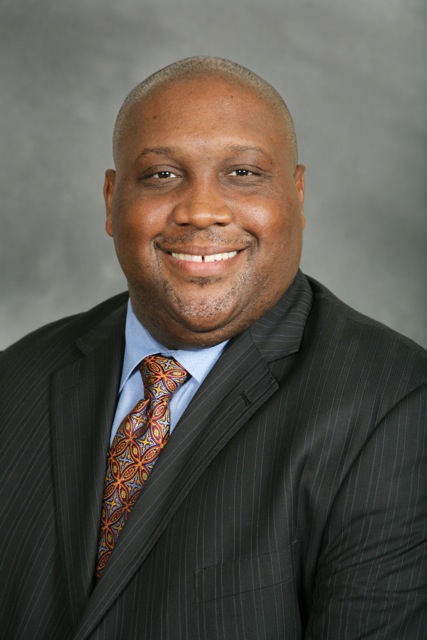 Creating possibilities through prayer, perspiration and preparation
Reginald Humphrey doesn't take any credit for his successful 20 year career. "This is God's journey. I'm not that smart," he said. With a great education, solid work ethic and a divine plan; he has transitioned from a General Motors plant manufacturer to a key player in the company's corporate diversity initiatives.
Humphrey —a self-described buyer, coach and mentor—started as a Production Supervisor at General Motors' Moraine Assembly Center near Dayton, OH. In 1998, his positive energy during an interview helped him land a promotion in Detroit. Since relocating, he has worked in multiple areas including order fulfillment, purchasing and logistics.
Today, Humphrey is the Senior Manager of Supplier Diversity at GM. He contends that the automaker needs suppliers as diverse as its customers. In this role, he ensures that over 200 certified diverse suppliers are included in GM's supply chain. "I have an entrepreneurial spirit and I see myself in these suppliers. My job is to get them to their promised land."
In addition to his work at GM, Humphrey uses his supplier diversity expertise as a board member for several organizations including the Michigan Minority Supplier Development Council (MMSDC), the Great Lakes Women's Business Council, and the Canadian Aboriginal and Minority Supplier Council (CAMSC).
He is passionate about supplier councils and insists that they aren't just about events and networking.
"Supplier diversity is a unique network of professionals that drive economic parity, social relevance and business value. Each council is dedicated to improving members' access to capital, leadership development and inclusion. I love my job because I help people realize their dream," Humphrey said.
He also helps prepare African American boys for their futures in the boardroom. Men of P.O.W.E.R, a ministry at New Providence Baptist Church in Detroit, provides mentors to 12-18 year old boys. "It allows me to reach back and help boys that look like me." Similarly, he is a board member for The Real Life 101 Scholarship and Mentoring Organization —a group that provides college scholarships and mentoring for selected inner city, African American males who are graduating from high school.
Humphrey's inspiration comes from witnessing his parents' pursuit of earning their college degrees while working blue collar jobs and then transitioning into successful white collar professionals. Though his high school grades were less than stellar, he was determined never to disappoint his parents and thrived as an undergraduate at Alabama A&M University. "That HBCU accepted an average student and made him great," he said. After receiving a B.S. in Finance, he later obtained a Master's from Central Michigan University.
Some of his recent accolades include the 2015 NMSDC Minority Supplier Development Leader of the Year Award, the 2015 GLWBC Corporate Champion of the Year Award and the 2015 Global Community Service Award.
Even with a busy career and volunteer schedule, it's important for Humphrey to keep balance in his life. He and his wife have two daughters, ages 9 and 12. "My spiritual life and my family come first, and then work."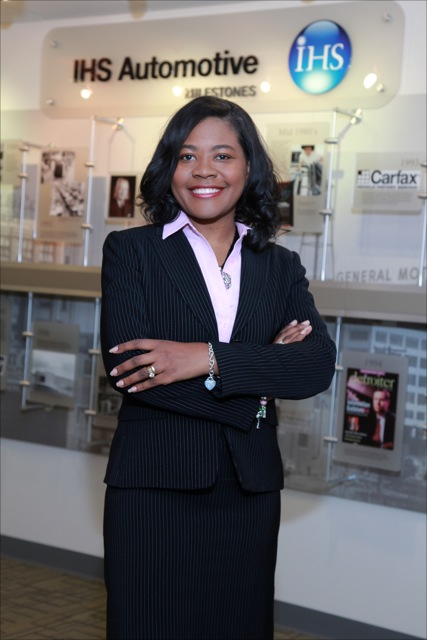 Laying down the law: Vanessa Peterson Williams
Vanessa Peterson Williams, vice president, chief legal counsel and global privacy officer for IHS, Inc., loves her job. In her executive role at IHS, considered the premier company and provider of global market, industry and technical expertise, Williams oversees corporate law issues, which involve litigation management, licensing of software and data products to automotive entities, data privacy protection, and the interpretation and application of international law.
"My chief responsibilities are to globally oversee the entire business line for IHS Automotive," she said. "I love being an attorney here because I have the ability to engage with the business team and be a business partner where I'm allowed to provide business perspectives."
Williams has served in her current position since July, 2013, when IHS purchased R.L. Polk & Co. She began her tenure at R.L. Polk & Co. in 2006 as associate general counsel. Over the ensuing seven years, she was promoted to hold such positions as deputy general counsel; vice president & deputy general counsel; and vice president, deputy general counsel & chief compliance officer.
Prior to R.L. Polk, Williams was a senior attorney at Michigan Basic Property Insurance Association. Her first professional law position in Michigan was as an associate with Plunkett & Cooney, P.C. While Williams definitely loves her 20-plus years in the field of corporate law, she almost took another career route.
Growing up in Tuskegee, Alabama, Williams wanted to become a journalist. While she went on to earn a bachelor's degree in journalism from the University of Alabama, she had a "career heat check" at Alabama, after taking a constitutional law class. With encouragement from the instructor, Williams decided to become an attorney.
Following Alabama, Williams enrolled at The College of William and Mary – Marshall Wythe Law School in Williamsburg, Virginia. However, in her first year, she had second thoughts about becoming a lawyer.
"After an internship with the ACLU in Alabama, who was involved in a lawsuit against the Alabama Department of Social Services regarding the placement of foster care children, I knew what I wanted to do." recalled Williams. "At that point I decided that I could use the law to make a difference in the world. I knew that I wanted to finish law school and become a lawyer."
After completing law school in 1995, Williams and her husband, Ronard, an automotive engineer, moved to Detroit. In her quest to augment her law degree, Williams returned to school, where in 2008, she earned an MBA, with an emphasis in international law, from Wayne State University.
In addition to her executive workload at IHS, Williams is active in the community. She is a member of the Ypsilanti Chapter of Jack and Jill of America, where she and other members empower their own children, as well as children in metro Detroit. She is also a member of the organization's Midwest Regional Team. Williams currently chairs the American Bar Association's Commission on Youth-at-Risk.
Williams' advice to young people pondering future careers. "Be true to your passion," said Williams, who along with her husband, are raising son, Rubin and daughter, Mackenzie. "Seek out good relationships so that you don't just have mentors in life, but also have people who support you, encourage you, say good things about you and will recommend you for opportunities of advancement."
DRIVEN: A Tribute to Multicultural Achievement in the Automotive Industry takes place at The Garden Theatre, located in Detroit's Midtown at 3919 Woodward Avenue. Doors open at 6 pm. Tickets for the general public are $50. Fox 2 News' Roop Raj will serve as host for the evening and Grammy Award-winning producer/recording artist Jermaine Dupri will be the DJ for the evening.
About Post Author