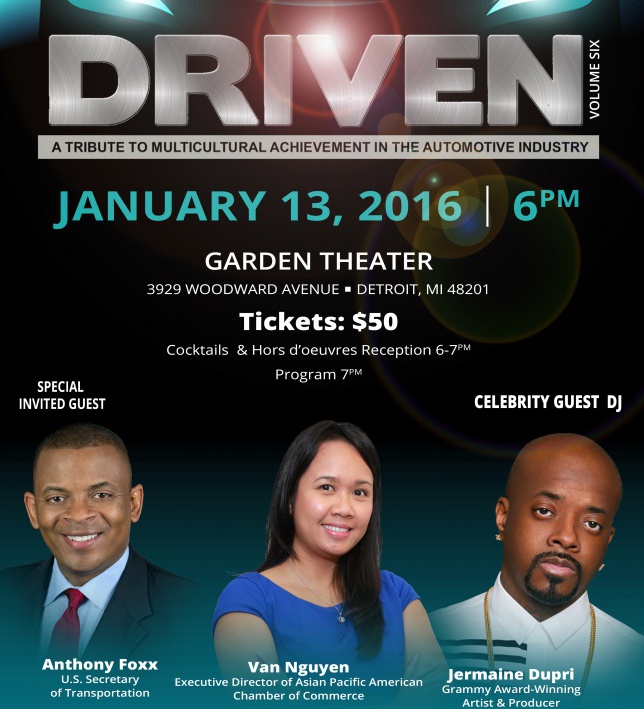 Click Here to Purchase Tickets
Real Times Media is slated to unveil DRIVEN VI: A Tribute to Multicultural Achievement in the Automotive Industry on Wednesday, Jan. 13, at the Garden Theater in Midtown Detroit.
DRIVEN is a national event drawing professionals from around the country and attracting a "Who's Who" of the automotive industry, including C-level executives as well as civic, business and community leaders who use the publication as an information and resource guide. The magazine, a compilation of stories and profiles, provides exclusive and in-depth interviews with many of those who are, arguably, the "invisibles" of the industry, but who are the industry's life force.
DRIVEN IV features interesting personalities, such as, special invited U.S. Secretary of Transportation Anthony Foxx; former NFL players Antonio Pierce and Jeffery Armstead, All Pro Nissan; and Van Nguyen, Executive Director of the Asian Pacific American Chamber of Commerce, among other automotive trailblazers who continue to drive the culture of the automotive industry.
With all eyes focused on the Motor City, as the International North American Auto Show comes center stage featuring cutting edge and state-of-the-art technology for the best possible driving experience, DRIVEN is a prime opportunity to be up close with the movers and shakers in the automotive world.
DRIVEN: A Tribute to Multicultural Achievement in the Automotive Industry takes place at The Garden Theatre, located in Detroit's Midtown at 3919 Woodward Avenue. Doors open at 6 pm. Tickets for the general public are $50. Fox 2 News' Roop Raj will serve as host for the evening and Grammy Award-winning producer/recording artist Jermaine Dupri will be the DJ for the evening.
Click Here to Follow Driven of Facebook or Follow us on Twitter