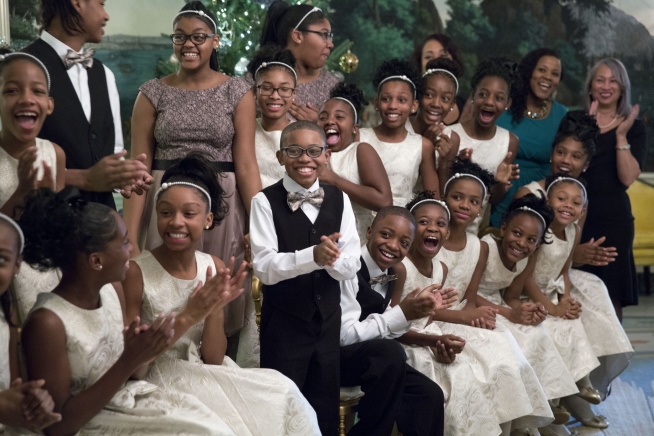 WASHINGTON, D.C. – Detroit Academy of Arts & Sciences' (DAAS) 25-member "Show Choir" impressed the White House's Annual Holiday Reception guests in two 60-minute sets featuring holiday favorites and the choir's signature rendition of Pharrell Williams', "Happy."
The choir also performed Stevie Wonder's holiday hit, "What Christmas Means to Me" in a private performance for President and First Lady Obama in the Diplomatic Reception Room of the White House and was given a photo opportunity.
DeMauri Ward, 13, said performing at the White House and meeting the Obamas was inspirational.
"Not many people get to meet the President. I feel like I accomplished more at 13 years old than many grown ups," said Ward.
"Only days ago we were rehearsing in the classroom and next, we're shaking hands with the leader of our Country, said Angela Kee, the choir's director. "The kids were delighted by the President's official handshake, and the warm hugs from the First Lady."
DAAS's choir has performed on the Ellen Degeneres Show, America's Got Talent, and the entire 35-member choir has been invited to NBC's "Today Show," to perform two songs, along with eight dancers from the school, for a live-to-tape special holiday performance on December 15 – the airing date hasn't been determined.
The students have started a Go Fund Me account to raise funds to make their upcoming New York trip possible.
Contact Jason Flowers at jflowers@michronicle.com or at (313) 963-5522.