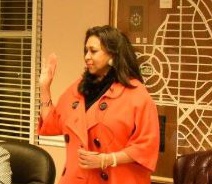 Entrepreneur, humanitarian, ordained preacher, and now City Council member Donna Stallings was sworn in to represent the constituents of Lathrup Village on Nov. 16. As a first time political candidate, she astonishingly received the highest number of votes in the 2015 elections, and will therefore serve a four-year term.
Ms. Stallings has lived in Lathrup Village for over 16 years with her daughter Kimberly. Without a campaign manager, but with a formidable support team such as Joyce Hayes Giles, Carla Walker-Miller, Eric Foster, Heaster Wheeler, Camille Walker Banks, Terrye Blevins, Lula Cowger, and James Williams, along with her pastor Bishop Hugh Smith and many others, she led a door-to-door, hand shaking, robo-calling grassroots campaign.
Ms. Stallings, a proven business strategist, international empowerment speaker, community development and governmental connector, advisor to at-risk girls, and a formidable charitable fundraiser, will undoubtedly utilize the acumen and resources acquired in her newly elected position. She is very honored to work alongside the current city council members to "re-introduce" Lathrup Village as the "city ready for business," and as a strong diverse community "ready for the millennials."
Last week, history was made as Lathrup was certified with MEDC as the state's fourth "Redevelopment Ready Community." In her acceptance speech, Donna stated, "this is not an endeavor I take lightly; indeed, I appreciate its duty. I will always represent you with boldness, transparency and courage. I want and need your prayers, guidance and continued hope as we move through the next 1,459 days." Ms. Stallings is thankful and gives all the glory to God. Contact Councilwoman Donna P. Stallings at stallingslvcc@gmail.com.