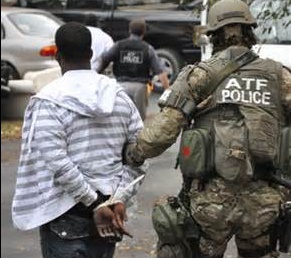 Federal investigation aided by Wayne County Sheriff leads to two arrests.
Detroit (November 18, 2015) – A coordinated effort led by the Bureau of Alcohol, Tobacco, Firearms and Explosives and with assistance from the Wayne County Sheriff's Office shut down a drug operation on Detroit's west side. Around 10 a.m., ATF agents and officers from the WCSO executed a search warrant on a home near Tireman and Evergreen and also a storage unit in Dearborn that was associated with the subjects. The raid resulted in:
* 2 men arrested
* over 1 kilo of Cocaine confiscated
* several hundred prescription pills (Roxies) confiscated
* three vehicles impounded
* 6 handguns
* an estimated $50,000 in cash (final count pending).
"We continuously receive calls from concerned citizens about dope men setting up shop in the neighborhood," said Sheriff Benny N. Napoleon. "Today, by assisting the ATF we were able to bring some peace to that community."
The men are being held in the Wayne County Jail pending charges.