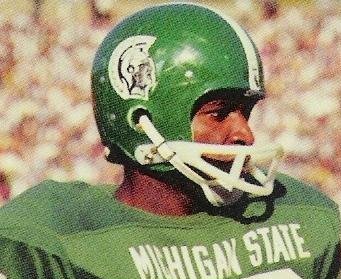 In the 1950s and '60s, the University of Alabama's legendary football coach, Paul "Bear" Bryant, refused to recruit or allow black players on his teams. He relented in 1970, after the University of Southern California Trojans, with several black players including fullback Sam Cunningham, stomped Alabama, in Alabama, 42-21. The following season, Bryant had his first black player.
While many predominately white colleges/universities have similar football stories in the '50s, '60s, and before, Michigan State University, nevertheless was a major game changer in proactively helping to integrate college football.
In his new book, "Raye of Light," author Tom Shanahan chronicles how in 1964, Jimmy Raye, a black quarterback from Fayetteville, North Carolina, was recruited by Coach Hugh "Duffy" Daugherty to play for the Spartans. Daugherty's move raised national eyebrows. However for Raye, it was an opportunity that had to be taken.
"I grew up in the segregated south," said Raye. "Because of Jim Crow laws in the South, my options of playing collegiate football at Division I types of schools such as the University of North Carolina, Duke or Wake Forrest did not exist. The black football players that preceded me went to Historically Black Colleges and Universities like Florida A&M, Grambling, North Carolina A&T or others."
As a freshman at Michigan State, Raye couldn't play varsity football due to national college rules restricting all first-year players. The next season he was the backup QB. However, in 1966, Raye was one of only two African American quarterbacks in the nation to start for a major college football team. Gene Washington of Stanford University was the other, but was switched to wide receiver in his junior and senior years.
On Nov. 19, 1966, Raye led MSU to the National Championship against Notre Dame, in a game that college football aficionados have called "The Game of the Century." In the controversial game played at Spartan Stadium, Michigan State, who was ranked No. 2 nationally, played No.1 Notre Dame. The two teams slugged it out to a 10-10 tie, which resulted in both being crowned National Champions.
Interestingly, in 1966, according to Shanahan's book, MSU football team fielded 20 black players from its 67-member roster, a number unmatched by any other Division I school that year. Of the 20 black players recruited by Daugherty, 12 hailed from the South. His recruitment of black players from the South was called MSU's "Underground Railroad."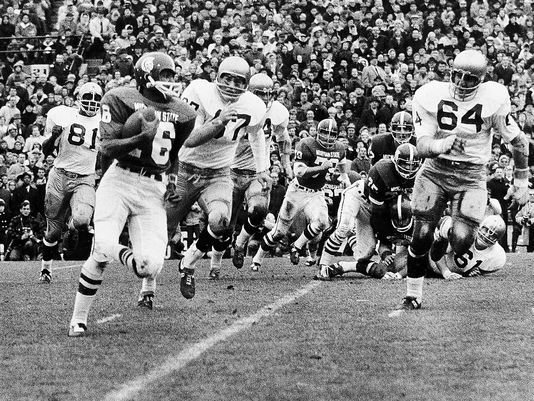 Historically, the term "Underground Railroad" depicts the 19th Century network of secret routes that escaped African slaves in southern states used to reach free northern states, as well as Canada and Mexico. While Daugherty did not coin or use the term to describe his recruitment of black southern players, others did to reflect what Daugherty was doing to integrate college football. It's believed that Daugherty recruited somewhere around 45 black players from the South during his MSU coaching tenure from 1954 to 1972.
The integration of Michigan State football teams has always been ahead of other major programs in the country. The Associated Press reported in 1962 that MSU had 17 black players on its roster, which at the time, was "the largest delegation of black players in the history of major college football."
Even before Daugherty engineered MSU's "Underground Railroad," the school was recruiting black players from the north, especially in the Flint and Saginaw areas of the state. Coach Clarence "Biggie" Munn, who proceeded Daugherty, was known for recruiting black players as early as the late 1940s into the early 1950s.
Some recruits included tackle Don Coleman (1949-51), defensive back James Ellis (1951-53), and running back Leroy Bolden (1951-54), all of whom were from Flint. There was also defensive end Ellis Duckett (1952-54) from Saginaw. Under Munn, Pennsylvania native Willie Thrower became Michigan State's first black quarterback between 1949 and 1952. In 1953, he became the NFL's first black quarterback with the Chicago Bears, a distinction that was short lived.
In 1963, Daugherty's recruitment of black players from the South included defensive end Charles "Bubba" Smith from Beaumont, Texas; defensive back/linebacker George Webster from Anderson, South Carolina: and wide receiver Gene Washington from La Porte, Texas, all of whom would go on to become first-round picks in the 1967 National Football League draft. To this day, no college football program in America has matched the Spartans' four "first-round NFL draft picks" out of the draft's first eight picks taken. The four picks in '67 were Bubba Smith, No. 1; Clinton Jones, No. 2; George Webster, No. 5; and Gene Washington, No. 8.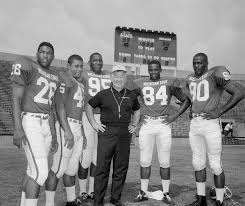 Raye admits that the 1960s, punctuated by the Civil Rights Movement, presented some challenging times for many of the black players at MSU, including himself, as a pioneering black quarterback.
"Sometimes when you go through difficulties and changes, you don't assess it that way because you're in survival mode," Raye said. "I was able to make it because of the other black football players that I was there with, like Bubba Smith, George Webster, Charles Thornhill. Jim Summers, and Jim Garrett. I didn't feel like an outsider."
Raye called Pennsylvania native and University of Minnesota's black quarterback, Sandy Stephens, someone that influenced him. In 1961 and 1962, Stephens quarterbacked Minnesota in consecutive Rose Bowl games; he was one and one. He was the first African American quarterback to lead a team to a National Championship (1960). He ultimately was the first black All American quarterback in the history college football.
Raye said he still remembers watching Stephens on national television as the quarterback for Minnesota's Rose Bowl appearances. In the pre-game introduction of the 1961 Rose Bowl, each player was required to step up to the television camera to say his respective name, position played, and hometown.
"When I heard Sandy Stephens introduce himself and said quarterback, I jumped for joy," said Raye who was a junior in high school at the time. "I couldn't believe what I was seeing and hearing. I knew then that despite being black, there was a chance for me to play quarterback for a major college football program."
Following his playing days at Michigan State, Raye was drafted by the Los Angeles Rams in 1968. However, he was first told that he would be selected to play defensive back. In 1968, there were no starting or backup black quarterbacks in the NFL, although Marlin Briscoe was pressed into action as a quarterback with the AFL's Denver Broncos. Raye was ultimately traded to Philadelphia Eagles where he played two seasons before receiving a career-ending injury.
Following his professional career, Raye returned to Michigan State to complete his degree in education.   He also served as an advance scout for Daugherty's teams. He later worked as an assistant coach, along with Sherman Lewis, making MSU, at the time, the only Division I team in the country with two black assistants.
After Daugherty retired from MSU in 1972, Raye worked as an assistant coach at several colleges. In 1977, he joined the San Francisco 49ers as their offensive coordinator, which was the first time in NFL history that an African American had held the position.
Today, Raye is an advisor and consultant with the NFL. He advises Dean Blandino, vice president of officiating, and works with the NFL rookie symposiums. Yet, Raye's said that he will always remember his pioneering collegiate days at MSU.
"I was the first black QB from the South to win a National Championship. It was something pretty special," Raye said. "At the time I was there, I was just trying to win every game. As I look back, failure was not an option. At Michigan State, there were a lot of unknowns in an environment that I had never been in before. There was excitement, but also some anxiety. I didn't see myself in any historical perspective at the time, although it was right in the middle of the Civil Rights Movement. Yet, I'm so honored to have been there to make a difference."