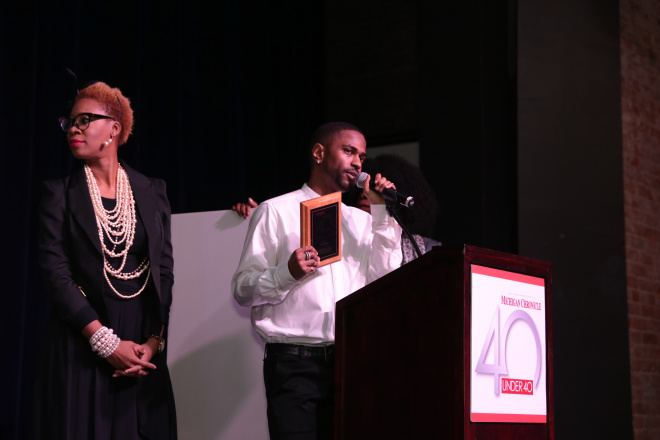 In case you missed it this past weekend, Detroit welcomed home one of its favorite son's, multi-platinum recording rap star, Sean Anderson aka Big Sean. Sean's big week started with him being honored last Wednesday at the Michigan Chronicle's 40 Under 40 award ceremony where he received the publication's inaugural Entertainment Trailblazer award.
"I never made the crowd fans/I made em all fam/And came back to the city that made us all men"

— Big Sean from Intro to "Finally Famous"
Upon accepting the award he was sure to thank everyone, from his mother, Myra Anderson, to this wonderful city of ours. Sean makes it known that next to his mom, grandmother, the late Mildred V. Leonard and family it is the city that has also had a deep influence on his life.
"Detroit has made me a true hustler. This is a place that has seen rock bottom and I've been around for that," he said. "I saw half of the city get destroyed economically but we as a city kept fighting and grinding and things are now turning around."
He continued, "Detroit has also shown me that there is power in numbers and to always be a part of the community because that makes you stronger and you can become unstoppable. It also taught me to appreciate the big and small things in life. When you come up underprivileged you learn to rely on the basics. You have to really enjoy the people around you and make the best of what you have."
"I know I'mma get it, I just don't know how/Heart up on the stage, body in the crowd…"

— from "Nothing Is Stopping You"
Next stop — well, not technically the next stop because Big Sean was all over his city last week — but the next stop that we know of was Joe Louis Arena on Friday night for his star-studded sold- out "Finding Paradise" concert. The show, which featured such surprise guests as Danny Brown, Trick-Trick, Dej Loaf, Royce Da 5'9, Lil Wayne and the seldom seen Eminem, was done for free—all proceeds went to the rap star's charity, the Sean Anderson Foundation.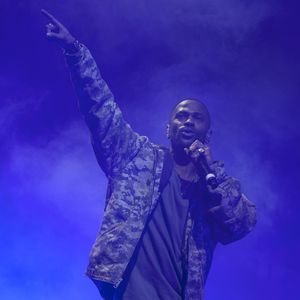 By all accounts the homecoming show was something you did not want to miss. Tweets from the show describe it as being "beyond energetic" and left many "in awe" including the man himself who dropped to the stage floor at the end and shed a few tears of joy.
"I felt so many emotions. It's just insane for me, man. A complete honor," he said. "I was literally brought to the floor onstage because of how blessed I felt to come this far in this city — from being that kid riding past Joe Louis, to being there and doing that.
"I'll never forget it. Fifty years from now, I'll still remember that night. So I've just got to say thank you to all who participated."
"I'm even working half-days on my day off…"

— from "Fire"
After having the night of a lifetime, Sean was up and at it early Saturday morning for the Sean Anderson Foundation's Mogul Prep Academy panel discussion.
The Mogul Prep discussion and Q&A session was definitely informative and featured veteran entertainment industry professionals experienced in the areas of artist management, artist booking, the recording industry, music publishing, philanthropy, public relations, digital marketing and social media.
"I'm gonna be everything I wanna be/So I'm gonna be what I wanna be/and say/
I'm gonna be, I'm gonna be, I'm gonna be/ I-I'm gonna be…"
— from "I'm Gonna Be"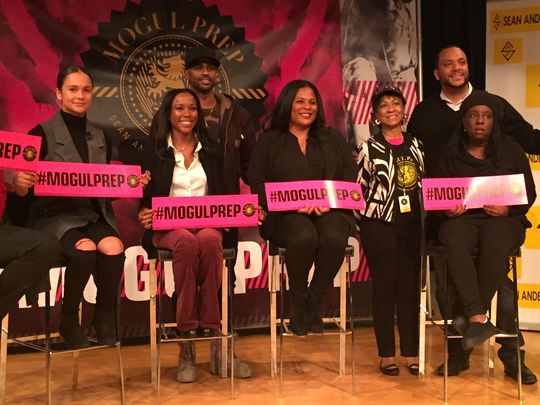 The purpose of the one-day career symposium was to expose Detroit area students to the various career opportunities that exist in the entertainment industry off the stage.
The impressive panel consisted of the artist himself, Mama Myra and six top music industry insiders, Chaka Pilgrim (president, RocNation Records), Towalame Austin (executive of philanthropy, RocNation), Maurice Slade (digital marketing manager, RocNation), Lindsey Lanier (director of creative, Universal Music Publishing), Dennis Ashley (agent, Concerts Department, ICM) and Courtni Asbury (vice president of Media & Artist Relations, Def Jam Recordings).
The Mogul Prep Academy further displays Sean's passion for creativity and the youth. Furthermore, it echoes his reason for building the Sean Anderson Studio of Infinite Possibilities inside of his alma mater, Cass Technical High School.
"I put the studio in Cass so kids can see that whatever you want to be is real. It's super attainable," he said.
"I want them to be inspired, to be creative, get comfortable with recording, but most importantly I want them to learn that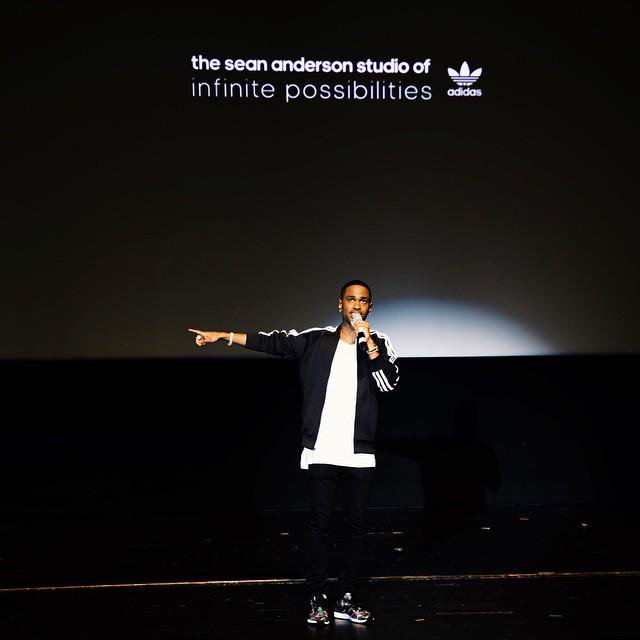 there are many jobs in a studio that people aren't aware of that they can take advantage of. Everyone can't be a rapper or singer but you can be a recording engineer, a sound engineer, a studio manager, a studio technician, etc. It's really a forward way of thinking."
Sean really showed his character by being courteous and obliging, taking pictures and talking to everyone who approached, despite appearing understandably tired. He had, after all, put on an amazing show less than eight hours prior to Mogul Prep. I was told by his assistant that he had a Coats for Kids event to attend immediately after the panel so I knew he wouldn't be resting anytime soon.
"I got a dream worth more than my sleep/To me playing in the game is worth more than the seats…"

— from "Life Should Go On"
On Sunday after visiting Ford Field, Sean announced via Instagram that he would be performing during the Lions Thanksgiving halftime game.
"After killing (Joe Louis arena) in downtown Detroit, I will be performing at halftime on Thanksgiving Day at Ford Field! So turn the TV on while you carve that turkey!"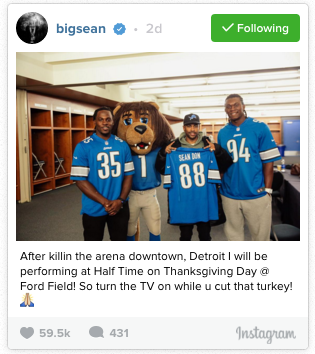 According to the Detroit News, the November 26 performance is expected to be the biggest performance since Kid Rock hit the stage in 2012. I would say congratulations are in order as the city is definitely riding the Big Sean wave.
"Straight out the metropolitan/My city need a hero so I treat it like Metropolis"

— from "Higher"
In his songs Big Sean always talks about the city and you definitely get the sense that he holds a special affinity for his hometown because unlike other celebrities from Detroit (looking at you, Madonna) he is always here giving back whenever possible.
It is evident that Sean Anderson/Big Sean is genuinely a nice guy. He and his mom have a reverence for for the city and its citizens. Through the work he is doing with his foundation, it is evident that his mission is to let Detroiters know that YOU CAN.
Coming from a city where bullets turn bro's into souls/Who knew from that concrete that a rose had arose

— from "First Chain"
Big Sean is definitely an asset to the city and an example of what it means to have Detroit pride. He is also an example of the infinite possibilities that exist when you dream and actually attempt to live out those dreams. I once heard that the only thing that separates the successful from the unsuccessful is opportunity.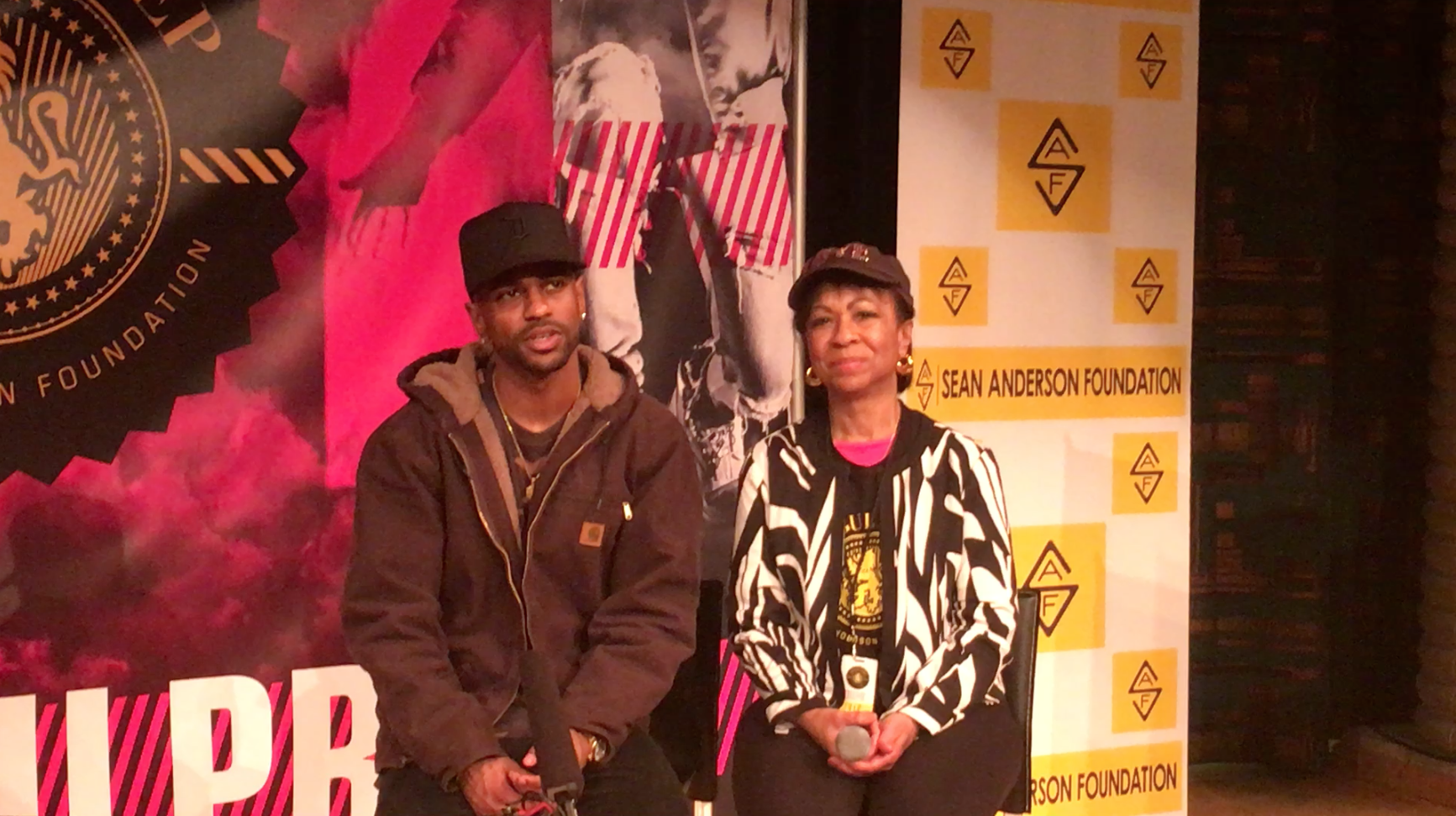 What Sean and Myra Anderson are doing with the Sean Anderson Foundation has the potential to directly influence the outcomes of many young people's lives in our city by providing them access to opportunities.
To learn more about the Sean Anderson Foundation's initiatives and how you can lend your support, visit: www.seanadersonfoundation.com.
Patreice A. Massey is the Director of Creative Services and writer for the Michigan Chronicle. Patreice can be reached by phone at (313) 963-8110 ext. 266 or via email at pmassey@realtimesmedia.com.
Twitter: TreiceMassey