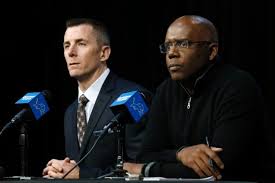 The news is out – the Detroit Lions (1-7) brass have been fired according to multiple sources.
General manager Martin Mayhew and president Tom Lewand are no longer with the team.
The Lions (1-7) have disappointed fans and pundits once again. The season has been such a disappointment that rumors of Dan Gilbert's interest in purchasing the team is at an all-time high.
According to WWJ's Jeff Lesson, a long-time friend of the billionaire, Gilbert's lifelong dream is to own the hometown NFL team.
One Lions fan, Jeff Tarnowski, created a GoFundMe page to garner support from the community in hopes of purchasing the team. The goal is a whopping $1 billion, only $2,775 have been committed thus far.
Tarnowski said he made the page in hopes of pressuring the Lion's current majority owner, Martha Ford, to sell it.
The page reads that if the Ford's are unwilling to sell the team the the funds will be given to three charities.
Lions owner Martha Ford is expected to address the media today.
About Post Author