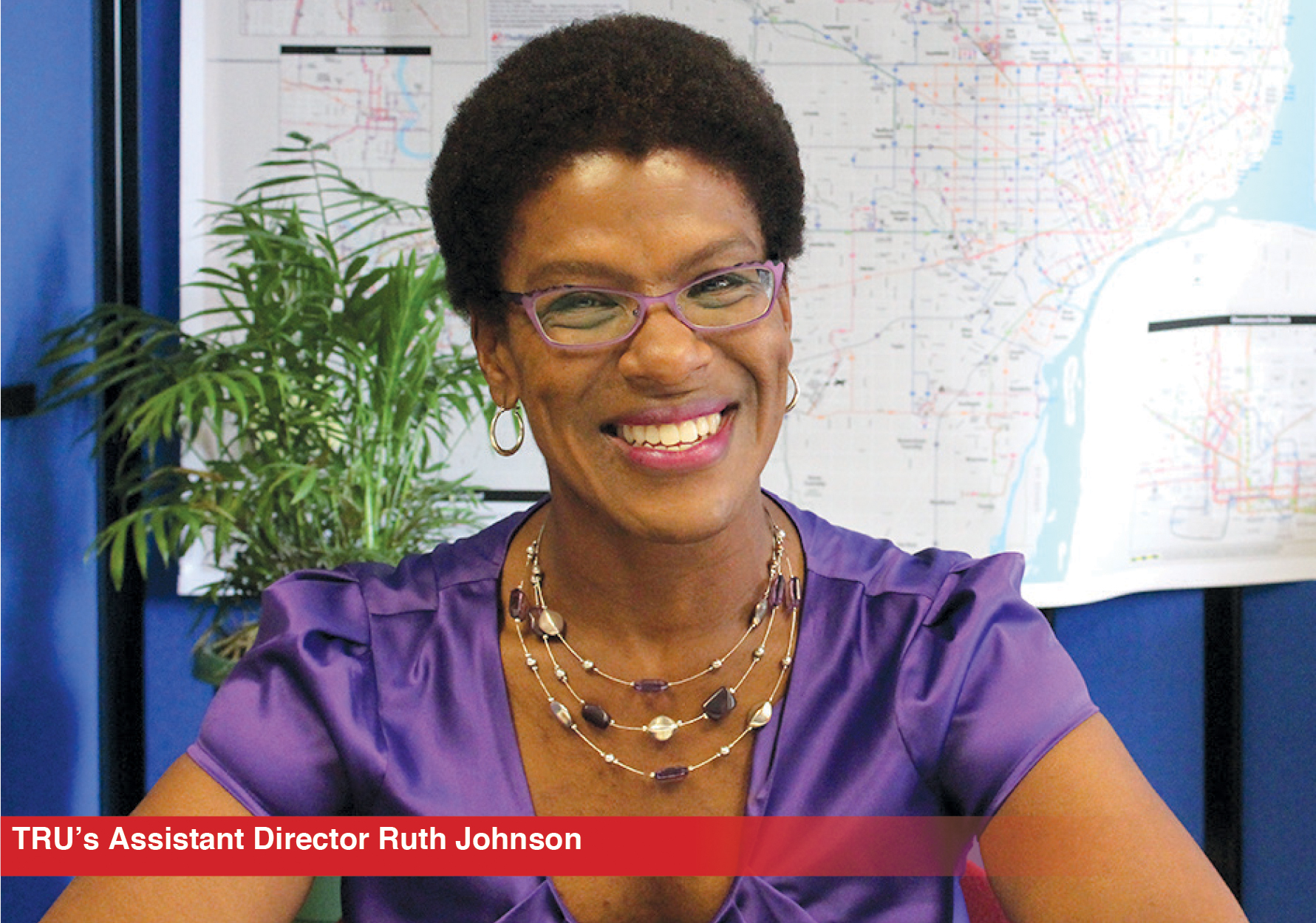 Improving Detroit's public transit system means improving the economic development of the city and the surrounding region.
One local advocacy organization is working hard to do just that — restore urban vitality and ensure transportation fairness for all.
Transportation Riders United (TRU), a volunteer-driven organization has been engaging the public all summer long – and now into the fall — soliciting comments, questions and ideas to come up with the best regional public transit plan.
TRU's Assistant Director Ruth Johnson says now is an important time for transit planning and decision-making.
"The Regional Transit Authority of Southeast Michigan (RTA) started back in May as a public involvement process," says Johnson. "They really want to hear from as many people throughout the region as possible about what we want and what we're willing to pay for."
Johnson says that could be more timely buses, rapid transit, or services to meet the needs of seniors and people with disabilities.
The RTA is Building Equitable Sustainable Transit (BEST) to make better connections between and around Wayne, Oakland, Macomb and Washtenaw counties and the city of Detroit.
"The BEST project is a regional transit plan for the four counties with three quarter studies to specifically to look at Gratiot Avenue to Mt. Clemens, Woodward Avenue all the way to Pontiac, and then Michigan Avenue that will include some access to the airport," says Johnson.
TRU has spent years revealing the benefits of, need for, and practicality of public transit, and the RTA's current BEST project is another part of balancing the transportation network in the region.
"We don't have a regional system in my humble opinion," says Johnson. "We've had many plans and projects over the years, but what's different about the RTA is they have statutory authority from the state legislature to put something on the ballot without begging a county executive or a local official."
TRU is working tirelessly with the RTA to improve and promote public transit throughout Greater Detroit she continues.
"Detroit is at the top of the list. We spend much less per person on transit," says Johnson. "And as our Executive Director Megan Owens says, 'you get what you don't pay for.' But it's also making sure that the money is spent wisely."
Johnson says the RTA currently needs your thoughts and ideas on the best ways to create an overall transit vision for Southeast Michigan, including bus, paratransit, express bus, rapid transit and rail.
"We're just a broken leg, or a DUI away from needing public transit," says Johnson. "You say 'I've never used it.' You may go to your car it doesn't start, and you might need to hop on a Woodward bus and head downtown and we want you to have that option."
The RTA has a few upcoming open house events below, which is the public's opportunity to view and share thoughts on scenarios for what a regional transit system looks like and how it will cost.
BEST: Regional Master Plan
Monday, October 19, Wayne County Community College District, Downriver Campus, Taylor; 4 p.m. – 8 p.m.
Tuesday, October 20, The Ann Arbor Downtown Development Authority, Ann Arbor; 4 p.m. – 8 p.m.
Wednesday, October 21, The Velocity Center, Oakland University Incubator, Sterling Heights; 4 p.m. – 8 p.m.
Thursday, October 22, The Detroit Zoo, Royal Oak; 4 p.m. – 8 p.m.
Saturday, October 24, The Michigan State University Center, Detroit; 9:30 a.m. – 1:30 p.m.
For more information on TRU Transportation please visit, www.detroittransit.org
Contact Jason Flowers at jflowers@michronicle.com or at (313) 963-5522.