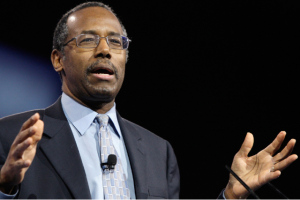 In the fall of 1998, I joined famed neurosurgeon, Detroit native and current Republican Party presidential hopeful Dr. Ben Carson on a panel at Wayne State University to discuss the ongoing assault in Michigan and elsewhere on affirmative action.
Soft spoken, cerebral and just a wee bit didactic in his presentation, Carson projected the air of a man genuinely concerned about the condition of the black community. He shared his own personal experiences growing up poor, fatherless, filled with self-doubt and feeling alienated by his circumstances.
However, the firm guidance of a strong and deeply religious mother determined to see him fulfill his potential and achieve, allowed him to emerge from his personal darkness and find his self-esteem and self-worth in academic and professional success. That support along with a strong faith and personal relationship with God, was critical to him becoming the widely admired man he is today.
And oh, so were the food stamps and welfare his family received from the federal government which kept food on the family table and in his belly allowing him to remain healthy enough to concentrate on his studies to ultimately academically achieve well enough to be admitted to the University of Michigan.
And let's not forget the affirmative action policy at the university that took in to consideration his race, socio-economic status and other factors in determining his admittance.
All positive factors in his success as a man and ultimately as a surgeon, that Carson candidly acknowledged back then without the slightest hint of resentment or embarrassment.
Speaking to an audience of predominantly highly educated professional black men and women, he did not come across as particularly ideological. If anything he appeared to be rather mainstream by black political standards, displaying the empathy of a man who knew he was among not only kindred spirits, but a group of people who by and large shared very similar backgrounds and stories of success.
As remarkable and inspiring as his personal narrative was, Carson knew his audience and didn't dare to cruelly juxtapose his situation with that of those less fortunate who did not make it out of poverty and the ghetto, as he so casually does today.
The event was hosted by the Honorable Damon J. Keith, Judge, from the U.S. Court of Appeals for the Sixth Circuit during a conference of the Just the Beginning Foundation; an organization of African American federal and state judges. The panel consisted of some of the nations' foremost legal scholars and public policy experts.
Along with me were Charles Ogletree, Professor, Harvard Law School, William T. Coleman, Jr., Managing Partner, O'Melveny & Myers and former Chairman of the Board of the NAACP Legal Defense and Education Fund, Inc., Nathan Glazer, Professor, Graduate School of Education, Harvard University, Lino A. Graglia, Professor, University of Texas School of Law, Honorable A. Leon Higginbotham, Jr., Public Service Professor of Jurisprudence, John F. Kennedy School of Government, Harvard University, retired federal Judge Constance Baker Motley, Elaine Jones, Director, NAACP Legal Defense and Educational Fund, Inc., Genna Rae McNeil, Professor, Department of History, University of North Carolina at Chapel Hill, Constance Rice, Attorney, Los Angeles, Calif., David Wilkins, Professor, Harvard Law School and Fox News commentator Juan Williams, who at the time was a columnist with the Washington Post.
Two decades later, the Ben Carson running for President of the United States is hardly recognizable from the one who so sat next to me on the panel at WSU and so eloquently spoke of the need to support and nurture the potential of poor and minority youths. Nor do we hear the words of the man who so eloquently praised the work and sacrifice of civil rights icons such as Rosa Parks, Thurgood Marshall, the Rev. Dr. Martin Luther King Jr. and even lesser well known black pioneers in science and invention.
On a national stage today, when the country badly needs to hear the inspiring and affirmative words of a man who managed to successfully navigate the traps of a harsh and often unforgiving ghetto, reinforced by institutional and structural racism personified in bad schools, red lining, an absence of work and neighborhood and police violence, all we hear from Carson is the self-righteous carping of a politician who claims he has the gravitas to lead the world, but comes across as someone with an embarrassingly superficial understanding of public policy and who is submerged in the politics of complaint and the art of victim blaming.
Indeed, it was only three weeks ago when he had the audacity to go to Ferguson, Missouri and tell an audience of beleaguered black residents looking for words of hope and inspiration, that racism was not a problem in their region and that Michael Brown; the 17-year-old unarmed black youth killed by a white police officer after a confrontation over him walking in the street, was a "bad actor." And for good measure he called the grassroots police reform effort "Black Lives Matters," "bullies" and "sickening."
He has attacked President Obama's Affordable Care Act, which has provided healthcare to more than 16 million previously uninsured Americans; most of them poor, many minorities, as "the worst thing that has happened in this nation since slavery."
But he benefitted from Medicaid which kept him healthy enough to grow in to a successful adulthood.
He has criticized food stamps and social welfare programs as robbing "someone of their incentive to go out there and improve themselves." However, those very programs kept him, his brother and mother from going hungry and ultimately alive, during the most economically challenging moments in his young life. And he went out and improved himself.
He has even given full throated support to voter suppression efforts by the Republican Party, including onerous Voter ID laws that even require a fee; a modern day poll tax according to the NAACP Legal and Education Fund, Inc. and a Texas federal district judge who struck down the law.
And for good measure, he recently attacked the patriotism and qualifications of Muslim Americans to be president –because of their faith. He has joined with other Republican presidential hopefuls in vilifying and stoking irrational fears about undocumented workers and criticizing the morality of homosexuals comparing them to people who engage in incest and bestiality.
Yet, even as he begins to show signs of slippage in popularity, he still remains among the leaders in the Republican campaign for the presidency of the United States.
After spending most of his adult life as a rare African American icon who did not owe his adulation to his endeavors in civil rights, entertainment or sports, Carson, who is retired and turned 64-years-old Friday, could have lived a very comfortable life as a writer and lecturer earning millions off a sterling reputation.
Yet, as the writer Frank Rich so astutely noted in his brilliant article in the February 23, 2015 issue of New York Magazine, after receiving praise from conservatives for his incendiary attack on President Obama and his healthcare program at the National Prayer Breakfast, Carson allowed his ego to get the best of him and was seduced by the right-wing.
"As soon as prominent conservatives started fawning over Carson, he became besotted by the idea that he could pull off the electoral miracle of becoming president of the United States."
So the real tragedy of Dr. Ben Carson is that in his effort to expand his reach, he has managed to badly marginalize himself. Unlike the two other unsuccessful conservative black Republican candidates for president who preceded him; Alan Keyes and Herman Cain, he actually had a well-earned and organic relationship with the black community. It was from his many years of quiet support, mentoring and philanthropic efforts.
And as in his appearance at the WSU panel demonstrated, his unfailingly positive attitude, constructive and respectful interactions with the black community earned him much goodwill. But in order to accommodate the expectations of his conservative benefactors, Carson apparently believed he had to change.
As a conservative Republican presidential candidate, gone is the man whose uplifting, affirmative words of inclusion, hope and possibility could make even the most jaded young person believe it was possible for him or her to make it too – just like Dr. Ben Carson. It has been replaced by a weird, judgmental, partisan, extremist who not only ridicules the genuine concerns of ordinary black Americans struggling to survive in what is very often an extremely dangerous country to live in for them and their loved ones, but also cynically collaborates with the most retrograde forces in contemporary American politics to attack their very citizenship through voter suppression schemes.
The once congenial doctor has displayed such a startling degree of prejudice against the poor, disenfranchised, non-white heterosexual males, Hispanic immigrants and Muslim Americans, that at times he literally appears to be at war with himself.
How tragic. With just a little bit of humility and a better sense of perspective, Ben Carson could have become a much needed bridge to understanding between the races much the same way retired Secretary of State and Army Gen. Colin Powell has.
Instead he opted for the cheap thrills of adulation by the few and has become a cliché'; the right-wing's favorite kind of negro: a black man who wins their affection by trying to score virtue points off the misery of his own people, only to eventually come crashing down to earth, under the weight of his own hubris.
Trevor W. Coleman is a Washington, D.C. speechwriter and author. He is a former Detroit journalist and Chief Speechwriter to ex-Michigan Gov. Jennifer M. Granholm.