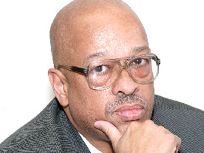 A few years ago, Prince described himself as "ageless." He was, of course, kidding but you might wonder if there is some truth in what he said. It is incredibly difficult to believe that Prince, who had his first hit when he was barely out of his teens, is now 57 years old.
What is his secret? Do you think he would be interested in sharing it?
CHAKA KHAN should be interesting on "Dancing with the Stars." (The season premiere is Monday, Sept. 14.) I would expect the iconic singer to last until about mid-season, as was the case with two other great ladies in her age group, Patti LaBelle and Gladys Knight. And like them, she is sure to have a good time and work hard.
It's just that when a person is in their sixties or fifties, competing with people in their thirties or twenties, it is very difficult, especially when it comes to fast, difficult dances like the quickstep.
WHAT people do with their bodies is their business, but I don't see why anyone would want practically their whole body covered with tattoos, or understand why anyone would believe that is attractive. Rapper Tyga comes to mind.
What if the heavily tattooed person decides they no longer want tattoos? And what if someone's name is lovingly tattooed on an arm, chest or wherever, and the two people break up or have a serious (and permanent) falling out?
KANYE WEST running for president of the United States? Could this arrogant, publicity-loving man possibly be serious? This is way worse than when Stevie Wonder was toying with the idea of running for mayor of Detroit. As if Donald Trump running for president weren't bad enough.
And to add fuel to the West absurdity, Rihanna and Miley Cyrus are among those in support of his potential candidacy.
KIM FIELDS has joined the discouraging number of celebrities in trouble for not paying their taxes. She did not pay the IRS in 2011, 2012 or 2013. The federal tax lien states that Fields ("Living Single," "Real Housewives of Atlanta," "The Facts of Life") owes $212,000 in federal taxes.
Queen Latifah is calm on the outside but excited on the inside about the Primetime Emmy nomination for her work in the HBO film "Bessie."
"It was the first time I ever watched a movie with me in it and made myself cry," said Latifah. "I wasn't watching myself. I was watching Bessie (Smith)."
Sarah Dash, formerly of Labelle and Patti LaBelle & the Blue Belles, sure has devoted fans. A group of them gave her a big birthday party in New York.
"I was blown away," said Dash. "They organized themselves and pooled their funds to secure the venue. I don't think there is a higher honor than to have people show their appreciation in such a way. I am truly grateful."
BETCHA DIDN'T KNOW…that Sylvia (Robinson) actually wrote her No. 1 1970s hit "Pillow Talk" for Al Green, but he chose to not record it because he thought it was too overtly sexual.
MEMORIES: "Love Hangover" (Diana Ross), "Don't Stop the Music" (Yarbrough & Peoples), "You and I" (Rick James), "What a Fool Believes" (the Doobie Brothers), "TSOP (The Sound of Philadelphia)" (MFSB), "There'll Never Be" (Switch), "Slow Hand" (the Pointer Sisters), "Encore" (Cheryl Lynn), "Rock Steady" (the Whispers)," "Take My Heart (You Can Have it if You Want It)" (Kool & the Gang).
BLESSINGS to Valerie Lockhart, Shirley Jones, Pauline Leatherwood, Henry Tyler, Lonnie Peek Jr., Deborah Smith Pollard, Ron Scott, Eboni Love, Anthony Neely and Brian Spears.
WORDS OF THE WEEK, from Oprah Winfrey: "You're still here, so you've already won."
Let the music play!
Steve Holsey can be reached at Svh517@aol.com and PO Box 02843, Detroit, MI 48202.
About Post Author