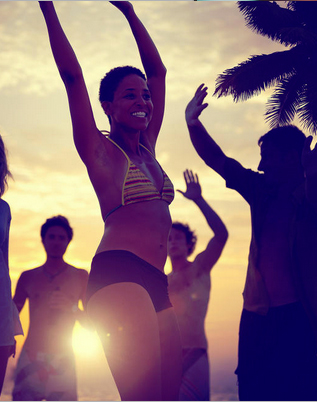 "Thou shall go H.A.M. all weekend long" and "Thou shall party until the sun comes up the following day" are just a few of the unofficial rules for Urban Hangover 4, the premier summer get-away for urban professionals. Hip hop legend Doug E. Fresh is the official emcee of this year's three-day beach event being held August 7-9 in San Juan, Puerto Rico.
The jam-packed itinerary includes activities like the beach Olympics, day trips, local club hopping and a Diamond/White Summer Soiree. While there will be plenty of partying, it's the quality networking opportunities that set Urban Hangover apart from other destination events.
Author and entrepreneur Dr. George Fraser will lead a two-hour Power Networking Workshop. A breakfast business card exchange and a "Cocktails & Connections" reception are also on the schedule. Urban Hangover Executive Director Jerome "JayDee" Davis says that attendees—most of whom are college-educated business owners—build partnerships and often stay connected long after they return home.
Davis knows first-hand about the importance of partnerships. Urban Hangover was built by a team of black male business owners and promoters from across the country. The group, who calls themselves "The Architects," and many of them met years ago while promoting "First Fridays" parties in various cities. After a failed attempt to grow that into a national event, Davis reconnected with some of the promoters to create a get-away weekend for urban professionals. Most people would avoid doing business with such a large group of partners, but Davis said it works for them. "Everyone is focused on the goal. We leave the emotion out of it and put ego to the side," Davis said. "A good leader knows how to follow."
The Puerto Rican weekend is merely the foundation for continued networking and relationship-building. Once Urban Hangover 4 has ended, attendees will be able to stay connected by joining UrbanProfessionals.com. Based in Atlanta, this free professional web-based directory provides another avenue for entrepreneurs to collaborate and do business with each other.
Davis believes that all of this is part of his mission. "I am a conduit. I'm here to connect people."
For more information about Urban Hangover, visit urbanhangover.com.
About Post Author