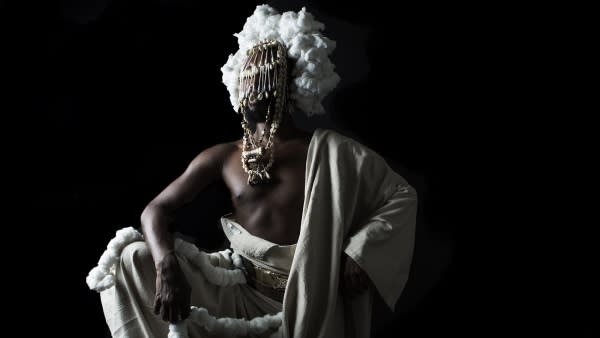 We're driving down the stretch of Grand River between the Motor City Casino and Rosa Parks this past Saturday afternoon, and George N'Namdi points to a particular building where it's apparent that the windows haven't been boarded up for very long.
"You see that?" he asks, in his characteristically gravelly voice. "Whenever you start seeing these buildings where the windows start getting boarded up and neatly put in like that, in an area like this, you know something is about to happen."
What's about to happen, he says, is that this section of the Grand River corridor is about to become 'hot', largely related to the coming construction of the brand new $650 million Joe Louis Hockey Arena (expected to open by 2017) right down the street from the casino – relatively speaking. Because no way is such a huge and significant structure about to be developed without there being plans for the surrounding area.
And no way is George N'Namdi not going to be a part of what is getting ready to happen on Grand River. As a matter of fact, he actually has some plans of his own that involve creating a gallery district for local artists to display and sell their work on Grand River near Rosa Parks. Suffice to say that N'Namdi believes strongly that black artists need to be in control of their own culture and their own cultural imprint, but they also need to be a physical participant in the planning, revitalization and development that is beginning to take this city by storm. In short, the artists need to start learning how to think more like business folk and elbow their way on board this train before it pulls out of the station without them.
"The young people like (he names a local artist), my hat's off to what they do. They bring a certain energy. They bring excitement to it. My only thing is, and it has nothing to do with them particularly, but it's like that age group, they really don't spend time on sustainability and thriving. So they're always asking people for money to do something. I didn't do that. I was like, I'm gonna do that myself. I've always been like that. You need to have someone who's gonna think strategically. How can we monetize some of these things? And monetize means how you gonna get paid, not how you're gonna get a grant. There's a difference. Getting a grant is temporary. Foundations are gonna leave all this art stuff pretty soon," he said.
"I'm always focused on the business side of arts. One, how to make it sustained. Two, how to make it thrive. Three, how to make a profit."
N'Namdi is known primarily these days as the owner of G.R. N'Namdi Studios, a space located in Midtown where he has been since 2001. But N'Namdi is hardly what anyone would describe as one-dimensional, at least not to anyone familiar with the broad arc of his life and career. And if there is one thing N'Namdi is particularly good at, it is paying attention to what's going on around him. As a longtime entrepreneur and business person (Drake Phifer, a local musician and promoter refers to him as an "art-repreneur") N'Namdi has learned that paying attention is a key quality to staying in business, and it is a quality that he believes too many younger artists aren't paying close enough attention to.
Ingrid LaFleur, a 2013 recipient of the Knight Arts Challenge Grant, is a native Detroiter who qualifies as one of those younger artists, but she is also someone whom N'Namdi says he admires and respects. The founder of Afrotopia, which she started in Detroit a little over two years ago, LaFleur returned to her hometown four years ago after spending time in New York, Atlanta, Johannesberg, and Europe. She has developed and organized art exhibitions both nationally and internationally.
 "It's a brand new experience in Detroit right now" compared to when I was here growing up, she said. "I was concerned that I was always a minority in all the places that I chose to go to. What really struck me was it was white men doing the envisioning of the future of Detroit. So I was wondering where was everybody else. Where my people at? And then the media would follow and say this is the future and I was like wait! This city is 87 percent black! We have our own ideas about the future of Detroit. It can't all be decided by white men," she said.
"My personal vision of Detroit is as the afroglobal center, it becomes part of the African diaspora within the United States for investment for business investment culture and art. I just want more people of color to be investing in Detroit, because right now it's more European."
adrienne maree brown (lower capitalization intentional), a noted Detroit science fiction author, community activist, and a 2013 Kresge Artist Fellow, agrees with LaFleur. In a written reply, she responded:
"I think this is a time when we desperately need black imagination for Detroit. It's an imagination battle. And I think artists are the ones with the paint brushes, poetry, film, dance and visuals that can show what is imagined and push us all to go further. We don't want to live in a city with no art and no creative intention. Detroit has survived because of music, of poetry, of hip hop. Creating the future is art. I am not interested in a New Detroit that erases the complex history and people of this place. But new ways of Detroit thriving is very interesting."
Marsha Music, another local writer and a 2012 Kresge Literary Arts Fellow, also responded via email:
"It is a disconcerting irony to have to talk of including the participation of black artists – in a city in which we are the overwhelming majority. The consideration of inclusion is an unfortunate necessity, however, given the kind of tunnel vision that so often results in black artists being treated as 'invisible.' It is essential that the aesthetic and musical contributions of blacks be a part of the city's revitalization, for we are part of the cultural essence of Detroit. Many black Detroit artists, among them, Olayami Dabls, Tyree Guyton, Hubert Massey, Timothy Orikri, Tiff Massey, and Jocelyn Rainey (with her crowd-funded film, Finding Mona Lisa:313), have attracted international attention, and are among Detroit's revitalization visionaries in their respective disciplines."
To be sure, Detroit's artist community is gaining a considerable amount of attention, coinciding with a growing interest in the so-called 'comeback city' itself. An article appeared in last Wednesday's July 15 New York Times entitled "For Detroit Artists, Almost Anything Goes."
Well….yes…and no. To be sure the landscape is more open, and the atmosphere is nowhere near as competitive or cramped – or expensive – as New York City. But certain unspoken rules do still apply, says N'Namdi.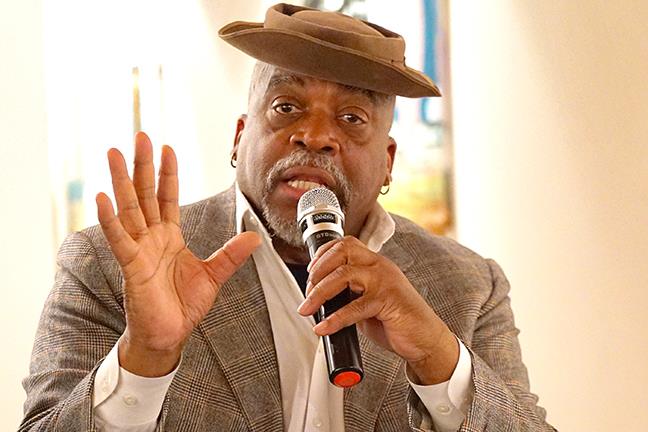 "Everybody's talking about the melting pot, but there's two important things about a melting pot that people overlook; one is the stirrer. The stirrer determines the ingredients of the melting pot, right? In Midtown, and downtown, there's a European person who's the stirrer. They determine what they want," and what they want is a certain ratio of white to non-white members of the population, which explains some of the tension surrounding Midtown and downtown, he said. "It's usually one of us to four of them. Rarely do you see two and two."
"On Grand River, we wanna have a brown stirrer. When brown people with a chocolate base are doing the melting pot, it's more diverse."
Be sure to check out Afrotopia's Sigifest this coming weekend, July 24-25.