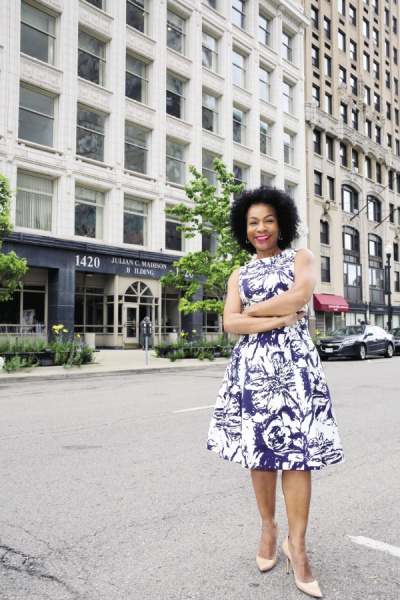 Sharon Madison has owned the Julian Madison building, located in the heart of downtown Detroit, since 1987. Named after her father, with whom the third generation architect, planner and developer purchased the building shortly before his death, the investment was made at a time when businesses – and individuals – were fleeing Detroit as fast as their outward bound vehicles could carry them. Being a Detroiter back then meant you were either a hardcore supporter who refused to believe in the evidence of decline, or you were stuck and simply couldn't leave. Madison credits her father and mother for understanding the importance of ownership, as well as learning how to run a business.
"I consider two of the smartest people I ever knew personally to be my father and Coleman Young. I also have to give a lot of credit to my mother, Mildred Madison, who stood with me and in many ways financed me through this crisis. My mother's 89 years old, and she is here every day. And it's a good thing she is."
Those were not the best of times for Detroit when the Madisons first moved in. But for those downtown businesses who stuck it out, and who could see past the screaming headlines to what a prime location downtown Detroit really was, their vision is becoming more and more apparent to everyone else with each passing day. Now everyone wants to be either downtown or in Midtown.
Good luck with that. And get in line.
Because once a piece of property becomes 'hot', it is only a matter of time before things begin to, well … change. And as so often seems to be the case when change comes to town, it is usually black folks who find themselves on the precarious end of that change, trying to figure out how to hang on and keep their balance in a ship that has suddenly and dramatically changed direction, seemingly without warning.
According to a 2002 report entitled "African American Downtown Detroit Building Owners Survey," released in January of that year by the Investment Task Group of Robert C. Polk & Raymond F. Parker, survey report consultants, there were 16 black-owned buildings in downtown Detroit at that time. Madison believes the number was closer to 22, but regardless of which is the exact number, Madison emphasizes that the salient point to be made is that today, in 2015, that number has dropped by more than 75 percent. Because other than the Julian Madison building, First Independence Bank, and the soon-to-be occupied and newly acquired Harmonie Park headquarters for the Michigan Chronicle, it is difficult to name any other building downtown that is wholly owned – not partially owned – by a black business (The Michigan Chronicle and its parent company, Real Times Media, will soon be moving into a 18,000 sq. ft. building located at 1452 Randolph in Harmonie Park. Vacated by Dell Pryor Gallery seven years ago, the property was recently purchased by Paradise Valley Real Estate Holdings, a group of African American investors).
Madison prefers not to give an exact number because the dynamics of who does and doesn't own downtown property at any particular time is fluid, particularly these days. But as an African American business owner who has been anchored downtown for more than 30 years and who has been active in Detroit's black business community for all of those years, Madison's observations on what has changed in her neighborhood are, at the very least, both troubling and relevant – and not to be dismissed lightly.
"It's important for us to have value. Assets. And in the United States it's really all about land ownership. There are examples of black ownership" in Detroit such as the St. Regis and the Bing-owned properties, " but in the central business district, where the heart of the revitalization is going on, it's notable that there are so few.
"It's not good. Particularly in a city where we make up the percentage of the population that we do, and I think it's a reflection of a lot of other things. I think it's a reflection of what our actual participation is in the economic growth of the city and region. There's a distinct absence of African Americans. I believe it is important to maintain a presence, because if you're not there you can't participate. And if you're not there, it's not necessarily malicious, it's just outta sight outta mind."
But despite the steep drop in black ownership in recent years, Roderick Miller, President and CEO of Detroit Economic Development Corporation (DEGC), says that this trend has not gone unnoticed and efforts are underway to rectify that situation.
"There is a real concerted effort to make sure that black businesses can and do participate in the economic expansion of Detroit. And, that expands beyond investment, but also to development allowing for an opportunity to not only own, but to own and develop," he said. "The administration is committed to it and we're committed to it at DEGC. To ensure a broader participation, there are a variety of efforts afoot. In the next coming months, there will be some very clear activities that demonstrate the commitment to expand ownership in downtown as well as expanding development capacity and opportunities. We're packaging it in a thoughtful way to increase black ownership in downtown as well as investment and real estate development citywide."
Hiram Jackson, publisher of the Michigan Chronicle, agreed with Miller.
"We're excited about what we've been able to do as we're preparing to move into Paradise Valley, and we're excited about some of the efforts we're hearing about as it relates to African American economic development in some neighborhoods," said Hiram E. Jackson, publisher of the Michigan Chronicle. "The Duggan administration has made it clear that broader participation in economic development is a priority in his administration and judging by what we've seen thus far we believe the mayor is staying true to his word."
Madison is quick to point out that it has not been easy for her to maintain her own presence, and that actually it has been quite a struggle at times, "but we were determined. We're a very determined people."
"When we moved here, the Book Cadillac Hotel was open. But shortly thereafter it closed. Hudson's had not been long closed. You had the Statler Hotel and I remember the Teller Hotel, which was on the corner, and they were both eventually torn down. Also there was a lot of absentee ownership, people holding onto property and not doing anything with it. There's still some of that going on down here, and that needs to change."
In 2002, according to the survey, African American-owned buildings located downtown were listed as the following:
The Hartz Building, 1529 Broadway Street, owned by RFP Development Co.
The L.B. King Building, 1274 Library Street, owned by Annis Historic Properties
JADA, 546 East Larned Street, owned by L&B Enterprises
Clark Tower, 25-35 west Grand River, owned by Mark Clark – Clark Investments
Harvard Square Centre, 1346 Broadway Street, owned by William L. Richardso, P.E.
B. Tedford Building, 1260 Library Street, owned by Frank Tedford
Cadillac Corporate Centre, 139 Cadillac Square, Suite 400, owned by Prestige Corporation LLC
Wurlitzer Building, 1507 Broadway Street, ownwed by Wurlitzer Building LLC
O'Neil O. Wright and Associates, 547 East Jefferson, owned by O'Neil & Cora Wright
Savoyard Centre, 151 West Fort Street, owned by Cynthia Phillips – Millenium
Payne-Pulliam School, 2345 Cass Ave., owned by Payne-Pulliam School of Trade and Commerce.
Julian C. Madison Building, 1420 Washington Blvd., owned by Sharon Madison Polk
Hagood Building, 1322 Broadway, owned by Broadway Corp.
First Independence National Bank, 44 Michigan Ave.
Times Square, 1431 Times Square, ownd by Times Square 2000 Inc.
Bell and Gardner Bldg., 561 East Jefferson Ave., owned by Sam and Crystal Gardner
It's safe to say the overwhelming majority of those buildings are no longer black-owned, says Madison. And it is a strong downtown that is required to anchor the revitalization of the rest of the city's neighborhoods – a revitalization that simply must happen if the downtown transformation is to have any sustainable impact at all.
"It's (downtown development) an extremely important component, but so are the neighborhoods of Detroit. I think that in order to attract the kind of resources that are necessary to rebuild the devastation that has occurred throughout this enormous land mass that is known as Detroit, we number one have to have a strong center, which is really downtown Detroit. And of course we also have Midtown. But the real key to recovery is strengthening the neighborhoods, and not just those that have the elite of the city. Like Palmer Woods or Indian Village. Building on the strengths and getting businesses into these neighborhoods.
"As long as I've lived in Detroit, there's always been this tension of downtown Detroit versus the neighborhoods. And perhaps this is the only time since I've been here that it's probably true."
About Post Author