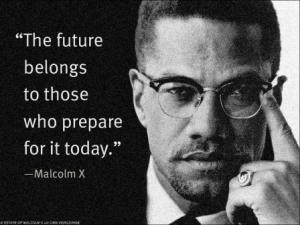 King Solomon Baptist Church in Detroit, the place where Malcolm X delivered his 1963 "Message to the Grass Roots" address, has been added to the National Register of Historic Places according to State Historic Preservation Officer Brian Conway.
"Earning a listing in the National Register is truly an honor," said Conway. "To be considered eligible, a property must be examined for age, integrity and significance."
King Solomon Baptist Church played a prominent role in the Civil Rights Movement. The Progressive National Baptist Convention, an association of African American churches of which Malcolm X was an early member, held its second annual conference there. It was then that Malcom X delivered his famous, and one of the most influential, speeches.
During that conference and others, the church helped to cement Detroit's position as one of the leading cities in the nationwide movement. It played host to numerous guests including Rev. Martin Luther King, Jr., Rev. Ralph D. Abernathy and Rev. Benjamin Mays.
Prior to 1951, the building was the home of Temple Baptist Church, likewise a congregation of national significance. Its most prominent pastor was the Rev. J. Frank Norris, a Baptist fundamentalist who used his position to promote his brand of conservative ideology. He worked to shift the center of fundamentalism from cities in the northern United States, where it had originated, to its present-day center in the South.
Temple Baptist Church, later known as the Educational and Recreation Building of King Solomon Baptist Church, also is well-recognized for its impressive Tudor Revival architecture. Completed in 1917, the building is the only known remaining example of the work of architect J. Will Wilson, described in 1922 as "one of the leading architects of Detroit."
The other three Michigan sites added to the list in this round of National approvals were the Francis Metallic Surfboat in Douglas, the Ezra E. and Florence (Holmes) Beardsley House in Bronson Township and the Otsego Hotel in Jackson.
Michigan has more than 1,600 listings in the National Register of Historic Places, including some 250 districts comprising more than 20,000 properties.
The State Historic Preservation Review Board also recently approved three new sites for National Register listing consideration. They are Blissfield Downtown Historic District in Blissfield, Swayze Apartments in Flint and Holy Family Orphanage in Marquette.
"Michigan has a rich collection of archaeological and historic sites," said Kevin Elsenheimer, executive director of the Michigan State Housing Development Authority. "Listing in the National Register of Historic Places calls attention to these sites and alerts residents and visitors to the historical value of the communities."
Historic sites are nominated to the national register by the State Historic Preservation Review Board, which considers nominations to the register three times per year. On behalf of the review board, the State Historic Preservation Office (SHPO) forwards nominations to the National Park Service in the U.S. Department of the Interior, which acts as keeper of the National Register, for listing.