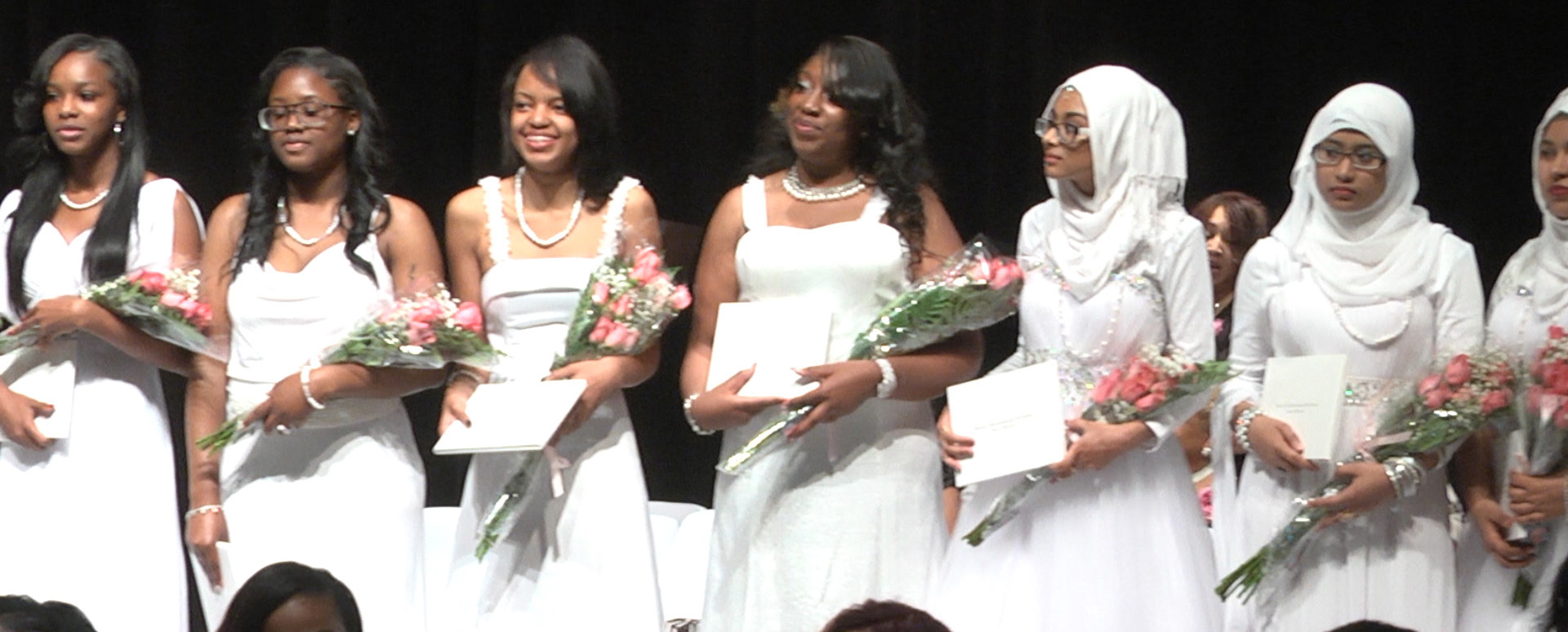 Graduation Day continues to top the list of most memorable moments for many students but to the young ladies at Detroit Public Schools' Detroit International Academy for Young Women, this year's commencement was truly one to remember. Detroit International Academy (DIA) for Young Women, the only public all girls kindergarten through grade 12 program in the state of Michigan, celebrated its 10th anniversary during the school's first-ever "white gown" commencement ceremony.
The ceremony was held on Thursday, June 4 at the Millennium Centre in Southfield. "I told my girls that DIA was my plan and it start-ed out with a piece of paper," said DIA Principal Beverly Hibbler. "I wrote down a plan and defined the vision. For the past 10 years I have been working on this plan to complete the vision. The vision was so clear during our commencement ceremony." More than 60 DIA seniors, for the first time, received their diploma while wearing beautiful long, white dresses donated and selected by students, with help from staff, contrary to the typical "cap and gown" theme. Preparation for the white gown commencement began last year.
[ione_embed src=https://player.vimeo.com/video/118166534 service=vimeo width=500 height=281 type=iframe]
Teachers utilized multiple etiquette workshops throughout the year to further prepare the young ladies for the ceremony."Commencement was a very emotional night," said Lisa Brooks, 11th and 12th grade English Language Arts teacher and senior sponsor. "I have a special bond with these girls and have witnessed many of them overcome hardship while showing up every day performing at their absolute best."
Brooks, who joined the DIA family two years ago mentioned that many of the girls are not only first generation college-bound students but are also first generation high school graduates in their families. "The night was about celebrating them, how beautiful they are and how hard they have worked to get where they are today," said Brooks. "Everything was extra special with this being the first year for the white gowns," said DIA junior Nikebia Brown-Joseph. "It was awesome how the jewelry maker came in and was able to make pearl jewelry to go with the dresses for the ceremony."
The memorable night also included special remarks and performances made by DIA students and notable district and city officials such as Alexis Wiley, Chief of Staff for the City of Detroit; Janee' Ayers, City of Detroit Councilwoman, At-Large; and Karen P. Ridgeway, Detroit Public Schools superintendent of Academics. "I was just so happy," said Hibbler.
"My final piece of advice to the graduates was to take out a piece of paper, pen, pencil, iPad or whatever and write down their plan, create a vision and make it happen as I was witnessing mine happen."