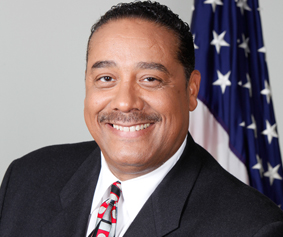 Good food with a heaping helping of brotherly love is the focus of a special event aimed at giving some special moms in the area a lift in anticipation of Mother's Day. On Monday, May 4, 2015 at 4:30 p.m., Wayne County Sheriff Benny Napoleon, volunteers from the Wayne County Sheriff's Office, Dr. Chad Audi, President/CEO of Detroit Rescue Mission Ministries and Lelli's Inn on the Green Restaurant will serve a Mother's Day dinner to the women and children of Detroit Rescue Mission Ministries' Genesis House II facility.
Mark Zarkin, owner of Lelli's, is donating the dinner he will prepare with help from his staff. Approximately 80 women and children are expected to be present for the dinner. Zarkin recently teamed up with Sheriff Napoleon in February to feed families in need at the Wayne County Family Center.
"Mother's day is a perfect time to recognize challenges some mother face and how they lovingly tend to their children's needs every day," said Sheriff Benny N. Napoleon. "We just want to show them they are appreciated, that they're not alone and we're always near to assist in any way we can."
Detroit Rescue Mission Ministries (DRMM) has been serving Detroit's homeless and addicted populations since 1909 and provides services to more than 1,800 individuals each day. The Genesis House II facility is one of 10 residential programs within the organization. It provides transitional housing to single women and women with children.
"It is always a pleasure to have Sheriff Napoleon and the Wayne County Sheriff's Office offer their support to our programs," said Dr. Chad Audi, President and CEO for DRMM. "We are very excited to have them come to one of our facilities and provide dinner to our women and children."
WCSO personnel are volunteering their time to serve the dinner.
For more information about the Detroit Rescue Mission Ministries, or the event on May 4, please contact Rachael Williams, development specialist for DRMM at RWilliams@drmm.org or at 248-961-3653.