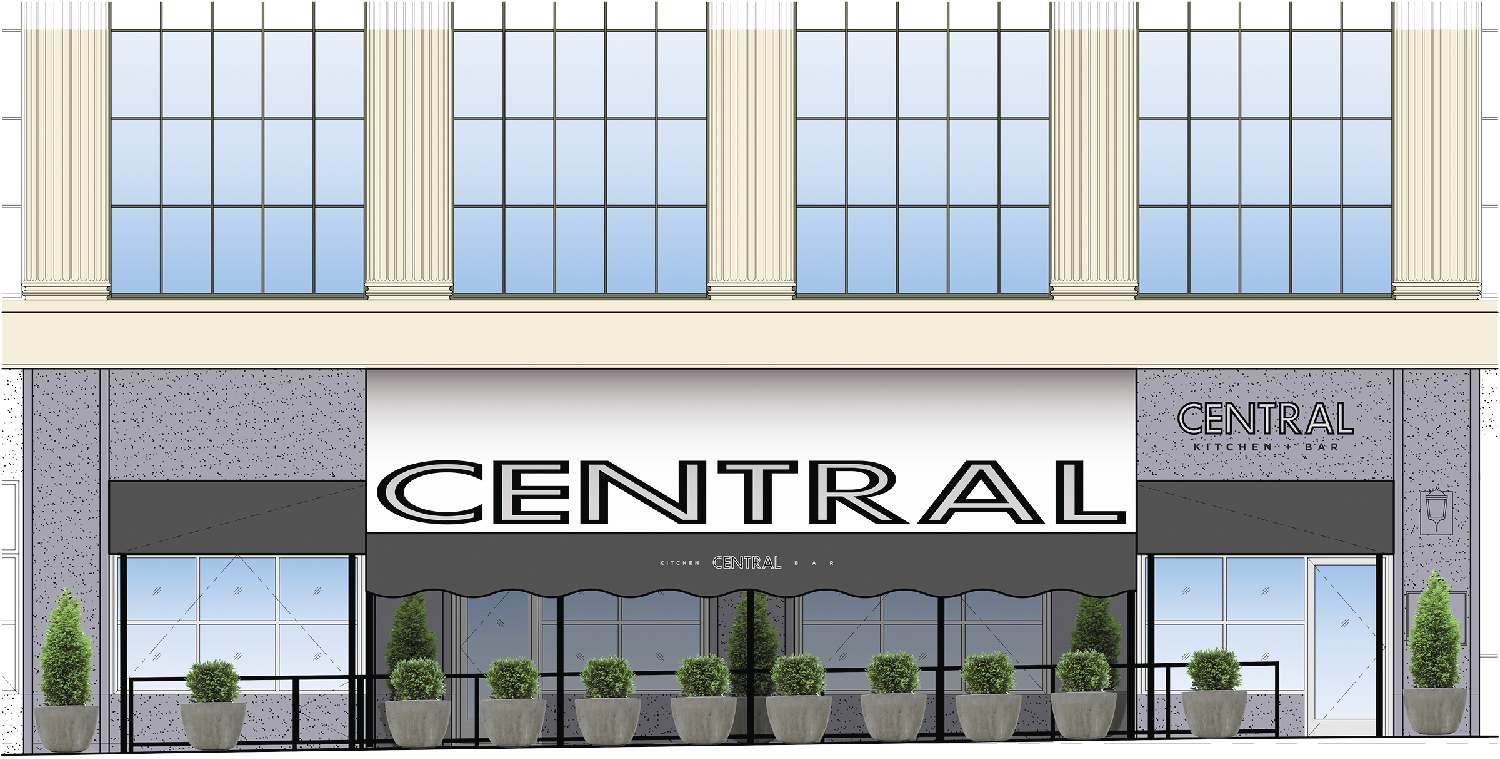 Local entrepreneurs Dennis Archer, Jr. and Christopher Brochert, with partner and general manager, Ken Karam, have announced plans to open Central Kitchen + Bar, a modern American gastropub housed in downtown Detroit's iconic First National Building, 660 Woodward Ave.
Slated to open in July 2015, the dining destination will feature upscale bar food from executive chef Christina Stanco, formerly of the Roberts Restaurant Group's Café ML in Bloomfield Township. The 3,028-square-foot street-level space is located on the Cadillac Square side of the building and owned and managed by Bedrock Real Estate Services. Central is expected to bring approximately 50 new jobs to the city's Central Business District.
"We could not be more excited to help breathe life back into this space and open our doors in the heart of the city," said Archer. "We have incredible partners — from Bedrock to our design and culinary teams — with a shared commitment to growing the city's food scene in a way that is inclusive and accessible to every kind of diner."
"From the layout and décor to the eclectic menu, Central Kitchen + Bar is another unique dining concept people will only be able to experience in downtown Detroit," said Dan Mullen, vice president of Leasing and Development with Bedrock Real Estate Services. "Dennis Archer, Jr. and his team are creating an inviting atmosphere with great food and drinks in a prime location. We can't wait for them to open their doors."
Designed by restaurant specialists Ron and Roman, known for their work on several of metro Detroit's top restaurants, the concept for Central is rooted in the contrast between the building's rich history and modern urbanity. Ron Rea and Roman Bonislawski plan to include design elements that lend themselves to all occasions.
Of the nearly 130 seats in the restaurant, 90 will be indoors, including 18 at the bar and 12 in a lounge area. The restaurant will also have patio seating for 24 with views of Cadillac Square and Campus Martius Park. Rea and Bonislawski are the pair behind the noted restaurant designs for Joe Muer Seafood, Luxe, Legend's and Dime Store. Construction at the site began March 16.
"Central is 'central' to the social life of Campus Martius and downtown Detroit," Bonislawski said. "It is 'urban tongue-in-cheek' with vintage crystal, reclaimed searchlights and an open kitchen. Nestled among the architectural beauty of the original First National Building, we are truly reclaiming the space."



Helming Central's kitchen is Executive Chef Christina Stanco, whose "upscale, classic bar menu" with lunch and dinner options will offer familiar dishes crafted with the finest local ingredients. The Michigan native has been in the food industry for 11 years, having graduated from Denver's prestigious Johnson & Wales University with an associate's degree in culinary arts and a Bachelor of Arts in Food Service Management.
Upon graduation in 2007, Stanco remained in Denver where she worked in the kitchens of Destination Hotels and Resorts' Inverness Hotel and Conference Center and Elways at the Ritz Carlton Denver. She also worked alongside famous chefs at noted Denver hot spots including Bistro Vendome and Osteria Marco before moving back to Michigan in 2010. Following her return to the area, the seasoned chef joined the opening team at Luxe Birmingham, where she quickly rose to the ranks of executive chef, a role she maintained for three years before making the move to Café ML.
"Central Kitchen + Bar is focused on classic, American fare with a sophisticated and modern upgrade," said Stanco. "Food items like house blend ground beef, freshly baked bread, seasonally-inspired salads, fresh fish and lamb are taken to a new and exciting level of innovation. We're very excited for what's to come."
The restaurant is currently accepting applications for bartenders, servers, hosts, kitchen staff and management-level positions.