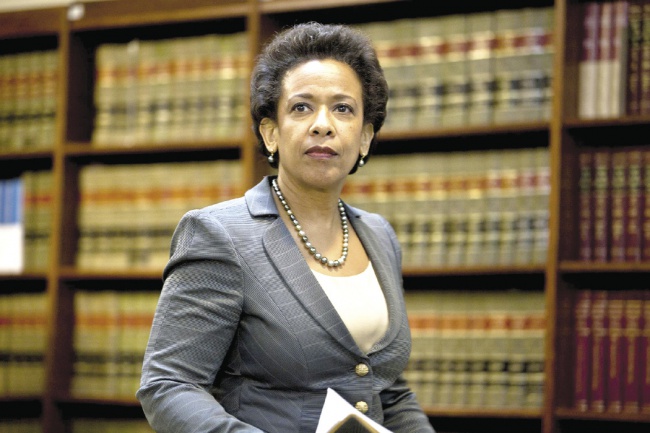 As Attorney General Designee Loretta Lynch prepares to move from final Senate approval to serving as the Nation's Attorney General, the question is whether Congress will allow her, the country's first African American woman Attorney General, to continue Holder's enormous legacy. The hearings were more, "You're not Holder are you?" than what she will do herself. Even after Lynch took the first step with a Senate Judiciary Committee vote by 12-8, Congress is still playing politics over a spotless nominee – no one had any objections but Republicans still voted no — and prolonged her assumption of the post.
At a farewell speech at the National Press Club on February 17, Holder told the audience, "Real and daunting challenges lay before us". Aside from reporting his success with the Justice Department and the "Smart on Crime Initiative" to reduce unnecessary incarcerations, Holder discussed what still needs to be done.
Initially breaking ground as the first African-American Attorney General, Holder established his legacy over the past six years with criminal justice reform, same-sex marriage and expanding voter rights.
He asserted, "Not every drug case should be brought to the federal court." He stressed the excessive funds wasted on mandatory minimum sentences, saying that these punishments would be "better suited to violent criminals or drug kingpins".
Holder announced developments under his department including advances for civil
rights with the Ferguson case. Following the Michael Brown killing, Holder and his team conducted an on-going civil rights investigation of the Ferguson Police Force. On March 4th, he issued what he called a "searing" report, forcing the police department to end racially "disproportionate" arrests or face a law suit from the Justice Department.
During questions at the Press Club, he made news supporting a moratorium on executions until the Supreme Court ultimately decides on the constitutionality of lethal injection drugs pending in Oklahoma. He said he is known for being openly against the death penalty, and he gave his reasoning: "Our system of justice is the best in the world…but there is always the possibility that mistakes will be made", saying that is his "ultimate nightmare".
When asked about authorizing surplus military equipment for police, as used in Ferguson protests, Holder commented that it depends on "what kind of training do they have", "when should it be deployed" and "what does it look like". It also comes down to the appearance of the weapon. "If it looks like the military is in fact occupying American streets during civil disturbances, that, I think, is not a good thing for the American people or for the world to see." He described the differences between rural communities and a terrorist attack in New York where military combat equipment might be necessary, including occasions where "we have failed before".
A large portion of Holder's legacy left out of his speech at the Press Club was mentioning his actions on voter suppression. It was surprising that questions were not asked about unsuccessful efforts to stop partisan voter suppression in several states including North Carolina, Florida, and Texas. Efforts were largely ineffective in eliminating restrictions on absentee ballots, early voting periods, and large numbers of African Americans, Hispanics, as well as young people were unable to vote. Likewise, in North Carolina, the Justice Department challenged the restrictive voting laws requiring government issued photo identification, arguing it as a direct form of minority discrimination, but young people and Blacks still were given obstacles including no voting with a college address, and church-organized registrations and voting were blocked by closures on their scheduled days.
With issues such as this flying under the radar, will Lynch pick up the problems and continue implementing solutions? When asked last month whether the Justice Department will continue fighting against voter suppression after his own resignation, Holder responded, "We will." In fact, that is now up to Lynch.
One question posed to Holder at the Press Club but not asked by the emcee was "if the bar is too high to prosecute federal civil rights cases," given the prosecutor's confusing the Ferguson grand jurors and failing to indict, refusing to indict the shooter of Trayvon Martin, an unarmed Florida black man after stalking him, picking a fight and shooting Martin; refusing to indict the strangler-choke holder-policeman of the Staten Island victim, Eric Garner, and refusing to indict the police shooter of the 12-year old boy after 1.7 seconds, Tamir Rice, who had a toy gun in Cleveland. Holder has since raised the issue himself by saying "We do need to change the law. I do think the standard is too high."
Even as she comes one step closer to the position, Lynch herself has faced the hostility of those unhappy with her siding with Obama on major immigration efforts as well as Republicans who repel her similarities to Holder, no doubt motive for delaying her confirmation for four months after nomination. Senator Harry Reid commented on her delay saying "She has had to wait longer than any Attorney General nominee in 30 years and that is unacceptable."
Can Lynch fill the shoes of her predecessor, as a dynamic civil rights leader? Time will tell. There is a great deal at stake.
Robert Weiner was a Clinton White House spokesman for six years and senior staff for Congressmen Conyers, Charles Rangel, Claude Pepper, Ed Koch, and Senator Ted Kennedy.  He regularly writes on the White House and Congress for the Chronicle and wrote the epilogue to Bankole Thompson's groundbreaking book, "Obama and Christian Loyalty." Hannah Coombs is a policy analyst at Robert Weiner Associates and Solutions for Change.