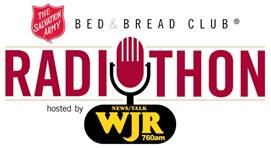 A magical affair with familiar voices and a new location, will fund the needs of thousands of metro Detroiters
The Salvation Army of Metro Detroitwill hold its 28th annual Bed & Bread Club Radiothon on Friday, Feb. 27 onNews/Talk 760 WJR at a new venue. The 16-hour Radiothon will be held atEmagine Theatres at 200 N. Main Street in Royal Oak, Michigan. This fundraiser is the primary source of funding for the nonprofit's Bed & Bread program.
The event will be hosted by WJR's regular line up of Paul W. Smith, Frank Beckmann and Mitch Albom, along with Big Al Muskavito in the mid-afternoon. Bed & Bread Club chairman and retired Detroit radio Hall of Famer Dick Purtan will close out the broadcast beginning at 7 p.m. Throughout the day, WJR's Ken Rogulski will broadcast live from the Bed & Bed trucks. The on-air personalities, along with special guests, will encourage the listening audience to join the "Club That's Here for Good."
Supporters who make a Bed & Bread donation on the day of the Radiothon will be entered to win a 2014 Chevy Sonic, courtesy of Moran Chevrolet. Donations can be made by:
Calling (248) 528-0760.
Texting BEDANDBREAD to 41444
Visiting www.salmich.org or www.wjr.com, or
Sending a check or money order, made payable to The Salvation Army's Bed & Bread Club, to: 16130 Northland Drive, Southfield, MI 48075
A $120 contribution, just $10 per month, helps feed one person for an entire year and earns the donor membership in the Bed & Bread Club. Members who donate $240 or more will help feed two people for an entire year and receive a commemorative Bed & Bread Club Radiothon throw pillow.
"The Bed & Bread program succeeds every time we meet just one person's needs with a nutritious meal, warm clothing when it's cold and a safe place to stay. Through the help of WJR and Salvation Army supporters, we are dedicated to meeting many metro Detroiters' needs," said Major Mark Anderson, general secretary and metro Detroit area commander for The Salvation Army Eastern Michigan Division.
Since 2011, WJR's partnership has helped the Radiothon raise more than $6 million to help those in need.
"WJR is proud to be on The Salvation Army's team continuing the tradition of giving back through the Bed & Bread Club Radiothon," said Tom O'Brien, general manager of News/Talk 760 WJR. "We encourage our audience to listen, donate and help alleviate the problem of hunger and homelessness in our communities."
The Bed & Bread program serves more than 5,000 meals to hungry Detroiters each day. That's more than 1.8 million meals every year to men, women and children who would otherwise go without. In addition, the Bed & Bread program provides more than 600 homeless individuals with shelter each night, more than 212,000 nights annually.
While other Bed & Bread programs do exist throughout the country, The Salvation Army of Metro Detroit's Bed & Bread program is unique in that it also serves people via trucks that are mobile soup kitchens.