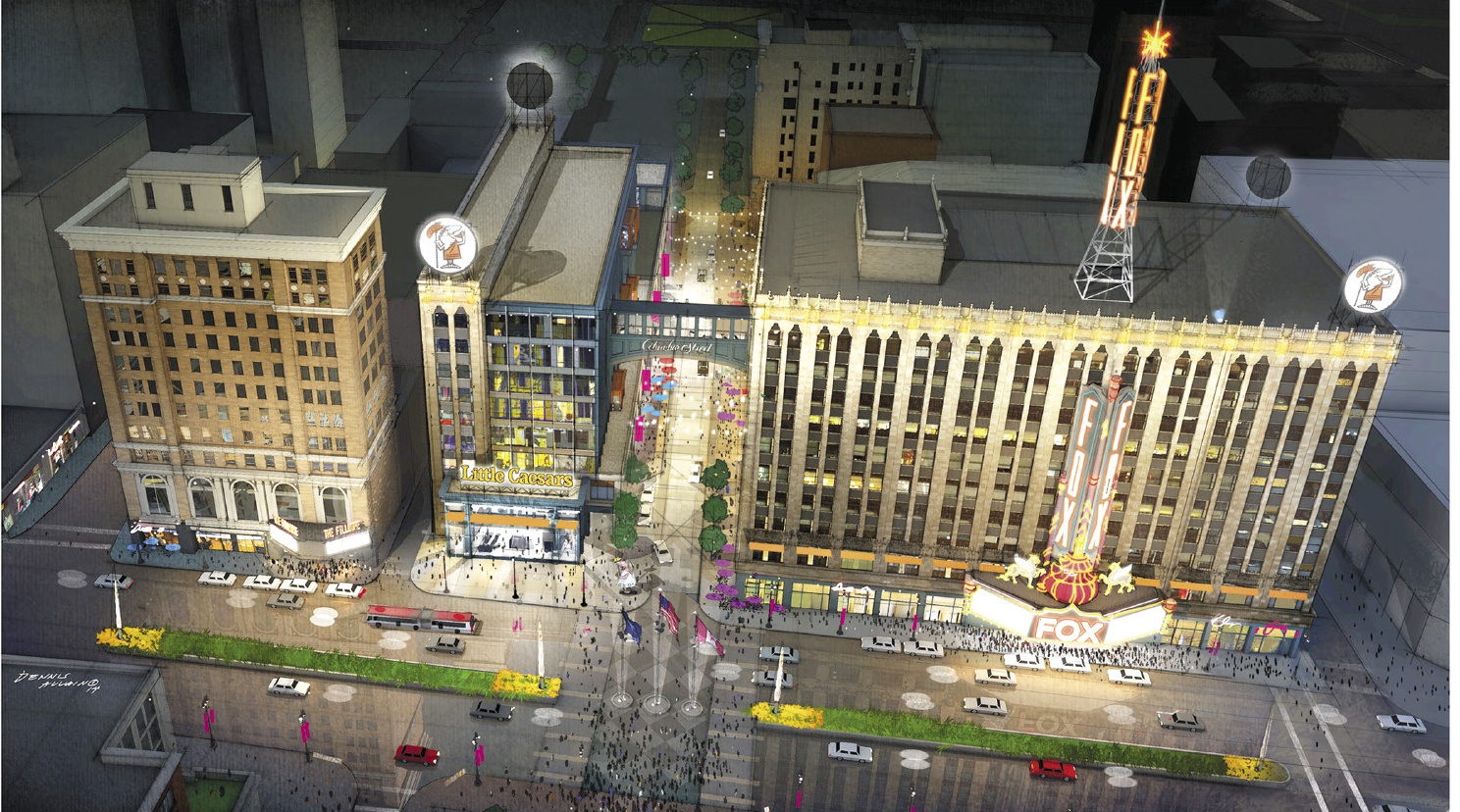 Twenty-five years after moving its headquarters from the suburbs to Detroit's Fox Office Center, Little Caesars is building a new 205,000-square-foot Global Resource Center, expanding its world headquarters campus in Detroit to more than twice its current size.
The new Little Caesars Global Resource Center, to be built on Woodward Avenue at Columbia Street, is Detroit's first newly constructed corporate headquarters building in more than a decade and only the seventh since 1950. To support the diverse needs of its employees, the Ilitch organization will also completely renovate the 186,000 square foot Little Caesars Fox Office Center into a modern, flexible, open and collaborative workspace.
When Mike and Marian Ilitch decided to relocate Little Caesars from Farmington Hills to Detroit 25 years ago, it was a bold move. At the time, companies were moving out of Detroit, not in. The Ilitches restored the Fox Theatre as one of the most majestic theatres in the world and refurbished the Fox Office Center for their companies.
"Mike and Marian Ilitch, the founders and owners of Little Caesars Pizza, have always worked to provide the very best for our employees, our customers, our city and our state," said Christopher Ilitch, president and CEO of Ilitch Holdings. "This is another significant investment in our people, our company and our community."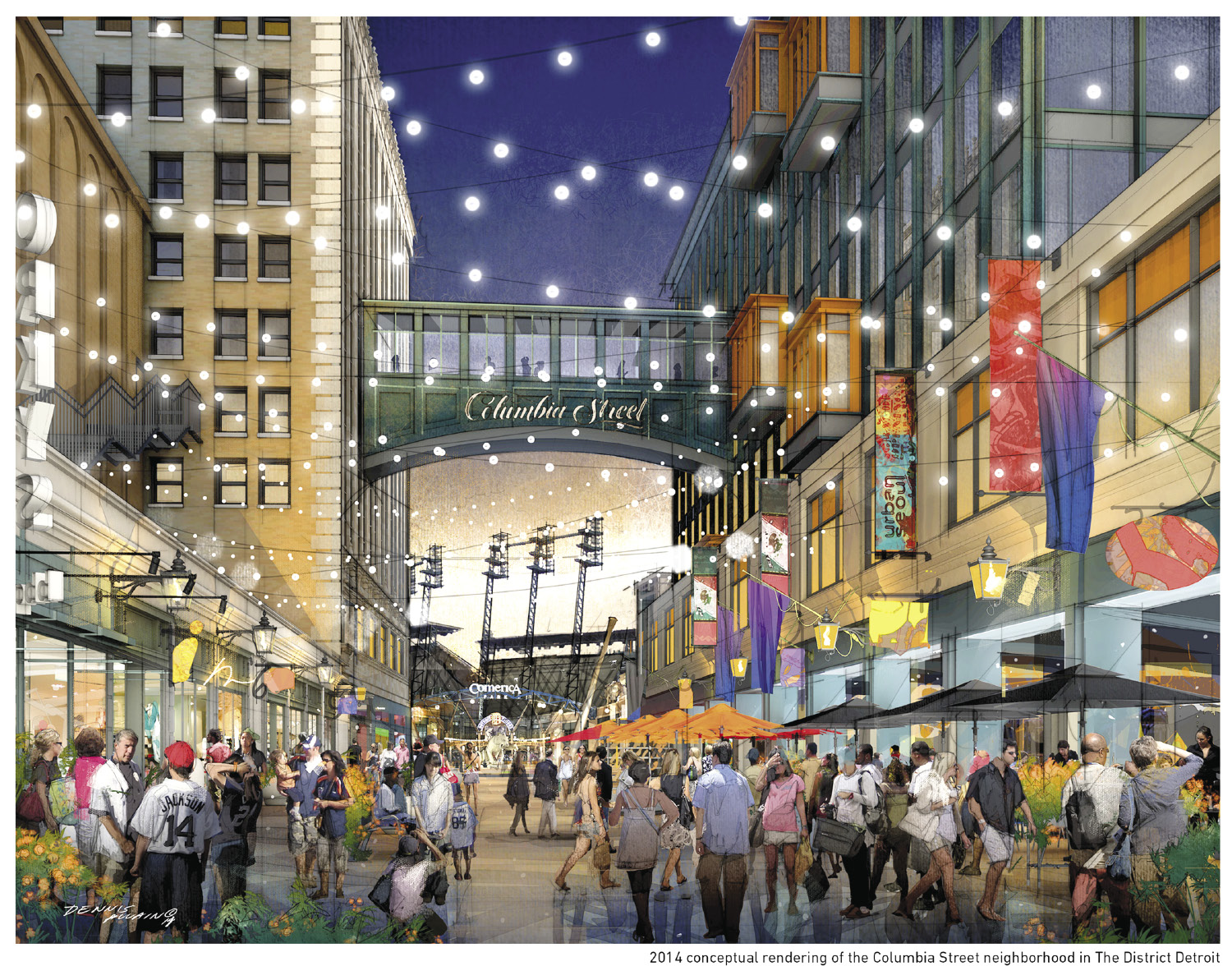 (pictured: 2014 conceptual rendering of the Columbia Street neighborhood in The District Detroit)
SINCE MOVING to the Fox Office Center in 1989, Little Caesars has experienced incredible growth and now needs expanded, new workspace that meets the evolving needs of employees and the business. Little Caesars is the largest carryout-only pizza chain in the world with locations in all 50 states and 17 international markets. It recently opened franchises in Australia and Panama with additional expansion taking place worldwide.
As an exceptionally high growth company with more than 55 years of success in the nearly $135 billion pizza industry, Little Caesars attracts and continues to look for highly capable franchisee candidates for new market opportunities domestically and throughout the world.
"We are excited to provide our employees, and the next generation of our employees, with new, expanded space to meet and interact, the most modern infrastructure and technologies, and world-class amenities," said David Scrivano, president and CEO of Little Caesars.
"This state-of-the-art headquarters campus will create a collaborative workspace that helps us continue to attract, train and retain the top talent and franchisees we need to continue our explosive growth and better serve our customers around the world."
THE NEW Little Caesars Global Resource Center will connect to the Fox Office Center by a pedestrian bridge. It will feature abundant windows to allow plenty of natural light into the building from Woodward Avenue and Columbia Street. Construction will begin in the spring of 2015 and is expected to be complete by the end of 2016.
"This is a transformational time our city's history, and we're honored to continue contributing to the rebirth of our proud community," said Ilitch.
"Detroit is not just our home, it is a great place to do business with a tremendous pool of people who have talent and heart. This city and its people helped make a single Little Caesars pizza shop into one of the world's largest pizza chains, and we hope our growth, commitment and continued investment will serve as a catalyst for others to call Detroit and Michigan their home."
The design and workplace amenities will be determined by collaborative work groups of employees and architects over the next several months to ensure a flexible work environment that results in employee engagement, optimal communication and heightened productivity.
ANTICIPATED features of the new building and renovated space include:
■ Flagship Little Caesars Pizza store
■ Auditorium
■ Collaborative workspaces and meeting rooms
■ State of the art training facilities for franchisees, crew and employees
■ Innovation kitchens
■ Green space
■ Childcare facility
■ Expected LEED Silver
Ilitch companies currently employ nearly 7,300 people in the city of Detroit. The expanded Little Caesars world headquarters campus will allow for an additional 600 high-skill jobs to be brought to Detroit.
With the construction of the new Global Resource Center, Little Caesars will provide world-class training, innovation and meeting space for the thousands of franchisees, suppliers and employees that visit the Detroit headquarters campus from around the globe each year.
THE LITTLE CAESARS Global Resource Center and headquarters campus will be part of the Columbia Street neighborhood in The District Detroit, which will transform dozens of underutilized blocks between downtown and Midtown Detroit into a world-class sports and entertainment district. It will connect existing and new development efforts in downtown and Midtown Detroit along Woodward Avenue with five walkable, livable mixed-use district neighborhoods.
"As Little Caesars continues its extraordinary growth throughout the world, we remain proud to call Detroit our home," said Scrivano. "We want the millions of visitors to The District Detroit and our headquarters campus each year to know that we are an entrepreneurial Detroit and Michigan brand, born and bred.
"We're also thrilled to build an exceptional workplace for our employees that cements our position as a global leader in the restaurant industry, a place that allows us to fulfill our vision to be the most successful pizza chain in the world, right here in the heart of the city and The District Detroit."
For more information on the District Detroit, visit: https://www.DistrictDetroit.com.