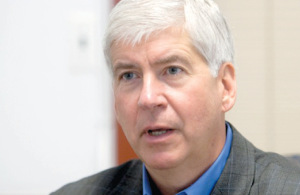 Time is running out for Michiganders with homes damaged in the August severe storms to file for federal assistance through the Federal Emergency Management Agency.
Sunday, Dec. 14 is the last day for people affected by the storms to request assistance from FEMA. Relief became available after President Obama in September granted Gov. Rick Snyder's request for a federal disaster declaration for Macomb, Oakland and Wayne counties.
"It's vital for people to register to be eligible for assistance, and they shouldn't wait," Snyder said. "We visited these counties after the devastating storms, and spoke to so many people about their losses. It was heartbreaking. This federal relief can help people recover, but the deadline is approaching."
Federal funding may be available to homeowners and renters for temporary housing and home repairs, low-cost loans to cover uninsured property losses. A toll-free hotline – 1-800-621-FEMA (3362) – is currently available from 7 a.m. to 11 p.m. seven days a week. Affected Michiganders can also apply online at www.disasterassistance.gov. More specific details are available at www.fema.gov/disaster/4195.
More than 125,000 Michiganders who suffered during the August flooding have already registered. FEMA has approved nearly$139 million in grants while the U.S. Small Business Association has approved more than $101 million in low-interest loans.
The deadline also is approaching for people seeking assistance through the SBA. The SBA application period also ends on Dec. 15.