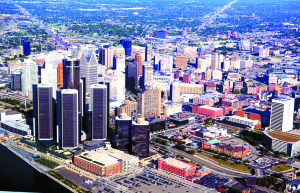 A power outage in downtown Detroit has put workers and residents in more than 100 buildings in the dark. The City County Building, Frank Murphy Hall of Justice, Joe Louis Arena, Detroit Institute of Arts, City Airport, all fire stations, multiple courthouses and a number of area schools are currently without power.
DTE officials have yet to determine the cause of the widespread power outage DTE according to DTE Energy spokesman Scott Simons.
All DPS schools will follow a half-day dismissal procedure, which is based on each individual school's half-day dismissal time. In cases where students do not take the bus, parents should come to the school to retrieve their children.
 No child will be released until a parent has been contacted. All after school and evening programs are cancelled.
Although Detroit City Hall has been evacuated, city officials urge workers and residents not to panic. Several fire stations operating on generator power, and all are able to take calls by land line or radio.
With the People Mover service at a stop, downtown commuters are experiencing some difficulty with transportation from downtown buildings.
Some areas and buildings at Wayne State University have also been affected by the power outage.
The Michigan Chronicle will continue to update this story as more information becomes available.