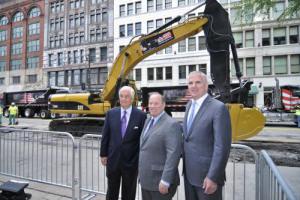 DETROIT— M-1 RAIL has formed a Communications Advisory Board comprised of leading communications professionals from businesses and major institutions located on or near the Woodward Corridor.  The purpose of the CAB is to help inform the M-1 Rail communications strategy and reach key stakeholders, employees, and visitors who navigate the Woodward corridor area.
"The CAB provides M-1 RAIL with leadership and counsel regarding communications," said Sommer Woods, director of external relations, M-1 RAIL. "We have already held two meetings and the feedback has been tremendously helpful in informing us in how we can best communicate with constituents, businesses and employees along the corridor regarding construction and construction impacts. We're fortunate to have such an experienced group of professionals supporting this project."

The members of the M-1 RAIL Communications Advisory Board are*:

Ted Canaday, Chief Marketing & Communications Officer, Charles H. Wright Museum
Sergeant Michael Woody, Office of Public Information, City of Detroit
Marcus Popiolek, Director of Marketing and Public Relations, College for Creative Studies
Lynne Friman, Director of Strategic Projects, CultureSource
Beth Chappell, President & CEO, Detroit Economic Club
Tiffini D. Smith, Director of Corporate Communications, Detroit Economic Growth Corporation
Bob Sadler, Director of Marketing & Sales, Detroit Historical Society
Ben Manges, Director of Corporate Communications, Detroit Lions
Elizabeth Parkinson, Senior Vice President, Marketing & Partnerships, Detroit Lions
Dee Prosi, Senior Vice President of Marketing & Business Development, Detroit Medical Center
Renee Monforton, Director of Communications, Detroit Metro Convention and Visitors Bureau
Kaniqua Daniel-Welch, Program Supervisor of Media/New Media, Detroit Public Schools
Will Butler, Marketing and Communications Coordinator, Detroit Regional Chamber
Marc Pasco, Director of Communications, Detroit RiverFront Conversancy
Gabrielle Poshadlo, Director of Communications and Media Relations, Detroit Symphony Orchestra
Ron Colangelo, Vice President of Communications, Detroit Tigers
Jeanette Pierce, Executive Director, Detroit Experience Factory
Christine Kloostra, Executive Director Marketing and Communication, Detroit Institute of Arts
Heather Kazmierczak, Director of Marketing and Communications, Downtown Detroit Partnership
Amy Chesterton, Landscape Architect, Hamilton Anderson
David Olejarz, Manager, Media Relations, Henry Ford Health System
Doug Kuiper, Vice President of Corporate Communications, Ilitch Holdings, Inc.
Tejaswi Paruchuri, Manager of Communications, Meridian Health Plan
Rob Morosi, Metro Region Communications Specialist, Michigan Department of Transportation
Annmarie Borucki, Special Projects Manager, Midtown Detroit, Inc.
Shannon Mackie, Marketing Coordinator, Michigan Science Center
Michael Kulick, Web + Digital Media Manager, Museum of Contemporary Art Detroit
Carolyn Artman, Senior Public Relations Manager, Rock Ventures
Denise Drach, Director of BD + Marketing Associate, Rossetti
Bridget Russo, Marketing Director, Shinola
Sandra Knight, Director of Public Relations, Smith Group
Dave Duey, Director of Operations, The Whitney
Terry Merritt, Senior Vice President, Walbridge
Matt Lockwood, Director of Communications, Wayne State University
Benny Sasser, Facilities Manager, Woodward Gardens
*Listed in alphabetical order of organization
Visit www.M-1RAIL.com for updates on construction and traffic closures.
M-1 RAIL Donors & Partners
Bank of America, Blue Cross Blue Shield of Michigan, The Chrysler Foundation, City of Detroit, Compuware Corporation, Detroit Downtown Development Authority, Detroit Medical Center, DTE Energy, Ford Foundation, Ford Motor Company and Fund, Federal Transit Administration, General Motors – Chevrolet, Great Lakes Capital Fund, Henry Ford Health System, Hudson- Webber Foundation, Ilitch Holdings Inc., Invest Detroit, JPMorgan Chase, LISC – New Markets Support Company, Michigan Department of Transportation, Michigan Economic Development Corporation, Penske Corporation, Quicken Loans, The Kresge Foundation, United Fund Advisors, United States Department of Transportation, Wayne County, Wayne State University.

About M-1 RAIL
M-1 RAIL is the non-profit organization leading the design, construction and future operation of a 3.3-mile (6.6 miles round-trip) modern streetcar along Woodward Avenue between Larned Street and West Grand Boulevard in Detroit, Michigan.  An unprecedented public-private partnership and model for regional collaboration, the M-1 RAIL Streetcar project is the first major transit project led and funded by private businesses and philanthropic organizations, in partnership with local, state and federal governments. Visit www.M-1RAIL.com for more information.