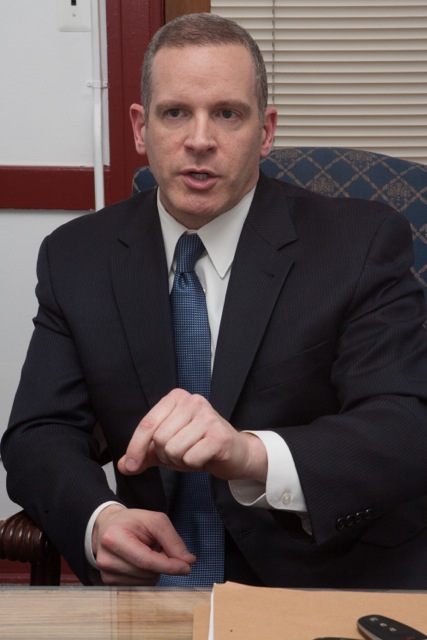 Paul Abbate has a calm demeanor and is engaging. At first sight, his calm voice and approachable style in a room full of people, which contrasts similar law enforcement bigwigs, make it easier to dismiss him if you don't know who he is. But make no mistake. Underneath the courteous personality lies a tough-as-nails law enforcement official and trained lawyer who leads the Detroit FBI Office armed with 300 special agents who are spread across 11 sub-offices in the state of Michigan. Abbate, who was appointed Special Agent in Charge of the Detroit FBI Office in 2013 sat down last week with Bankole Thompson, editor of the Michigan Chronicle, for a rare no-holds-barred interview. During the hour-long revealing conversation in Thompson's office, Abbate reflected on his tenure, why he accepted the job to come to Detroit leaving the prestigious counterterrorism top post at the FBI Washington D.C Office, his view of public corruption, terrorism, violent crime and other top priorities for the Detroit FBI Office. Excerpts follow.
MICHIGAN CHRONICLE: It's been 12 months now for you as FBI chief in Detroit. How has it been?
PAUL ABBATE: It's been wonderful, a real great privilege to have had the opportunity to come over here in this office. We are headquartered in Detroit…..we serve the whole state of Michigan. We have 11 sub-offices through out the state. It's been tremendous so far. One of the things that attracted me to come over here was this (office) is really viewed within the FBI as one of the highest performing offices. I had worked with a number of people who work out of our office here in some of the previous assignments I had. So I knew we had great people here and the quality of the work has been exceptional for many years. And I just think it's an amazing time to be here with
the resurgence and revitalization of the city that's going on.
MC: When former FBI Director Robert Mueller appointed you to this post, was it your choice to come to Detroit?
PA: Yes. I asked to come out here. I was working in Washington, DC in charge of counterterrorism.
When the opportunity came up here I told the leadership that this was something
that I was interested in doing and hope that I would be considered for it.
MC: I know there is a lot on the menu when you consider terrorism, public corruption etc. But what is your top priority?
PA: We have a range of authority, jurisdiction. It's very broad. Counterterrorism for the FBI nationally and internationally still remains our top priority. But everything is important. So here when I look at
the state of Michigan and the Detroit metropolitan area we do have a focus on within our
criminal programs things like violent crime. We work in partnership with the Detroit Police
Department, Michigan State Police and other federal, state and local partners. Then you have public corruption, health care fraud, various types of financial fraud, identity theft, mortgage fraud, bank fraud and
crimes against children. So all those things we can't take our eye off. Although we've accomplished all of those things in many of those categories there is a lot of work that needs to be done.
MC: When you compare and contrast Detroit to other bureaus in the country, what do you see?
PA: I think here crime is not unique in any one place. People often focus here on areas like public corruption and violent crime because we've seen very high profile cases here in those programs. But those things exist in many other big and small cities across the United States. I don't see any of those things being unique here but they are a focus here like other places and will continue to be priorities of ours and devoting resources to prevent and counter those kinds of crimes occurring here.
MC: With the Kwame Kilpatrick saga ending some are expecting some sort of closure on public corruption. What do you say?
PA: I think public corruption has been around forever. No one case is going to make it go away. I hope that that case sends a message to individuals that would try to attempt to take advantage of the positions of trust the public has given them by placing them into elected office. Again I don't think it's unique here. Public corruption has always existed. It still exists. We are going to continue to work against it to keep it down. But there will always be people out there who, probably for their own selfish interest, greed, personal gain, tend to commit crimes like that. As far as that one case (Kilpatrick), we have closure with that. I see the city moving on from that. But it (public corruption) remains a priority of ours.
MC: And you have Wayne County under your laser as well.
PA: I can't comment on individual cases. It is a matter of public record we've had a few cases where individuals who were part of the Wayne County government have been charged criminally. I wouldn't say that we have any county government laser focus as you said. But it is a priority. We are going to go where the facts and the evidence lead us. If we receive complaints, if we see evidence of corruption occurring we are going to go and investigate it. We are going to take action against it.
MC: The latest FBI crime statistics shows Detroit tops the list on crime. How can the FBI help to reduce violent crime?
PA: Violent crime remains a priority of ours here too. I think we've made a lot of progress against violent crime here in Detroit and some of the other high crime cities in the state of Michigan. If you look at the numbers, although it (Detroit) still ranks here nationally while we've made a lot of progress in partnership with our federal and local partners to bring it down, then numbers bear that out. Is that enough for us? Of course never, we're going to keep at it. Anyone life lost is too much. It's something we continue to focus on. We have a lot of initiatives locally and nationally. For instance the Department of Justice is currently leading the Violent Reduction Network, which consists of cities where we have the highest rates of violent crimes coming together to make even more progress. Here in Detroit we have an initiative called the Detroit One, which is led by the U.S. Attorney's Office of (Barbara McQuade) where we bring all the partners together, prioritize these offenders and go after the repeat offenders as a way to bring down violent crime. We've had a lot of success with that initiative.
MC: What was your reaction to the shooting in the Canadian Parliament a few weeks back?
PA: We have to stay vigilant. The threat of violent extremism motivated by an ideology is out there. It's been out there for a long time. It's something that has been a priority of ours for a long time. We've seen, either attempted attacks, plots or either some that have already happened both here in the United States and around the world. So it's never acceptable. We all have a responsibility to remain vigilant. If you see suspicious activity or something doesn't feel right we want people to come forward and bring that to our attention to prevent an attack or harm from coming to people before it actually happens. That's what we work at every day.
MC: Because of the attacks that have been foiled at Detroit Metro Airport, especially in the Abdul Mutallab case, Detroit is viewed a "hot spot." True?
PA: I think we have been mischaracterized here as a "hot spot." I think that the threat that we face here from terrorism like other crimes is not unique. I don't think we are in any greater jeopardy here. I think if that's the perception it is wrong. But the way we approach the work we do here is again 24/7 day in, day out, working to develop intelligence to prevent an attack from occurring before it occurs. If you look at the case of Abdul Mutallab, it wasn't an attack that was designed to be here to take place. It was somewhat random in terms of his purchasing an airline ticket oversees and ending up here. We were very fortunate in that case that the devise he possessed didn't function as planned, and also the heroic action of the people on that flight who took immediate action to stop him and to prevent that airliner from being brought down.
MC: Talk about your relationship with the Arab-American community in light of the DOJ outreach efforts.
PA: This office within the FBI, we put a lot of effort and resources into community outreach. It is hugely important to us and the work that we do because we serve the people and we need to hear from them and build trust with everyone. I hate to focus on any one community because the work that we do in terms of community outreach is broad. We have a staff here that goes out and interacts with all communities. One of those communities is the Arab-American Middle Eastern community.
MC: There is a concern and perception by some in the African-American community about who the feds go after. Others say powerful White businessmen often get a pass when they are tied to corruption investigations involving African Americans. This is the Paul Abbate regime. How would you respond to a concern like that?
PA: Everything we do that we do here in this office my expectation is we are going to do it fairly and equally no matter who you are. We work objectively with the facts and evidence that we have. If something is brought forward to us, that part we cannot control. What's brought forward to us in terms of allegations, complaints our approach is to follow up on all those tips and leads fairly and objectively no matter who you are. That's step one. The charging decision, that's within the purview of the prosecutor's office so that's outside of our control.
Do we have input into that? Yes, sure. We work with and collaborate with the prosecutor's offices at the state, local and federal level. But it's ultimately the decision of the prosecutors as to who gets charged. In my view, the time that I've spent here, everyone that I've dealt with that currently occupies those positions their approach to the work that they do is the same. I understand the perception. I think it is important to hear that and it is something we all have to give thought to as we go forward and do the work. But I wouldn't say that in the short term that I've been here I've seen anything inherent on interference in terms of the way these decisions are made.
MC: When you took over did you create any shakeup at the FBI Office?
PA: No. One of the things that attracted me to this office was that it was a very well run and highly functioning office. It wasn't in a state where anyone needed to come in and fix anything or make any changes. The office was operating in a high level, having good successes in terms of the work that we do. My job and my role is to come in and help ensure the high level of activity that the office is accomplishing and to sustain that. I think we've done that.
MC: Does it save taxpayer dollars when there are guilty pleas instead of trials?
PA: I would look at it this way. The money and resources that are extended in the work that we do and the U.S. Attorney does is fixed essentially. So whether something goes to trial or a plea is submitted in a particular case is not going to increase our overall cost. It might take resources away from working on other things that we could be doing. Going into a full trial is exhaustive in terms of the resources that are required to do that. All the personnel that work on it from the prosecutors, to the agents, analysts, language analysts and everybody else are going to have to focus their efforts on preparing for that trial. It's going to take them away from things that they might otherwise do. I don't think you can look at the criminal judicial process and trial vs. plea in terms of dollars and cents.
MC: What attracted you to the FBI?
PA: From when I was a little kid I always had an interest in law enforcement from watching movies, television shows and things like that. I always wanted to be a police officer or an FBI agent. I was led that way in terms of the education that I pursued. I went to law school and that was sort of the natural avenue. It's been tremendous. The satisfaction that comes from giving back, investing yourself in protecting people, I can't put a price tag on it.
MC: Do you think that the Bureau is misunderstood?
PA: In what regard?
MC: When you mention FBI in the community, there is apprehension.
PA: It's interesting because a lot of times we do a lot of outreach here. And going out in the community many people that we encounter say they've never met anybody from the FBI before. A lot of times I think they are disarmed when they get to meet us and they realize that we are just regular people. And it kind of pierces that image, the apprehension that people might have of the FBI coming out and investigating things from that standpoint.
MC: From the array of outreach you've done what are some of the concerns you hear in the community?
PA: We hear a range of things. If you look at the national headlines now, the issue of privacy and whether government and investigatory agencies are overstepping those boundaries. That's a common concern out there. For the work that we do we operate under very rigorous standards and authorities and requirements when we do the work that we do. In terms of getting the authority via a court order to intercept individual phone calls or emails or things like that as part of an investigation, we go through a lot of steps with a lot of oversights and ultimately have to get authority from a judge.