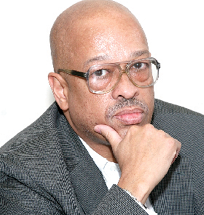 Ironically, just last week I wrote about unauthorized biographies, something that celebrities almost never approve of but are powerless to stop.
David Ritz is one of the best known and highly skilled entertainment authors in the industry, having done the actual writing of celeb autobiographies by, among many others, Ray Charles, Etta James, B.B. King and Smokey Robinson. He also wrote the stunning book about Marvin Gaye, "Divided Soul."
Published to coincide with the release of the Queen of Soul's new album is Ritz's newest book, "Respect: The Life of Aretha Franklin" which he says is his "magnum opus," that is, the greatest achievement of his career.
The often oversensitive Franklin is not going to be pleased. No details are forthcoming in this column, but readers become privy to stories involving very-early-age sex and pregnancies, feuds, insecurities, church people in the church participating in orgies, etc., and Ritz maintains that his sources are rock solid. (Truth be still!)
Granted, the book has to be taken as a whole, not judged based on its salacious tidbits — there are plenty of positive, affirming, even inspiring aspects — but as much as I admire David Ritz, he sometimes seems to have to have gone a bit too far this time. But a good book nevertheless.
ALFONSO RIBEI­RO, dancer, actor, game show host, etc., has long been a favorite of yours truly, dating back to his childhood days in those Michael Jackson Pepsi commercials and on the Broadway stage in "The Tap Dance Kid."
This season he is among the best reasons to watch "Dancing With the Stars." In addition to enjoying the performances of he and partner Witney Carson, I love the gracious, sincere manner in which he accepts the comments and suggestions of the judges.
That is a far cry from the way former DWTS competitor David Alan Grier responded to critiques. He would always get an attitude, giving the impression that he believed just about everything was a personal attack.
Johnny Gill, one of the strongest R&B singers of his time, has a new album titled "Game Changer, coming out next month.
His buddies from New Edition — Ralph Tresvant, Ronnie DeVoe, Michael Bivins and Ricky Bell — heard one track, "Me and You," and liked it so much that they asked if they could sing on it. Of course, Gill said yes.
It's hard to believe that Johnny Gill, former child star, is now 48.
IN 2003, Michael McCary, the fourth member of Boyz II Men, left the group and, according to information released by the group and their record company, it was due to serious health challenges.
The illness is reality but there were also personal issues, as fellow members have pointed out recently, including not being fully committed, not coming to rehearsals and even not singing on certain recordings.
When Halle Berry and model Gabriel Aubry, the father of her first child, Nahla, went their separate ways, a judge determined that she had to pay him $16,000 a month. The money is for Aubry to be able to provide for their daughter when she is with him, but Berry alleges that he uses much or most of it for himself.
She is trying to have the payments reduced to $3,800. Aubrey says he hasn't been able to find work, especially since Berry's husband, Olivier Martinez, beat him up, leaving his face damaged.
Dionne Warwick has a new duets albums titled "Feels So Good." Among those the veteran star sings with are Ne-Yo, Cyndi Lauper, Gladys Knight, Jamie Foxx, Ruben Studdard, Ziggy Marley, Billy Ray Cyrus and Cee Lo Green. Sounds interesting.
BETCHA DIDN'T KNOW…that the Four Tops started out as the Four Aims.
MEMORIES of great Motown songs that are not heard much: "Girl (Why You Wanna Make Me Blue?)" (the Temptations), "I'll Keep Holding On" (the Marvelettes), "Something About You" (the Four Tops), "The Love I Saw in You Was Just a Mirage" (Smokey Robinson & the Miracles), "When I'm Gone" (Brenda Holloway), "Truly Yours" (the Spinners), "Once Upon a Time" (Mary Wells and Marvin Gaye), "Can You Do It?" (the Contours), "Love (Makes Me Do Foolish Things)" (Martha & the Vandellas), "You Need Love Like I Do (Don't You)" (Gladys Knight & the Pips).
WORDS OF THE WEEK, from Quincy Jones: "It's amazing how much trouble you can get in when you don't have anything else to do."
Let the music play!
Steve Holsey can be reached at Svh517@aol.com.