TWO-TIME GRAMMY®-NOMINATED R&B ARTIST KEM TO HIT THE ROAD IN AN 8-CITY TOUR
WITH SPECIAL GUEST: JOE
& KEMISTRY RECORDS ARTIST: L RENEE
KEM WILL PERFORM SELECTIONS FROM HIS NEW 'PROMISE TO LOVE' CD
ALONG WITH HIS CLASSIC HITS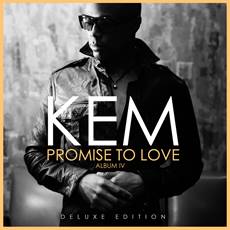 "For all the KEM fans who long for a live band and auto-tuneless music, his album, Promise to Love arrives….
The artist is famous for articulating his product,
which is why his 'Promise to Love' Tour is promised to please." – Miami Times
 2 TOP TEN SINGLES!!
"IT'S YOU" AND "NOBODY," THE FIRST TWO SINGLES FROM 'PROMISE TO LOVE'
CURRENTLY RESIDE AT #5 ("NOBODY") & #6 ("IT'S YOU") ON UAC CHARTS
'PROMISE TO LOVE' AVAILABLE NOW IN STORES & ON iTUNES AND AMAZON
 
Detroit, MI – Two-time GRAMMY®-Nominated Motown Recording Artist KEM is set to kick off his 2014 "PROMISE TO LOVE TOUR – Part 1," with special guest, Joe and Kemistry Records artist, L Renee, this Friday, November 14.
KEM's "PROMISE TO LOVE TOUR – Part 1" will hit 8 cities at concert halls this November, while his full U.S. Headlining "PROMISE TO LOVE TOUR" will launch in the Fall of 2015. The tour takes its name from the title of KEM's newest chart-topping CD, 'PROMISE TO LOVE,' with "Part 1" beginning on November 14, 2014 at Ft. Lauderdale's Broward Center. Ticket information is available at MusicByKEM.com.
 KEM promises to deliver an unforgettable experience to audiences that will include his classic hits such as "Love Calls," "I Can't Stop Loving You" and "Share My Life" along with new favorites from 'PROMISE TO LOVE,' including the dynamic lead single, "It's You," which spent five weeks at #1 on UAC charts, the second single, "Nobody" and the CD's title track, "Promise To Love."
KEM's galvanizing live performances have captivated audiences for years and have catapulted him into the ranks as one of music's top touring acts.

"PROMISE TO LOVE TOUR – Part 1" DATES:
(visit MusicByKEM.com for ticket information)
 
Friday, November 14
Ft. Lauderdale, FL
Broward Center

Saturday, November 15
Tampa, FL
Straz Center

Sunday, November 16
Augusta, GA
Bell Auditorium

Thursday, November 20
Charleston, SC
PAC

Friday, November 21
Charlotte, NC
Ovens Auditorium

Sunday, November 23
Greensboro, NC
Special Events Center

Friday, November 28
Philadelphia, PA
Liacouras Center

Saturday, November 29
Richmond, VA
Altria Theater (Landmark)

KEM's 'PROMISE TO LOVE' CD debuted at #1 on the R&B Albums chart, it soared to #3 on Billboard's Top 200 chart and is the singer/songwriter/producer's second #1 debut on the R&B chart. 'PROMISE TO LOVE' is powered by the UAC chart-topping single, "It's You," and includes guest appearances from Snoop Dogg on "Downtown," Ronald Isley on "My Favorite Thing," and Kemistry Records Artist, L Renee, with her debut single on "Don't Say Goodbye."

KEM wowed a national audience with a mesmerizing performance of "It's You" on Good Morning America on August 26, and recently returned from a September trip to South Africa, including two shows in Johannesburg and a tour of Capetown. He appeared in a compelling interview and performance in an episode of InterludesLIVE on TV ONE that premiered on September 27, performed "Nobody," the second single from 'PROMISE TO LOVE,' on the Steve Harvey TV show on Friday, October 10 and is nominated for the Soul Train Award for Best Male R&B/Soul Artist, and will perform on the awards show that will air November 30th on BET. KEM will head back out on the road on a 25-city tour with Charlie Wilson in February & March of 2015.
 
PROMISE TO LOVE is available at retail stores, on iTunes (http://smarturl.it/KemPTLDLX) and on Amazon (http://www.amazon.com/Promise-Love-Kem/dp/B00LRCVEU0/?TAG=capitrecor-20).
The Deluxe Edition of the album is also available, which includes two bonus tracks, "Moments" and "Don't Say Goodbye," the debut single from Kemistry Records Artist, L Renee. An Exclusive Deluxe Edition of the album is available only at Target stores, which includes the bonus tracks on the Deluxe Edition, along with 2 exclusive songs: "I Believe In Your Love" and "In The Meantime."
 
About KEM:
In 2001, KEM independently released his first CD, KEMISTRY, on his Kemistry Records label, selling nearly 15,000 units, after which, he was signed by Universal Motown. Motown re-released KEMISTRY in 2002, released KEM ALBUM II in May 2005 and INTIMACY in August 2010, which debuted at #2 on Billboard's Top 200 Albums list and was certified Gold in March 2012.KEM's first three studio albums on the Motown label garnered him national critical and commercial acclaim, including two GRAMMY® nominations, a Soul Train award nomination and a BET Centric Award nomination. Kemistry, Album II, and Intimacy have each been certified RIAA gold, and worldwide sales are in excess of 2.5 million copies. KEM's Christmas album, WHAT CHRISTMAS MEANS, was released on October 16, 2012. After the holiday season, the album had sold 76,000 copies, making it the #3 highest-selling Urban Christmas record in one season. KEM wrote and recorded a duet with Ronald Isley entitled "My Favorite Thing," which was released as the second single from Ron Isley's 2013 CD, "This Song Is For You." KEM re-released his WHAT CHRISTMAS MEANS DELUXE project in October 2013, which included four bonus tracks. The added track, "Jesus" features Patti LaBelle and Ronald Isley. In December 2013, KEM presented the 'KEM & Friends: What Christmas Means Holiday Tour,' a holiday-themed concert with a storyline narrated by actor/comedian Anthony Anderson and featuring KEM & his R&B friends Patti LaBelle, Ronald Isley and Avery Sunshine. Performances of their hits, as well as Christmas original & classic songs together on stage, took audiences on a never-seen-before uplifting holiday journey. KEM's fourth studio album, PROMISE TO LOVE, was released on the Motown label on August 25, 2014, and debuted at #3 on Billboard's Top 200 Chart and at #1 on the R&B Albums Chart. The album's two powerhouse singles, "It's You" and "Nobody" currently reside at #5 ("Nobody") & #6 ("It's You") on UAC charts. After its debut, the album's lead single, "It's You," spent five weeks at #1 on UAC charts.

For more on KEM, visit www.musicbykem.com and www.facebook.com/musicbykem. Also, follow KEM on Twitter and Instagram (@MusicByKEM).