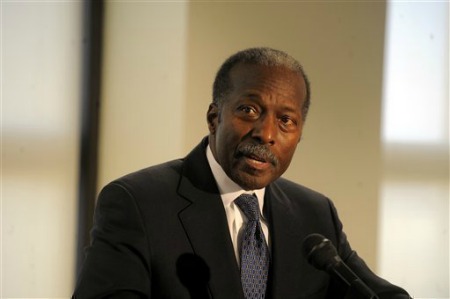 Roy Roberts was once known as General Motors' $100 Billion Man, before retiring from the giant automaker in 2000 after an impressive 25-year career. He earned the title while serving as GM's group vice president of marketing, sales and service.
Operating in this capacity, Roberts was responsible for executing all company marketing and promotional plans in North America, which included the United States, Canada, and Mexico. He oversaw approximately 8,000 GM automobile dealers, which generated in excess of $100 billion in revenue.
Thus, the legend of Roberts, the $100 Billion Man, was firmly rooted in the annals of GM history and was watched with admiration by other Fortune 500 executives.
Before taking the elevator ride to GM's top tier, Roberts began on the ground floor where he operated several company plants. He would rise to serve as vice president of personnel administration and development which impacted approximately one million employees globally, head manufacturing and engineering divisions for Cadillac, and hold the reigns of vice presidency of GMC and Pontiac.
"Every position that I've held at GM, I was the first Black to have it," said Roberts, who at one time had seven vice presidents reporting to him. "And I always made sure that I did the right thing for GM and the right thing for my people. I always believed that I had a responsibility to help other African- Americans while at GM. I knew I had a responsibility to make sure that being the first Black was not a sin, but to be the last Black was a deadly sin."
When Roberts retired from GM 14 years ago, no one would have blamed him for just living the good life afforded a retired Fortune 500 top-level executive. But in May 2011, Michigan Gov. Rick Snyder, a Republican, asked Roberts, a Democrat, to come out of retirement and become the emergency manager (EM) for the floundering Detroit Public Schools (DPS). Roberts, amid much controversy, agreed to become Michigan's largest school district's EM.
After a two-and-a-half year stint as EM, Roberts moved on.
"When I came on board, we (DPS) had a deficit of $327 million," Roberts once said in an editorial meeting at the the Michigan Chronicle. "In two years, we had two balanced budgets and moved the deficit down to $76 million."
Many DPS stakeholders credit Roberts for appreciable progress made during his time as EM, including creating significant strategies to ensure ongoing financial stewardship, placing more focus on deficit elimination, demonstrating better efficiency in operating within the district's means, and aggressively pursuing revenue-generating opportunities.
For Roberts, education has always been an important platform for his success. Born in Arkansas but raised in Muskegon and Grand Rapids, Roberts, after graduating from high school, worked for Lear-Siegler, an aerospace electronics company in Grand Rapids.
While working there, he commuted 120 miles round-trip each day to Western Michigan University in Kalamazoo where he earned a bachelor's degree in business administration. In addition to the rigors of his work and school schedules, Roberts was also married and raising a family.
Roberts would later complete the Harvard Executive Development Program. He also studied international business in Switzerland. He has received honorary doctorate degrees from Florida A&M University, Paine College, Northwood University and Grand Valley State University.
Additionally, he has taught classes in labor relations, collective bargaining and personnel administration at several colleges, including Western Michigan University.
"I was determined that nobody was going to stop me from achieving what I wanted to achieve," said Roberts. "If you want it, you've got to go make it happen. That was my attitude then and now."
Roberts continues to believe in the importance of giving back. He remains active with such national organizations as the NAACP, the United Negro College Fund, the Urban League and Boy Scouts of America. He and his wife, Maureen, made national headlines a few years ago when they donated a large sum of money to the Detroit Institute of Arts (DIA). Subsequently, the DIA named a contemporary African-American art gallery after the Roberts.
But an altruistic and philanthropic mentality was exhibited by Roy and Maureen Roberts long before their gift to the DIA. They were major contributors in supporting the important mission and continuation of the Charles H. Wright Museum of African American History. In addition, the Roberts have been generous donors to the NAACP, Western Michigan University, the United Negro College Fund and many other organizations.
"Maureen and I have always loved the arts and realized the cultural importance of museums like the DIA, both to our community and for future generations," Roberts said. "We leave this legacy with our children and grandchildren, to whom we've instilled the values of education, working hard and giving back."
About Post Author