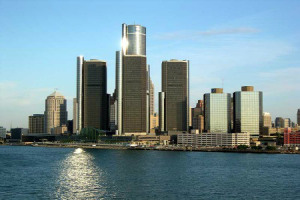 Non-Profit, Detroit Driven, Salutes Governor Rick Snyder and Mayor Mike Duggan for Efforts
On Friday, Judge Steven Rhodes announced that he approved Detroit'splan of adjustment as the final step of the bankruptcy.  Non-profit, Detroit Driven, whose mission is to promote civic pride in the City of Detroit, its people, history, culture, economic growth and resurgence, sees Detroit'sbankruptcy process as a best practice of a bi-partisan outcome.
Driven Detroit has received endorsements from Michigan's top political leaders including: Governor Rick Snyderand City of Detroit Mayor Mike Duggan.  Additionally, Detroit Driven board includes business and community leaders such as:  Cindy Pasky, CEO – Strategic Staffing Solutions, Mary Kramer, Publisher – Crain's Detroit Business, Larry Alexander, President & CEO – Detroit Metro Convention & Visitors Bureau. Senator Tupac Hunterserves at the organization's Executive Director.
"The city of Detroit is in the midst of a great American comeback, and it is encouraging to know that Detroit Driven will ensure the story gets told," said Michigan Governor Rick Snyder. "The people of Detroit have been working extremely hard to revitalize their home city, it is crucial that their commitment is recognized."
Detroit is home to many non-profit organizations whose mission is to bring together Detroiters and Michiganders alike, to put aside political differences and become one forward thinking entity.  Detroit Driven is the bridge between government, small business, entrepreneurs and community organizations in Detroit, in Michigan and across the country.
"Detroit Driven wants to take this opportunity and applaud the hard work of my fellow Detroiters," said Michigan State Senator and Detroit Driven's Executive Director, Tupac Hunter. "To see every person of a community put aside their differences, be it economic status to political party, come together as one, shows how Detroit is such a truly American city. That is what Detroit Driven stands for; striving towards greatness together, no matter what."
As Detroit continues to emerge from bankruptcy, Detroit driven and other nonprofits in the city will work together to highlight the stories of the entrepreneurs and visionaries working to revitalize the city.
Driven Detroit partners and supports include: Crain's Detroit Business, Detroit Homecoming, Opportunity Detroit and Carhartt. National recording artist and philanthropist, Kid Rock is also featured as the voiceover talent in Detroit Driven's teaser video.  Click here to view the video.
Detroit Driven asks businesses and groups looking to further its mission to go to: www.detroitdriven.org.